Sports > NHL
Avs and Predators series turns chippy heading into Game 4
Tue., April 17, 2018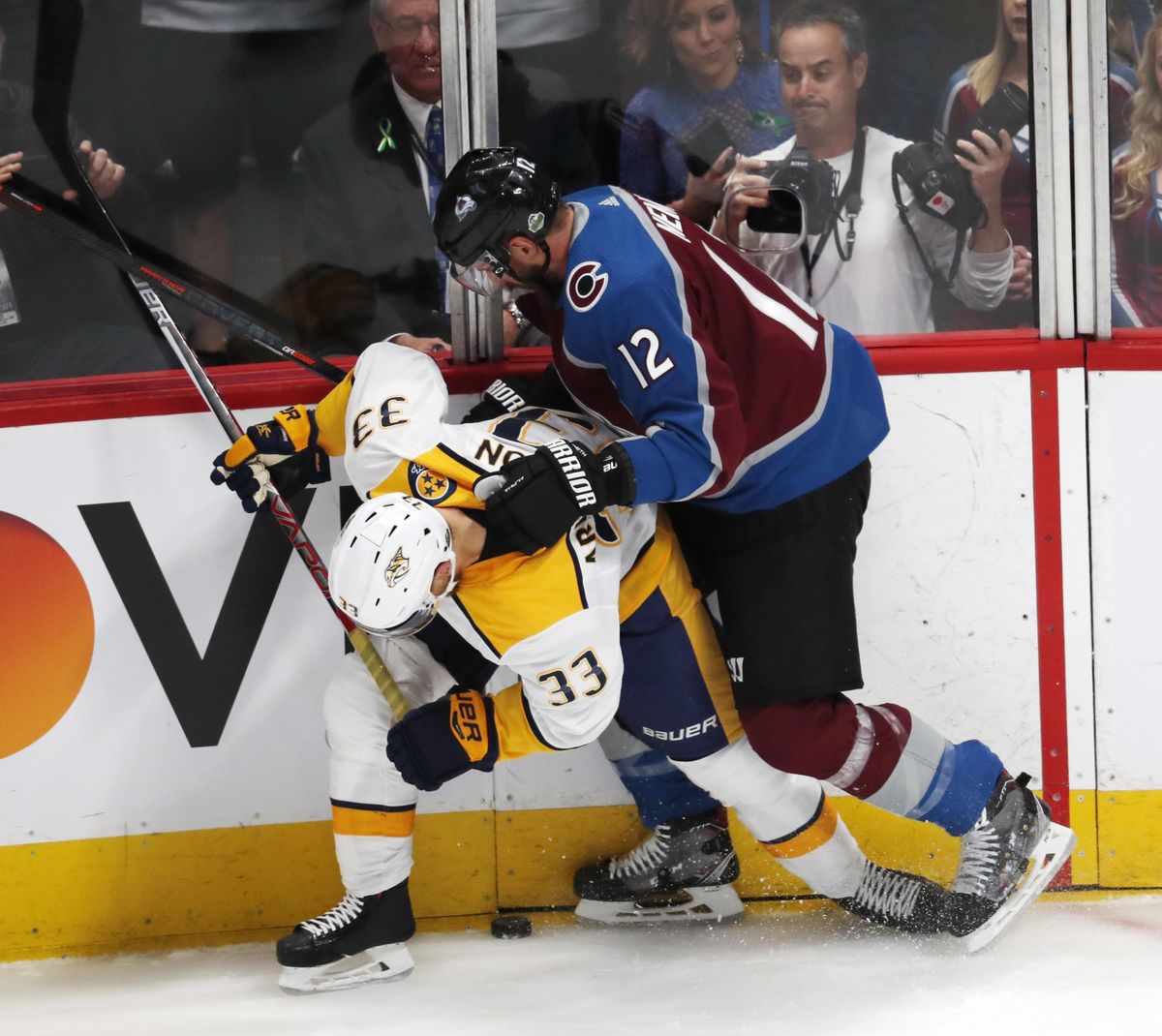 Colorado Avalanche defenseman Patrik Nemeth, hits Nashville Predators left wing Viktor Arvidsson as he tries to control the puck in the first period of Game 3 of an NHL hockey first-round playoff series Monday, April 16, 2018, in Denver. (David Zalubowski / Associated Press)
DENVER – So about that swipe P.K. Subban took at the speedy forward causing Nashville so much grief.
"Playoff hockey," the Predators defenseman said a day after clocking Colorado's Nathan MacKinnon in the side of the head with his right glove. Once untangled, both were sent to the penalty box for holding during Colorado's 5-3 win Monday.
"Do it again next game," Subban said.
This series definitely took a step toward the chippy side as the top-seeded Predators lead 2-1 heading into Game 4 in Denver on Wednesday.
"We're just getting to know each other, right?" Colorado defenseman Nikita Zadorov said. "It's the playoffs. It's always like that. It's fun. They're an experienced team that went to the final last season, and they know what to do to draw penalties. Sometimes after the whistle."
On a play in the second period Monday, Mackinnon was skating along the boards when Subban poked at the puck with his stick in his left hand and then delivered a blow with his right. Subban tossed MacKinnon to the ice as teammates rushed in. Subban was booed by the raucous crowd the rest of the night.
"I just try to play hard," Subban said. "I don't really hear it anymore. It's happened so much over my career. Just try to go out there and do my job, be an impactful player when I'm on the ice."
Colorado captain Gabriel Landeskog understands the heightened emotions this time of year. Even more so since the Avalanche haven't been in postseason position since 2014.
"There's a lot on the line," Landeskog said. "If you're not emotionally involved, it would be weird. You leave everything on the ice. That's what we did. I'm sure they feel the same way on the other side."
Subban relishes the physical nature of a series – and perhaps getting under the skin of an opposing forward or two.
"It's easy to get into it when you know you're going to hit somebody, when you know you have to finish all your checks," Subban said. "Next game should be another physical one."
So far, Colorado has scored the game's first goal in each contest. What's more, the Avs hold a 5-0 advantage in first-period scoring during the series.
That's partly why Nashville went through a frenzied practice Tuesday, complete with some light checking.
"Today, there was a message behind it and some passion in our practice," defenseman Ryan Ellis said. "It was great to see. Not only competing but making plays. We need that to translate into the game."
Goaltender Pekka Rinne was sharp as well, turning back just about everything thrown at him during practice. That hasn't been the case in a series where he's given up 10 scores and has a 4.17 goals-against average. Rinne was taken out Monday with Colorado leading 4-0 after MacKinnon's second goal of the game at 4:25 of the second period.
"For sure, yesterday was a disappointing night for all of us," Rinne said. "We need to bounce back."
Nashville coach Peter Laviolette isn't that concerned with the psyche of his elite goaltender – or that of his team, which advanced to the Stanley Cup Final a season ago before losing to Pittsburgh.
"If we could've played at noon, they'd all want to play right away," Laviolette said. "That's the nature of competitive people."
And that's why Landeskog thinks the Avalanche will see a revamped Rinne on Wednesday.
"He's a real good goaltender and made it tough on us all series long really," Landeskog said. "I'm sure he's going to want to come back and have a good game."
NOTES: Colorado D Samuel Girard practiced Tuesday while wearing a non-contact jersey. He's day-to-day, coach Jared Bednar said.
Local journalism is essential.
Give directly to The Spokesman-Review's Northwest Passages community forums series -- which helps to offset the costs of several reporter and editor positions at the newspaper -- by using the easy options below. Gifts processed in this system are not tax deductible, but are predominately used to help meet the local financial requirements needed to receive national matching-grant funds.
Subscribe to the sports newsletter
Get the day's top sports headlines and breaking news delivered to your inbox by subscribing here.
---