Sports > NBA
Tim Reynolds: With Kawhi, it's the Spurs who need answers
Tue., April 17, 2018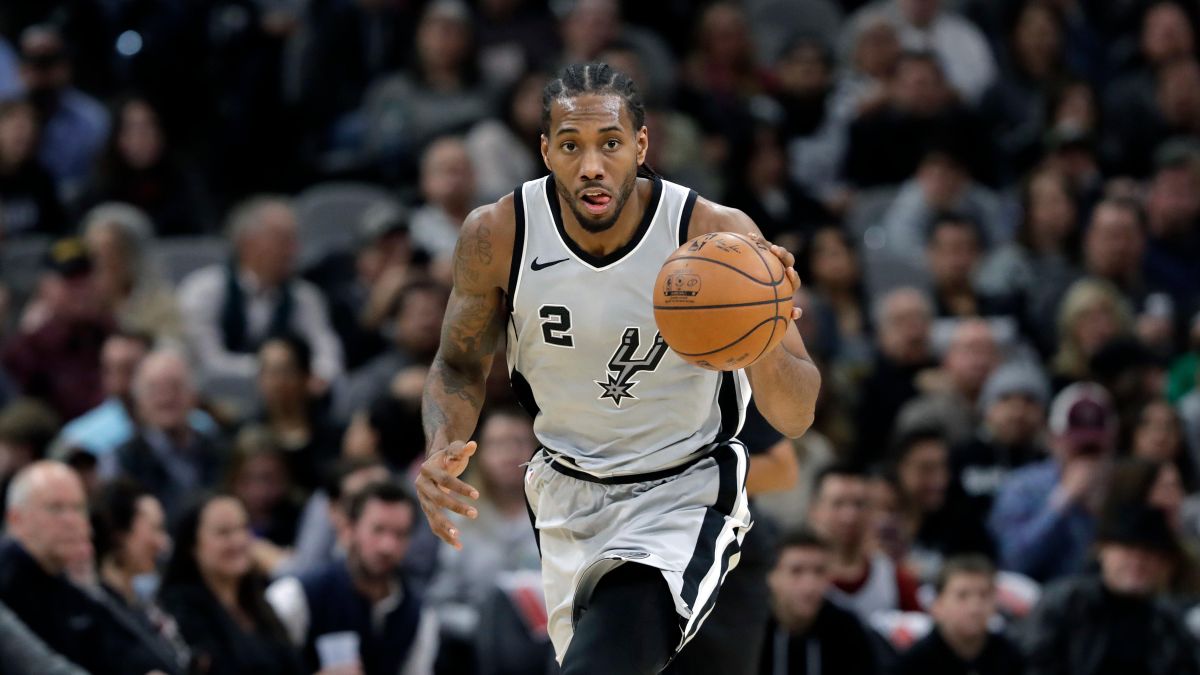 In this Jan. 13, 2018, file photo, San Antonio Spurs forward Kawhi Leonard (2) moves the ball up court during the second half of an NBA basketball game against the Denver Nuggets, in San Antonio. The absolute unwillingness to answer certain questions is part of the San Antonio Spurs' mystique. The Spurs just don't share much. So there is some unmistakable irony here that when it comes to the obviously fractured relationship between San Antonio and Kawhi Leonard, it's the Spurs who are the ones frustrated by the lack of answers. (Eric Gay / Associated Press)
Kawhi Leonard has a new team, and Gregg Popovich isn't the coach.
This is where the San Antonio Spurs are at right now, as this impasse between the franchise and its best player continues even as the season is almost certainly winding down. There are only questions, no answers.
How is Leonard doing? The Spurs act like they don't know. Leonard isn't saying, either. He hasn't been around the Spurs so far in these playoffs, rehabbing in New York, and Popovich is deferring questions to "Kawhi and his group."
That's ironic. Unwillingness to answer certain questions is part of the Spurs' mystique. Popovich can be an interviewer's dream or an interviewer's nightmare, but now, it's the Spurs who are the ones seemingly frustrated by the lack of answers. Their best player was barely around this season, and with the Spurs looking almost certain to be knocked out of the playoffs soon by Golden State an offseason of what's next is looming.
Leonard won't be on the floor for the Spurs in Game 3 when their first-round series against the Warriors resumes on Thursday in San Antonio. We can also say how unlikely it is he will not be in Game 4 on Sunday or in Game 5 if San Antonio finds a way to extend this series. The official reason remains "return from injury management" from what began as right quadriceps tendinopathy.
That's why when Popovich lauds another player – in this case, LaMarcus Aldridge, who has been the first option in San Antonio with Leonard gone – the narrative immediately turns to whether the Spurs coach is throwing shade.
"LaMarcus has been a monster all year long," Popovich said Monday after the Spurs fell into a 2-0 series hole against the Warriors. "He's led our team at both ends of the floor. He doesn't complain about a darned thing out on the court. He just plays through everything. I can't imagine being more proud of a player as far as playing through adversity and being there for his teammates night after night after night."
It's entirely possible that Popovich was merely complimenting Aldridge.
It's entirely possible that Popovich was throwing a subtle jab at Leonard, too.
Aldridge was asked by USA Today Sports about Leonard postgame and declined comment, other than saying "he has to do what's best for him." And that's most understandable.
Leonard – who is under contract for next season already, and has a player option that he can exercise in 2019 – will be eligible to be offered the supermax contract this summer, a five-year deal worth around $220 million. It's unknown if that offer is coming. It's unknown if Leonard would accept, anyway. He may just want to start over elsewhere.
His caution in coming back to playing is understandable. There are two oft-cited parallels that Leonard needs to avoid. Grant Hill shortened his career by trying to come back too soon from injury, and Isaiah Thomas – once certain he would get a max deal – faces a very uncertain future because of hip issues exacerbated by playing when he was hurt.
Aldridge is right. Leonard has to do what's best.
That means it's entirely possible the next time Popovich gets to use Leonard in a game will be in 2019 – when USA Basketball heads to the FIBA World Cup. Popovich has taken over for Mike Krzyzewski as national coach, and Leonard is one of the 35 players under consideration for that team. There's a minicamp for the U.S. squad in Las Vegas this summer, and if Leonard is there, his dynamic with Popovich will be a huge storyline.
The Spurs have themselves to blame for at least part of this mystery.
There's always been a secretive air to them. Answers are not easy to get from the Spurs, which sometimes gets construed as arrogance. David Robinson was engaging, but hardly an open book. Tim Duncan prided himself on revealing as little as possible. Popovich gives incredibly deep and thoughtful answers on many topics, but that list rarely includes his own team.
Leonard, who appeared in nine games in the regular season, has been the same way.
He doesn't drop hints on Twitter, doesn't vent on Snapchat, isn't one for long-winded answers. Among the few times he really lets himself loose in the public eye is when the Spurs tape their annual commercials for the grocery chain H-E-B , one spot sillier and funnier than the next – like the one where Tony Parker and Manu Ginobili, using horrible British accents in an effort to seem fancy, ask Leonard if he wants some steak and he replies, "indubitably."
Happy times like those seem so long ago. It's close to impossible to envision this having a happy ending.
Indubitably.
Tim Reynolds is a national basketball writer for The Associated Press. Write to him at treynolds(at)ap.org
Local journalism is essential.
Give directly to The Spokesman-Review's Northwest Passages community forums series -- which helps to offset the costs of several reporter and editor positions at the newspaper -- by using the easy options below. Gifts processed in this system are not tax deductible, but are predominately used to help meet the local financial requirements needed to receive national matching-grant funds.
Subscribe to the sports newsletter
Get the day's top sports headlines and breaking news delivered to your inbox by subscribing here.
---