Sports > WSU football
Projecting the depth chart: QB still very much unsettled at Washington State, but spring ball brings clarity to other positions
April 26, 2018 Updated Thu., April 26, 2018 at 7:53 p.m.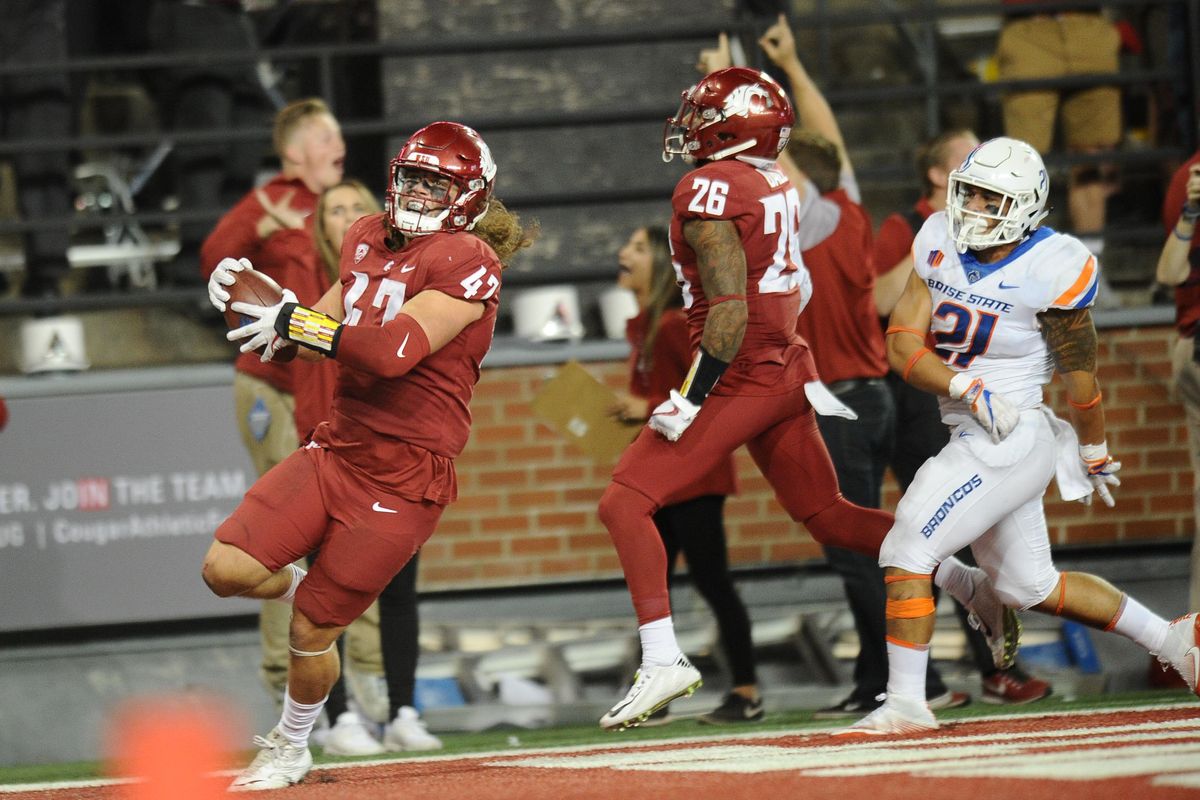 Washington State Cougars linebacker Peyton Pelluer (47) runs the ball in for a pick six during the second half of a college football game on Saturday, September 9, 2017, at Martin Stadium in Pullman, Wash. (Tyler Tjomsland / The Spokesman-Review)
PULLMAN – Spring camp is over, the sweltering fall days in Lewiston will be here before we know it.
From 14 days of spring camp in Pullman and one scrimmage, we've gleaned much about what the Cougars' depth chart could look like this fall when WSU travels to Wyoming for the season opener. Let's take a look into our crystal ball – or football, I suppose – and project Wazzu's starters and backups at each position for the 2018 season.
Quarterback
QB1: Trey Tinsley, R-Jr.
QB2: Anthony Gordon, R-Jr.
QB3: Gardner Minshew, Sr.
At this point, a depth chart supplied by the school would have "OR" inserted between Tinsley and Gordon. Newspaper depth charts aren't bound by the same requirements, though, and if the Cougars were flying to Laramie, Wyoming, this weekend for the opener, I believe Tinsley would be the quarterback sent out by Mike Leach for the season's first offensive drive.
"I think they're both really close," Leach said, "and I think they both had a really good scrimmage."
Following the final spring practice, Leach wouldn't give any clues as to whether one month would be enough time for, say, a potential graduate transfer to pick up the playbook and win a starting job. (The question was asked in hypothetical terms because East Carolina grad transfer Gardner Minshew still isn't on the WSU roster and therefore can't be named by Leach).
"If anything like that happens, we'll check it out and see," he said.
Offensive line
LT1: Andre Dillard, R-Sr.
LT2: Liam Ryan, R-So.
LG1: Josh Watson, R-So.
LG2: Christian Haangana, R-So.
C1: Fred Mauigoa, Jr.
C2: Brian Greene, R-Fr.
RG1: Robert Valencia, R-Jr.
RG2: Noah Osur-Myers, R-Jr.
RT1: Abraham Lucas, R-Fr.
RT2: Robert Valencia, R-Jr.
First-year offensive line coach Mason Miller is still tinkering with different configurations, but the grouping of Dillard, Watson, Mauigoa, Valencia and Lucas has been constant since the first week of spring camp. Expect those five starters to stick together for now.
"Our starting five, everybody, we're all hanging out together," Mauigoa said. "… We hang out a lot and we have group chats, we send funny stuff in there. I feel like our togetherness as an O-line is there, it's just we have to work on our basic technique and everything."
The second team is still iffy and I'd expect at least one or two of the incoming freshmen to push for a backup job, or at the very least give some relief to Valencia, who's taken a load of reps this spring as the starting right guard and backup right tackle.
Running back
RB1: James Williams, R-Jr.
RB2: Max Borghi, Fr.
RB3:Keith Harrington, R-Sr.
Williams led the Cougars in total carries last season with 92 and I'd expect him to go well over 100 this season as the running back depth chart thins out minus Jamal Morrow and Gerard Wicks. Borghi, a true freshman, needed only a few weeks to usurp Harrington, a fifth-year senior, but there should be a role for both of Williams' backups this fall.
In three of the last four seasons, the Cougars ranked last in the FBS in total carries – including last year, when WSU seemed to have its most talented and balanced running back corps under Leach. So it's a good thing Williams, Borghi and Harrington are all reliable pass-catchers, because after losing two trusty senior tailbacks, it's unlikely there's a huge spike in rushing attempts.
Wide receiver
"X" WR1: Tay Martin, So.
"X" WR2: Rodrick Fisher, Fr.
"H" WR1: Renard Bell, R-So.
"H" WR2: Brandon Arconado, R-Jr.
"Y" WR1: Kyle Sweet, Sr.
"Y" WR2: Jamire Calvin, So.
"Z" WR1: Dezmon Patmon, Jr.
"Z" WR2: Easop Winston, R-Jr.
For anybody concerned with who's distributing the football for WSU this year, there should be at least some reassurance knowing that the players catching it are talented, experienced and aplenty. The Cougars have an embarrassment of riches at receiver, even beyond the eight-man rotation listed above. Inside receivers Kainoa Wilson and Travell Harris have had standout moments this spring and an influx of young pass-catchers will join the Cougars later on, including four-star prospect Drue Jackson, who selected WSU over three other Pac-12 schools, Louisville and Texas Tech.
Outside "Z" receiver Patmon looks like he could be on the verge of a breakout season and his backup, Winston, churned out touchdown after touchdown during the live team periods of WSU's practices. The Cougars have plenty on the inside with speedy sophomores Calvin and Bell, not to mention the savvy senior, Sweet, who emerged at the spring game with eight catches and 138 yards.
Defensive line
DE1: Nnamdi Oguayo, R-Jr.
DE2: Will Rogers III, So.
NT1:Taylor Comfort, R-Sr.
NT2: Pono Lolohea, Jr.
DT1:Nick Begg, R-Sr.
DT2: Logan Tago, Sr.
The defensive coaches put Oguayo through an interesting test at the beginning of spring camp, demoting the explosive junior to the third-string defensive line simply to see how he'd respond. One way or the other, Oguayo, the top D-lineman on campus, was bound to make his way up the depth chart – either because he'd earned it or the coaches lost patience with their experiment. Thankfully, it was the former.
Rest assured, Oguayo will be starting at defensive end this season. On the final day of spring camp he was flanked by Comfort, a walk-on nose tackle, and Begg, an experienced fifth-year defensive tackle. The Cougars tend to experiment with a variety of formations and configurations on the defensive line, so expect them to shuffle the deck some this fall.
Linebacker
MLB1: Peyton Pelluer, R-Sr.
MLB2: Dillon Sherman, R-So.
WLB1: Jahad Woods, R-So.
WLB2: Justus Rogers, R-So.
RUSH LB1: Chima Onyeukwu, R-Sr.
RUSH LB2: Tristan Brock, R-Jr.
Rather than keep the starters out on the field for extended periods of time, don't be surprised to see WSU cycle through its four inside linebackers this fall in order to keep legs fresh and prevent injuries. The quartet of rotational players – Pelluer, Woods, Rogers and Sherman – could be as good as any in the Pac-12 Conference and the Cougars feel good enough about the talent behind those four. Redshirt freshman Fa'avae Fa'avae and junior college transfer Kendrick Catis can make a deep group even deeper.
Rush linebacker is more of a question mark, but that was also the case last season before the Cougars realized what they had with Frankie Luvu, who was beyond solid with 12 tackles-for-loss and six sacks as a junior. Redshirt senior Chima Onyeukwu, a JC transfer, and redshirt junior Tristan Brock, a former D-lineman are the lead candidates to replace Luvu.
Both are learning under the tutelage of first-year outside linebackers coach Matt Brock, who said Tuesday "we've made some progress, but we're nowhere near where we need to be when we walk into playing against Wyoming, but I think we're moving in the right direction. … Those guys haven't played a ton."
Secondary
N1: Hunter Dale, Sr.
N2: Isaiah Love, R-Fr.
CB1: Darrien Molton, Sr.
CB2: Marcus Strong, Jr.
SS1: Jalen Thompson, Jr.
SS2: Dylan Axelson, R-So.
FS1: Skyler Thomas, R-So.
FS2: Deion Singleton, R-Jr.
CB1: Sean Harper Jr., Sr.
CB2: George Hicks III, So.
Defensive coordinator Tracy Claeys came into his first spring camp concerned about the depth of the defensive secondary and presumably didn't leave it with as many solutions as he would've liked. Rarely did you leave a spring practice feeling as though the defensive backs had a better day than the wide receivers and while part of that comes with the territory of defending the Air Raid on a daily basis, Claeys has constantly issued challenges to his corners and safeties – the backups more so than the starters.
Last season, Strong stole a starting position from senior corner Marcellus Pippins. For now, it appears as though Harper Jr. has taken that same job from Strong, who's been backing up Molton on the other side of the field. The Cougars should feel fine about the depth there, but the players backing up the other four starters in the secondary need to grow up in a hurry.
Special teams
K1: Jack Crane, R-So.
K2: Blake Mazza, R-Fr.
P1: Oscar Draguicevich, R-Jr.
P2: Johnan Zetterberg, R-Fr.
KR1: Jamire Calvin, So.
KR2:Renard Bell, R-So.
PR1: Travell Harris, R-Fr.
PR2: Max Borghi, Fr.
Crane was a perfect of 7-of-7 on field goals up until the Crimson and Gray game when he finally missed in windy conditions, but Brock, who's also taking over as the Cougars' special teams coach, said competition for both the punting and kicking jobs will continue through the fall. Draguicevich boasts a strong leg and a strong junior college resume, but he doesn't arrive until August.
Local journalism is essential.
Give directly to The Spokesman-Review's Northwest Passages community forums series -- which helps to offset the costs of several reporter and editor positions at the newspaper -- by using the easy options below. Gifts processed in this system are not tax deductible, but are predominately used to help meet the local financial requirements needed to receive national matching-grant funds.
Subscribe to the Cougs newsletter
Get the latest Cougs headlines delivered to your inbox as they happen.
---