At groundbreaking, officials say Catalyst Building will be smartest ever built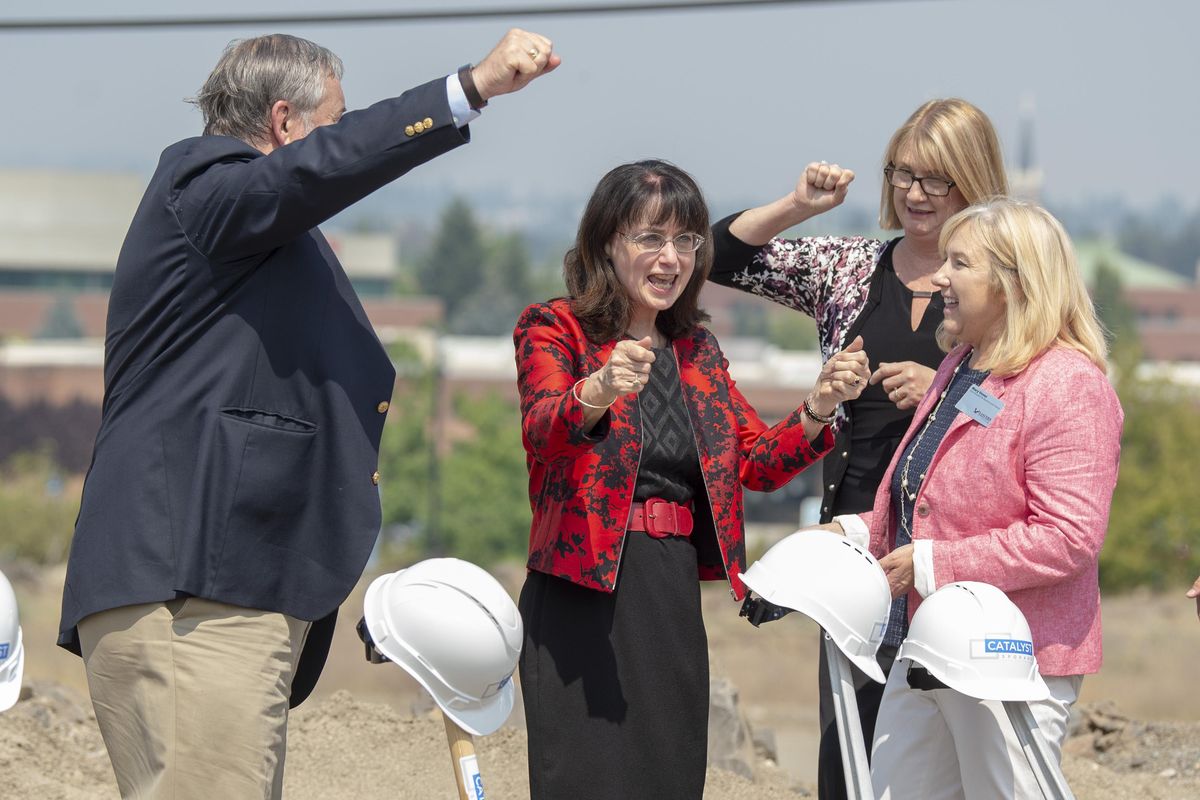 The official groundbreaking ceremony for Avista's five-story, 150,000-square-foot Catalyst Building took place Wednesday morning, with declarations that the project will be the "envy of the nation" and the "smartest building ever built."
The East Sprague Avenue building will house three degree programs and around 1,000 Eastern Washington University students; it is expected to be completed in April 2020. The building is envisioned to be part of a 770-acre University District and a bioscience hub that connects to the hospital district on the lower South Hill.
The project, developed jointly by Avista and McKinstry, is touted as "the first net-zero energy and zero carbon building in Eastern Washington" and will have the latest energy and environmental innovations.
"Hats off to Spokane for doing what is the most innovative building, I think, in America," said U.S. Sen. Maria Cantwell, D-Wash., one of the handful of officials who officially hoisted a shovel and moved some dirt. "I guarantee you, you will be the envy of the nation."
According to Dean Allen, chief executive officer of McKinstry, the structure will be outfitted with the latest technology that will allow it to produce as much energy as it consumes.
The building was designed by Michael Green Architecture of Vancouver, British Columbia. McKinstry, which remodeled the U-District's SIERR Building in 2011, will handle the mechanical and electrical engineering, plumbing, fire protection and more.
The structure will rely on cross-laminated timbers, an engineered wood product that can replace concrete and steel in high-rise buildings and parking garages. The timbers will be produced at California-based Katerra's new factory in Spokane Valley.
"This will be the smartest building ever built," said Allen. "This is part of the five smartest blocks in the world, or at least Spokane, and the city and the state and America."
Spokane Mayor David Condon said he was glad to see the public and private sectors working together to help realize a campaign promise he made when first running for mayor to change the skyline of the city.
Mary Cullinan, president of Eastern Washington University, and Mike Rock, president of construction for Katerra, also spoke.
Scott Morris, Avista's chief executive officer, said 15 years ago the University District was only "bare land."
"In 15 short years, this community – its business leaders, community leaders, elected officials and its universities – have come together to create something unlike anything else, I think, in the Inland Northwest," he said. "But we're not done."
He invited those gathered to return to the same spot 15 years in the future and witness the growth he predicted south of the site, into the warehouse district between Second Avenue and Sprague and between the U-District and the hospitals.
"Let's have this party in 15 years. Let's come back to this spot and let's not look that way," he said, pointing north to the U-District. "Let's look that way. Did we complete the 770 acres? Is the vision alive? Did this Catalyst Building really begin the second phase of this bold vision for Spokane?"
---