News > Spokane
Anti-abortion protestors picket Planned Parenthood
Aug. 11, 2018 Updated Sun., Aug. 12, 2018 at 1:43 p.m.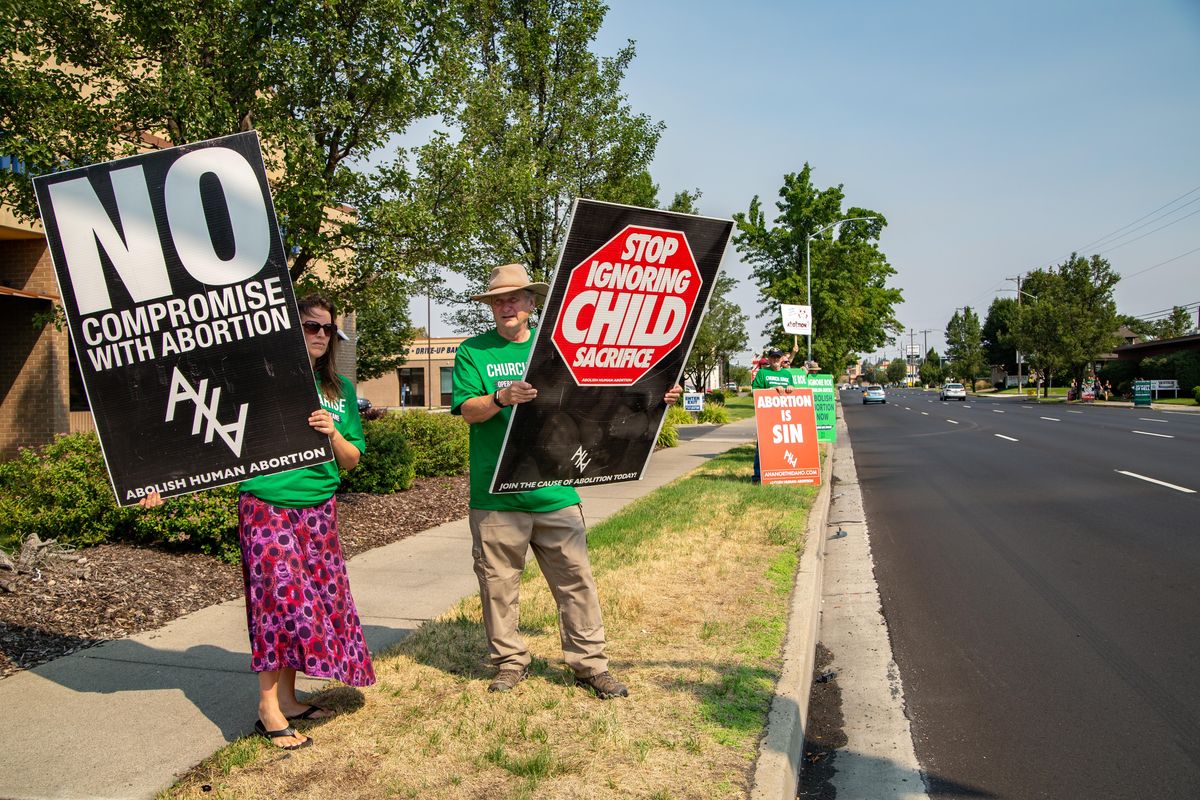 Yvonne Fredericks, left, and Rob Chase hold signs at Operation Save Spokane at the corner of Indiana on the morning of Aug. 11, 2018. The group brought together 60 or so demonstrators. (Libby Kamrowski / The Spokesman-Review)
Anti-abortion protesters from local churches and out of state took up stations on sidewalks outside Spokane's Planned Parenthood on Saturday, demanding an end to what they called the abortion holocaust.
The demonstration drew 60 to 70 protesters, who held up graphic images of aborted fetuses from various stages of gestation. A march started at Planned Parenthood on East Indiana Avenue in north Spokane and ended downtown.
The protest was affiliated with the national anti-abortion group Operation Save America.
During the event, organizers and participants distributed anti-abortion handouts and anti-LGBTQ literature, which featured, among other images, a pair of rainbow hands bleeding onto a graphic depiction of an aborted fetus.
State Rep. Matt Shea, R-Spokane Valley, attended the rally, posting a video to Facebook in which he praised pregnancy centers, adoption and the pastors behind the event.
"The great part about the word abortion is you change a couple of letters and it actually turns into adoption," Shea said in the video. "I think that's the answer. That's what Christ would want."
Shea declined to answer a Spokesman-Review reporter's questions.
Organizers and participants said their protest differed from other anti-abortion demonstrations in that they identify as "abolitionists" – a term they say describes their mission to make abortion illegal – and don't believe a legislative compromise is acceptable.
One of the event's organizers and a vocal proponent of the movement, Jake Eakin, was one of two juveniles convicted in the 2003 killing of 13-year-old Craig Sorger, a developmentally disabled Ephrata, Washington, boy. According to a Spokesman-Review article from 2006, after changing his story several times, Eakin entered into a plea deal and was sentenced to 14 years.
He and the other boy sentenced in the killing, Evan Savoie – both 12 years old at the time of Sorger's death – were the youngest defendants tried for murder in Washington state since the 1930s.
Department of Corrections spokesman Jeremy Barclay said Eakin was released in October 2016.
Eakin could not immediately be reached for comment.
Another organizer of the protest, a pastor for Living Hope Ministry in Western Washington, David Graves, said he was aware of Eakin's conviction and compared him to the apostle Paul in the Bible, who became a leader in the church after he was confronted by God for his behavior.
Paul Dillon, vice president of public affairs for Planned Parenthood of Greater Washington and North Idaho, called the protesters a radical fringe group and discouraged Planned Parenthood supporters from counterprotesting, citing safety concerns. He encouraged supporters to instead get involved through volunteering.
He said various Planned Parenthood locations often get noisy protesters, but added that the Operation Save America group uses what he called more hateful, extreme rhetoric and also opposed LGBTQ rights. Fortunately, he said, the protest had been scheduled on the weekend, which is not during the center's business hours. Patient safety and well-being, he said, is one of the organization's top priorities.
Graves said he expected Planned Parenthood to frame their group as radical, and the group's position stemmed from a fundamentally different viewpoint.
"What do you expect they're going to say?" Graves said. "We think abortion is evil, they think abortion is a good thing."
Local journalism is essential.
Give directly to The Spokesman-Review's Northwest Passages community forums series -- which helps to offset the costs of several reporter and editor positions at the newspaper -- by using the easy options below. Gifts processed in this system are not tax deductible, but are predominately used to help meet the local financial requirements needed to receive national matching-grant funds.
Subscribe now to get breaking news alerts in your email inbox
Get breaking news delivered to your inbox as it happens.
---