News
Last-minute technical problem delays NASA's flight to sun
UPDATED: Sat., Aug. 11, 2018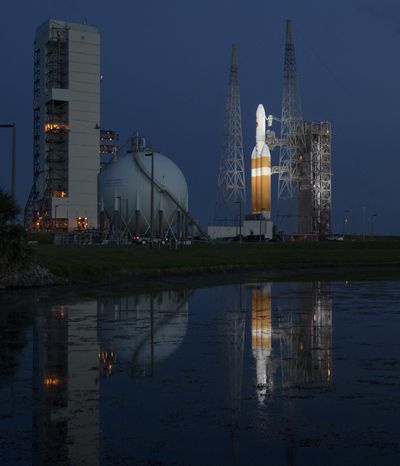 CAPE CANAVERAL, Fla. – A last-minute technical problem Saturday delayed NASA's unprecedented flight to the sun.
The early morning launch countdown was halted with just 1 minute, 55 seconds remaining, keeping the Delta IV rocket on its pad with the Parker Solar Probe.
Rocket maker United Launch Alliance said it would try again Sunday, provided the helium-pressure issue can be resolved quickly. As soon as the red pressure alarm for the gaseous helium system went off, a launch controller ordered, "Hold, hold, hold."
Once on its way, the Parker probe will venture closer to our star than any other spacecraft. The $1.5 billion mission is already a week late because of rocket issues. Saturday's launch attempt encountered a series of snags; in the end, controllers ran out of time.
Thousands of spectators gathered in the middle of the night to witness the launch, including the University of Chicago astrophysicist for whom the spacecraft is named. Eugene Parker predicted the existence of solar wind 60 years ago. He's now 91 and eager to see the solar probe soar. He plans to stick around at least another few days.
Local journalism is essential.
Give directly to The Spokesman-Review's Northwest Passages community forums series -- which helps to offset the costs of several reporter and editor positions at the newspaper -- by using the easy options below. Gifts processed in this system are not tax deductible, but are predominately used to help meet the local financial requirements needed to receive national matching-grant funds.
Subscribe to the Coronavirus newsletter
Get the day's latest Coronavirus news delivered to your inbox by subscribing to our newsletter.
---