News > Education
Spokane teachers ratify new contract, agree to average salary increases of 13.3 percent
Aug. 30, 2018 Updated Thu., Aug. 30, 2018 at 10:35 p.m.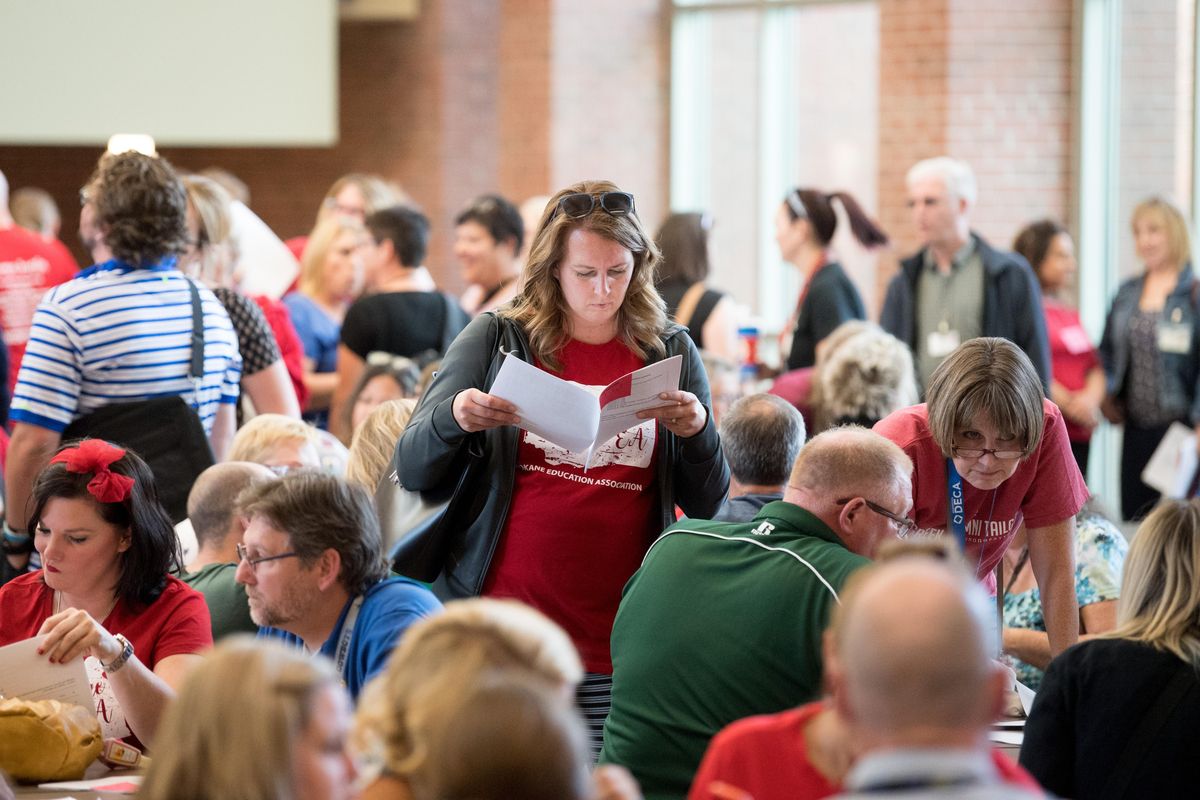 Lindsey Pugh, a teacher at Shadle Park High School, reads through a packet of materials before a ratification vote on the proposed contract between the Spokane Education Association and Spokane Public Schools on Thursday, Aug. 30, 2018, at Shadle Park High School in Spokane, Wash. (Tyler Tjomsland / The Spokesman-Review)
Capping a first day of school like no other, Spokane Public Schools teachers ratified a new contract Thursday night that will raise their salaries by an average of 13.3 percent.
Nearly all of them walked out of the Shadle Park High School gymnasium with smiles after a long but satisfying day.
"This really topped it off," said Samantha Nixon, a speech and language pathologist at Bemiss Elementary School.
"The feeling now is that this whole year is going to be great," Nixon said.
Two days after reaching a tentative deal, the Spokane Education Association's members sealed the deal by an overwhelming margin of 1,552 to 43, or 97.3 percent approval.
The final salary numbers are well short of the average 16 percent raise that Mead teachers ratified on Monday, but better than the single-digit increases finalized this week at East Valley and West Valley.
However, SEA president Katy Henry said that her negotiators were able to leverage the Mead numbers at the bargaining table.
"That's when we started to see more money on the table, numbers that we knew people needed to have in order to ratify," Henry said.
The sides reached a tentative agreement late Tuesday night, setting the table for Thursday's vote.
The raises are skewed toward more experienced teachers, especially those in the middle of the experience range.
For example, under last year's contract, a teacher with a master's degree and 14 years' experience earned $74,236, not including benefits.
In the new deal, that number jumps to $87,401, an increase of 17.7 percent.
Top-scale teachers – those with 16-plus years' experience with a master's and 90 additional credits – will see their pay increase from $87,787 to $98,756, a hike of 12.4 percent.
The numbers are much lower for entry-level teachers; their total compensation went from $45,031 to $49,056, or 8.9 percent.
Salary hikes for classified workers also vary widely, from 7.7 percent to 21.8 percent.
The district's board is expected to approve the contract at its regular meeting on Sept. 12.
"The agreement continues a practice of investing in our people to attract and retain the best employees," the district said in a statement released after the ratification.
"Our mission is to provide an excellent education for all Spokane students and we are excited that the focus will be on students and learning," the district said.
On Wednesday, the district board anticipated the ratification by approving a budget that raises expenditures to $465 million – a increase of $21 million over preliminary budgets.
For teachers and classified staff, Thursday began as a typically busy day of school. Afterward, many teachers drove straight from their classrooms to Shadle Park, where the parking lot was full by 5 p.m.
For about an hour, they pored through a 35-page document issued by the SEA which compared last year's salary charts with those in the tentative agreement.
After separate informational meetings, the teachers and classified staff filled the Shadle Park gym for a joint gathering that began at 7 p.m.
The vote followed quickly. By 7:45, most of the SEA members were heading out the door.
"It was a long day but well worth it," said Ryan Campanella, a science teacher at The Community School, a project-based high school.
"I loved to see the kids on the first day, and to end it like this is pretty awesome," Campanella said.
Of the county's five largest districts, only Central Valley is without a contract or tentative agreement. The district is scheduled to meet with the teachers' union on Friday.
Statewide, more than 200 districts are still without contracts.
The negotiations are a product of an influx of state dollars for public education following the McCleary court decision.
The state allocated $2 billion statewide, but did not give guidelines on how that money should be allocated.
Of that $2 billion, about $27.7 was earmarked for Spokane Public Schools.
Local journalism is essential.
Give directly to The Spokesman-Review's Northwest Passages community forums series -- which helps to offset the costs of several reporter and editor positions at the newspaper -- by using the easy options below. Gifts processed in this system are not tax deductible, but are predominately used to help meet the local financial requirements needed to receive national matching-grant funds.
Subscribe now to get breaking news alerts in your email inbox
Get breaking news delivered to your inbox as it happens.
---