Sports > EWU football
Eastern Washington notebook: Maine reminds Eagles of Big Sky Conference rival Weber State
UPDATED: Tue., Dec. 11, 2018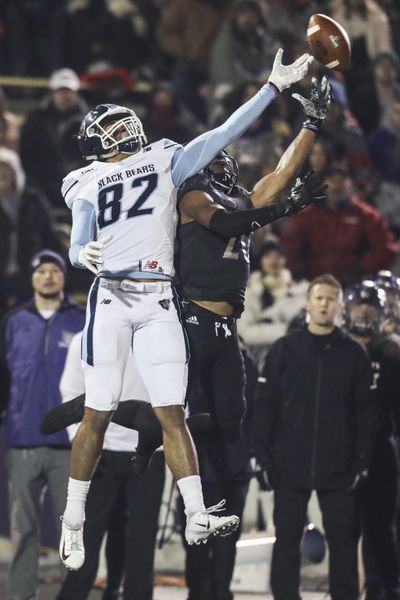 Christmas songs blared from Roos Field's speakers Tuesday as nickel-sized snowflakes blanketed the red turf.
Eastern Washington sophomore linebacker and Los Angeles native Chris Ojoh appeared acclimated to December football in Cheney, wearing shorts and a short-sleeve shirt as others bundled up.
The Eagles (11-2) celebrated the yuletide season as they prepared for Maine (10-3), which visits EWU on Saturday at 11 a.m. in the FCS semifinals.
All they want for Christmas is a berth to the national time game, a Jan. 5 date with either North Dakota State (12-0) or South Dakota State (11-2) at Toyota Stadium in Frisco, Texas.
First, the third-seeded Eagles, playing in their fifth FCS semifinal since 2010, have to get past a staunch Maine defensive unit that upset second-seeded Weber State 23-18 on the road last week.
Weber State shut down EWU 14-6 on Oct. 13 in Ogden, Utah, before sharing a Big Sky Conference title with the Eagles.
Seventh-seeded Maine, which leads the country in rush defense (68 yards per game) and is second in sacks (47), reminds EWU head coach Aaron Best of Weber State.
"What Weber presented to us in the regular season, Maine will present in the postseason. It will be a fun, physical, old-school brawl," Best said.
"There may be a 4-yard run that ends up being a highlight."
EWU center Spencer Blackburn pointed to the Black Bears' front seven, which features All-American linebacker Sterling Sheffield, who has 17.5 tackles for loss, 9.5 sacks, and seven pass breakups.
"Big bodies. They have a very physical front," said Blackburn, who's helped pave the way for the FCS second-ranked offense, which averages 266 yards on the ground.
"And that's the strength of their outfit. Their defense is run-stop, that's for sure."
Maine is making the 3,000-mile trip to Cheney days after making the trek back from Ogden, Utah.
Unlike EWU's last two playoff opponents Nicholls State of Louisiana and UC Davis, the Colonial Athletic Conference champions are used to playing in snow and frigid temperatures.
Maine, making its deepest postseason run in program history, was picked eighth in its conference's preseason poll and has played eight away games this season.
The Black Bears endured tragedy in June when freshman defensive back Darius Minor collapsed and died of a heart condition during a workout. Maine has dedicated its season to Minor.
The Black Bears average 27 points a game and 339 yards. Their defense often puts them in good field position.
Maine erupted for a 55-27 win over Jacksonville State in the second round of the FCS playoffs with a healthy quarterback Chris Ferguson, who's passed for 2,041 yards, 29 touchdowns and nine interceptions.
Ferguson went down with an early injury in a 17-5 loss Central Michigan (1-11), arguably the worst FBS team in the nation this year. He sat out the next week in a 35-14 loss to an Ivy League program, Yale (5-5).
He and Maine face a stingy EWU defense yielding 21.8 points a game.
"They have a solid run game, their receivers are fast and (Ferguson) does a good job of getting them that back-shoulder ball and letting their receivers run under it," EWU corner Josh Lewis said of Maine.
Maine, led by 32-year-old head coach Joe Harasymiak, ranks second in the FCS in total penalties (116).
Maine linebacker Jeffrey Devaughn was asked Tuesday about playing on EWU's red field.
"I grew up playing in a parking lot," Devaughn told a group of Maine reporters. "If they want to play in the parking lot, we'll meet them in the parking lot. Doesn't matter what field we're on."
Maine corner Manny Patterson is confident in his defense.
"Every week we come out and keep dominating these offenses, and make the point known that we are the top dogs," Patterson told Maine reporters. "And until they put respect on our name, we're gonna keep doing that."
Three Eagles named All-American
EWU kicker Roldan Alcobendas, Blackburn and defensive tackle Jay-Tee Tiuli were named to the Associated Press All-American Team on Tuesday.
Alcobendas, who is 15 for 15 on field goals this season, was also named to the AP's first team.
On Monday, he won the Freddie Mitchell Award, given to the country's best non-FBS kicker.
Tiuli, the Big Sky Conference's Defensive Player of the Year, was named to the second team.
Blackburn, a three-year starter and team captain, was named to the second team. He was also named to the All-Big Sky Conference second team last month.
"Jay-Tee is a fabulous player and the MVP in the conference. Spencer, in my humble opinion, is the best center in this league even though he was just a second-team all-league player," Best said.
"Roldan is Roldan, and every week he seems like he brings an honor in. When he leaves Cheney he's going to have to rent a U-Haul to carry home his hardware."
McPherson moves up record list
After EWU running back Sam McPherson's 143 yards rushing and winning touchdown run in a 34-29 win over UC Davis last week, he moved up the record board.
He has 1,288 yards yards, moving into fifth in single-season school history.
Local journalism is essential.
Give directly to The Spokesman-Review's Northwest Passages community forums series -- which helps to offset the costs of several reporter and editor positions at the newspaper -- by using the easy options below. Gifts processed in this system are not tax deductible, but are predominately used to help meet the local financial requirements needed to receive national matching-grant funds.
Subscribe to the sports newsletter
Get the day's top sports headlines and breaking news delivered to your inbox by subscribing here.
---