Sports > WSU basketball
Washington State's Ernie Kent on transfer Arinze Chidom: 'He has done everything we've asked him to do, I'm going to miss him'
UPDATED: Fri., Dec. 14, 2018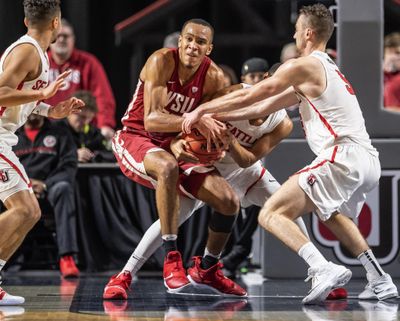 PULLMAN – Redshirt sophomore forward Arinze Chidom won't complete the rest of the 2018-19 season with the Washington State basketball team.
Chidom announced late Thursday night in a Twitter post he intends to transfer from WSU, citing his desire to "find a new home to compete at and complete my education."
Chidom's announcement came just after 11 p.m. and four days after WSU's 95-90 loss to Montana State at the Toyota Center in Kennewick, which dropped the Cougars to 5-3 on the season. WSU's semester ends Friday, so the timing of Chidom's decision allows him to spend the next few weeks exploring other schools before the start of a new semester.
An Oakland, California, native who played at Bishop O'Dowd High before going to Sunrise Christian Academy Prep in Kansas and then Oakland's Merritt College, Chidom had played in all eight games this season and was regularly one of the first players off the bench for WSU.
"If somebody comes to me and then says, 'I need to do this for playing time' or whatever, I have to support them and regardless of his reasons for doing it," WSU coach Ernie Kent said. "He has done everything we've asked him to do, I'm going to miss him. It's been a rough couple days because I love the kid so much, but he has to make the decisions in terms of his future and what's coming down the road as to where he feels like he needs to get to."
The 6-foot-9, 200-pound forward was averaging 3.3 points per game and 3.4 rebounds per game. Chidom shot 33 percent from the field this season playing 13.6 minutes per game. As a redshirt freshman, he played in 28 of 31 games for the Cougars, averaging 3.3 ppg and 2.8 rpg.
"I look at minutes and obviously Robo (Robert Franks) is having a stellar season, he's a pro that's sitting there, you're playing behind," Kent said. "There's not a lot of minutes there. With some of the players that have come in, their development, they've come on so quickly, the minutes are getting squeezed.
"If an individual says, at the end of the semester, I want to go now and it'll have me another semester and a year to play, I have to support that. And I do, I talked to his parents, and for him to make this decision was a big move on his part. He has made it and we have to accept it. We have enough talent in our program to weather all of this."
Chidom becomes the 15th player recruited by Kent to transfer from WSU. Two others, Royce Woolridge and James Hunter, were recruited by ex-Cougars coach Ken Bone and transferred shortly after Kent was hired in 2014.
Since 2014, the WSU program has had 17 players transfer. According to data compiled by VerbalCommits.com, only Arizona State (20) and Utah (18) have had more players transfer during that span.
"It's not a Washington State problem, it's not a Ernie Kent problem and I don't quite frankly think it's a college basketball problem, because I think it's a societal problem," Kent said, pointing to a stat that says 40 percent of incoming college basketball freshmen transfer before the end of their sophomore season.
The full list of players to leave the program is as follows: G Ny Redding (Wyoming); C Valentine Izundu (San Diego State); G Que Johnson (Western Kentucky); G Derrien King (Angelo State); G Renard Suggs (Nebraska-Omaha); F Aaron Cheatum (Cal State San Bernardino); G Jackie Davis (Odessa College); G Trevor Dunbar (City College of San Francisco); G Milan Acquaah (Cal State Baptist); G Malachi Flynn (San Diego State); G Jamar Ergas (South Plains Junior College); G TJ Mickelson (Lake Region State College) G Kwinton Hinson (Life University) and G Marcus Graham (Seattle Pacific).
After an eight-day break, the Cougars resume action on Monday at home against Rider (7 p.m., Pac-12 Networks).
Local journalism is essential.
Give directly to The Spokesman-Review's Northwest Passages community forums series -- which helps to offset the costs of several reporter and editor positions at the newspaper -- by using the easy options below. Gifts processed in this system are not tax deductible, but are predominately used to help meet the local financial requirements needed to receive national matching-grant funds.
Subscribe to the sports newsletter
Get the day's top sports headlines and breaking news delivered to your inbox by subscribing here.
---