News > Spokane
An interview with Josh Perkins at Holmes Elementary
Sat., Dec. 15, 2018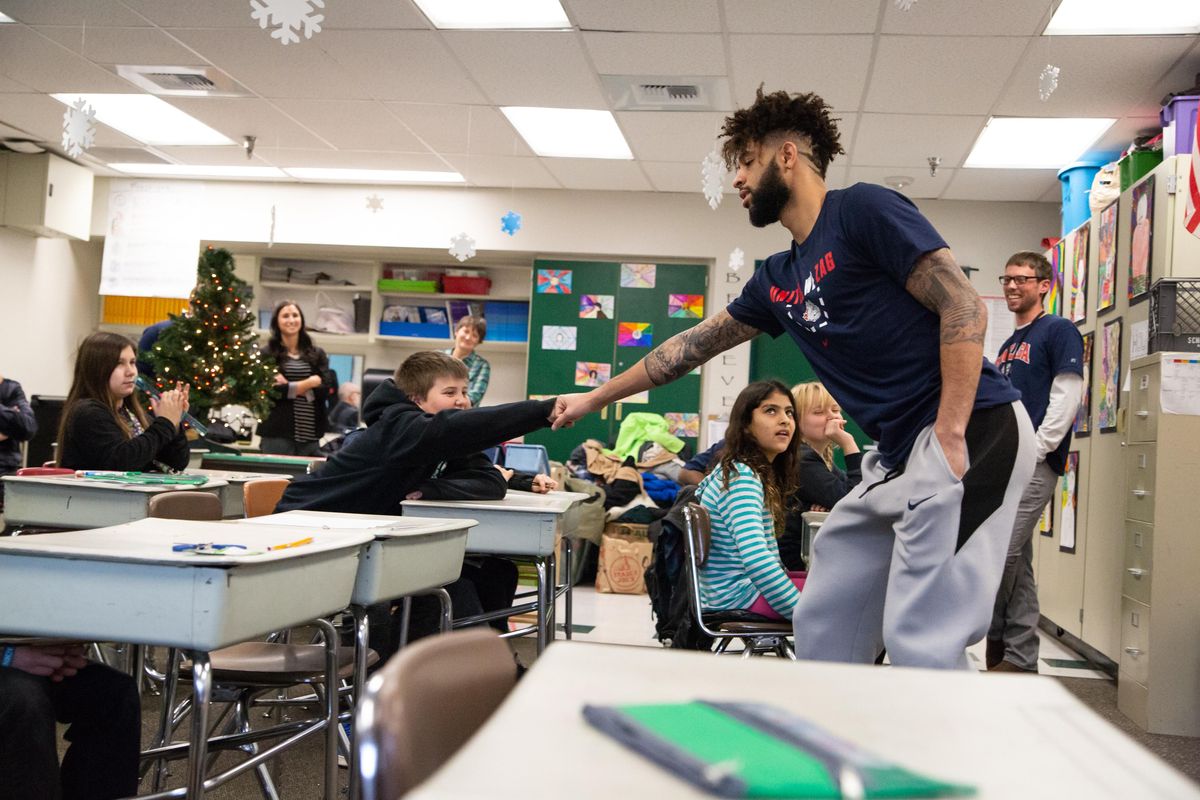 Gonzaga point guard Josh Perkins fist bumps a student in Mr. McIalwain's fifth-grade class at Holmes Elementary school on Dec. 3, 2018. Perkins came to the school to be interviewed by fifth grader Gabriel DelaCruz for the West Central newspaper. (Libby Kamrowski / The Spokesman-Review)
Josh Perkins, a basketball player for Gonzaga, was at Holmes Elementary to talk to our fifth-grade class.
I had an interview with Josh after he talked to the class. I asked him what his favorite part of basketball is. "Honestly, it's fun. It's fun to compete. Obviously, it's fun to win," he said.
He is 23 years old and 6 feet, 3 inches tall. He's a Kobe fan. He also likes Allen Iverson and Ray Allen. He likes sushi, pizza, mangoes and watermelon in the summer time.
One time he put pigtails in his hair. He made the back of his head into a Christmas tree. He also dyes his hair. He once broke his jaw and had a torn labrum.
Josh hopes to get drafted to play in the NBA. Some of his friends on the team call him Perk or JP. He has a degree in sports management.
Josh has a busy schedule with practice and games. He only gets one day off – Sunday.
He visited Wake Forest, New Mexico and UCLA and then chose Gonzaga. He chose Gonzaga "because it felt like home," he said.
The teacher asked Josh how he handles challenges. Josh said the key is "staying positive and believing in each other."
Local journalism is essential.
Give directly to The Spokesman-Review's Northwest Passages community forums series -- which helps to offset the costs of several reporter and editor positions at the newspaper -- by using the easy options below. Gifts processed in this system are not tax deductible, but are predominately used to help meet the local financial requirements needed to receive national matching-grant funds.
Subscribe now to get breaking news alerts in your email inbox
Get breaking news delivered to your inbox as it happens.
---