News > Travel
Weekend Getaway: Perusing Port Townsend
Sun., Dec. 16, 2018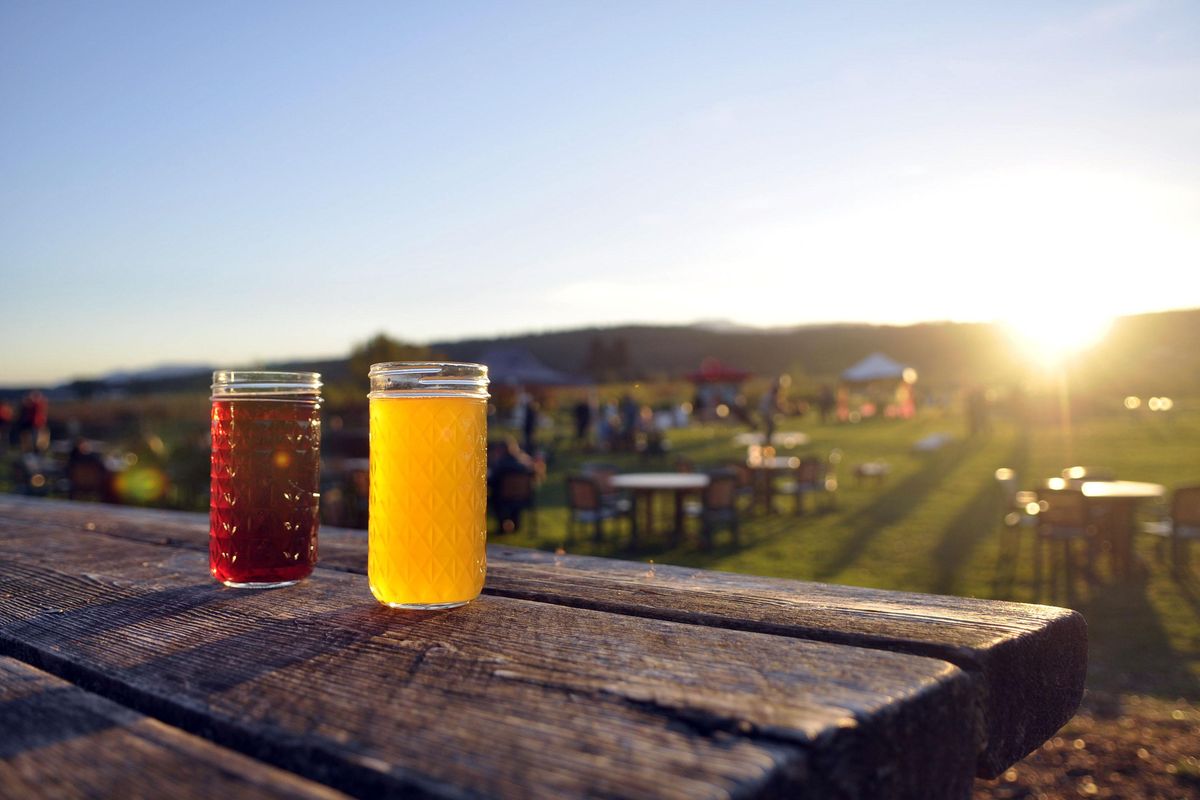 Late afternoon sun shines through a couple of jars of hard cider at Finnriver Farm and Cidery in Chimacum, located about 10 miles south of Port Townsend. (JOHN GUENTHER)
PORT TOWNSEND, Wash. — I found a seat at the foot of the town's historic bell tower, a wooden structure that once called volunteer firefighters to their posts from its perch atop the bluff overlooking downtown.
From here, I watched the ferry come in from and leave again for Coupeville on Whidbey Island. I could make out the silhouette of "Big Blue," the Department of Defense's largest container crane, across the bay on Indian Island. And, of course, I had a clear view of Victorian rooftops in downtown PT.
Summer streets in this dreamy historic seaport bustle with tourists, especially on the weekends and particularly when there's a festival. And festivals are frequent in this picturesque waterfront town along Washington's northern coast. Located on a peninsula (Quimper) of a peninsula (Olympic), Port Townsend sees visitors all seasons.
Late fall and early winter is really the perfect time to go. You can enjoy this charming city – which sports the tongue-in-cheek bumper-sticker slogan "We're All Here Because We're Not All There" – when it's less crowded. This time of year, most of the people who are all here are locals.
Writer Annie Proulx ("The Shipping News") lives in PT. So does Jeremiah Green, the drummer for Modest Mouse, and mountaineer Jim Whittaker, the first American to summit Mt. Everest, as well as legendary street performer Artis the Spoonman, immortalized by Soundgarden's 1994 song "Spoonman." (I used to live here, too.)
Winter can get chilly, cloudy and windy. But Port Townsend, nicknamed the City of Dreams and the Key City, only gets 20 inches of rain per year (compared to Seattle's 37 and a U.S. average of 39). And that's just a few inches more than Spokane's 16.5 inches. So bundle up and explore, then warm up in one of PT's cozy coffee shops, restaurants, bars or boutiques.
Here are 11 things to do in Port Townsend in winter.
Have breakfast in the boat haven. It's cash or check only at the eclectic and cozy Blue Moose Cafe, a longtime locals' favorite for breakfast, lunch and brunch. Pour yourself a cup of coffee while you wait for a table. You won't be able to see the water from this casual and friendly eatery, but you might be able to watch people working on boats in the yard at the Port of Townsend. The hearty fare that comes out of this tiny kitchen attracts shipwrights and other folks who work in the port. 311 Haines Place. (360) 385-7339).
Take a coffee break. Warm up along the water at Velocity, the specialty coffee shop at the Northwest Maritime Center, or Better Living Through Coffee, which specializes in fair-trade, organic and locally roasted beans and drinks such as the Caffe Chetzemocha, with cocoa, spices and chipotle peppers. Each spot is just steps from the water and located on the main drag through downtown. Velocity: 431 Water St. (360) 379-5383. www.facebook.com/velocityporttownsend. Better Living Through Coffee: 100 Tyler St. (360) 385-3388. bltcoffee.com.
Customize your popcorn at the Rose Theatre. The gem of a movie theater, located in a restored 1907 vaudeville house, uses real butter on its popcorn, which movie-goers can doctor up with different seasonings such as Parmesan and nutritional yeast. The theater has two screens: the Rose, which seats 158, and the Rosebud, which seats 79. Its next-door, third-floor venue – the 21-and-over Starlight Room, located above the longtime Silverwater Cafe – seats 46 on vintage chairs and sofas. Beer, wine, cocktails and small plates are available at this special space, bedecked with chandeliers and throw pillows. Spots sell out quickly. Consider ordering tickets online in advance. 235 Taylor St., (360) 385-1089. https://rosetheatre.com.
Pretend to be an officer or a gentleman or both at Fort Worden State Park. This former U.S. Army installation offers much to explore – from old bunkers to beachfront. Button up your peacoat and walk along the shore to the Point Wilson Lighthouse, built in 1914 and listed on the National Register of Historic Places and the Washington State Heritage Register. Woodsy trails take trekkers past remnants of old gun batteries to Memory's Vault, a series of sculptures adorned with poetry by the late Sam Hamill. Earlier this year, Modest Mouse performed at the fort's 1,200-seat McCurdy Pavilion, an old balloon hangar that appeared in the 1982 film "An Officer and a Gentleman," starring Richard Gere and Debra Winger. The fort is also home to the Port Townsend Marine Science Center, open noon to 5 p.m. Friday through Sunday in winter, and the arts nonprofit Centrum, which hosts an annual writers' workshop (Spokane's Sam Ligon is the artistic director) as well as other events. The 434-acre park features dozens of historical buildings, including some in which guests can stay, such as the Officers Row houses. 200 Battery Way. (360) 344-4400. fortworden.org. Note: You can rent the same room where the movie love scene was filmed, but it isn't at the fort; the "Officer and a Gentleman" Suite at the Tides Inn overlooks the water on the way into downtown. 1807 Water St. (360) 385-0595. tides-inn.com.
Browse downtown boutiques. Downtown Port Townsend is full of small, locally owned shops and galleries. The Main Street Program has a list on its website at ptmainstreet.org/explore/shop. A few favorites are the Port Townsend Antique Mall, Quimper Sound Record Store, William James Bookseller, The Wine Seller and Getables for gourmet goodies, gifts and novelties. The Green Eyeshade offers a wide selection of kitchenware. Maestrale specializes in goods from India, Indonesia, Thailand, Nepal and China. And Phoenix Rising is one of the largest metaphysical shops in the Northwest, with incense, books, crystals and more.
Hike up the steps behind Haller Fountain. Tucked at the end of Taylor Street in the heart of downtown, the historic Haller Fountain is a popular spot for picture-taking. The staircase to the Uptown business district lies directly behind it. Across the street from the top of the steps is the Rothschild home, built in 1868 by one of Port Townsend's early businessman. The property makes up Washington's smallest state park. One block west, find the old bell tower as well as St. Paul's Episcopal Church, built in 1862. Uptown also includes Aldrich's Market, founded in 1895, as well as several shops and eateries, including the Uptown Pub, Lanza's Ristorante, the fine-dining Finistere and Pane d'Amore.
Swirl and sip. Port Townsend Vineyards, located near the south entrance to town, has a small but casually elegant tasting room on site of the winery's custom-crush facility, designed so grapes could be processed with energy- and water-efficient practices. Port Townsend Vineyards maintains 5 acres of grapes in town and also buys grapes regionally. Varietals include malbec, pinot noir, syrah, cabernet sauvignon, riesling, gewurztraminer, chardonnay and pinot gris. Admiralty Distillers, a small-batch distillery nearby, specializes in brandy made from local fruits as well as its signature Pennant Gin with distinctive lavender notes. It's open noon to 5 p.m. Saturdays for tasting. Winery: 2640 W. Sims Way. (360) 344-8155. www.porttownsendvineyards.com. Distillery: 820 lake St. (360) 643-3530. www.admiraltydistillers.com.
Change your pint of view. Port Townsend is a perfect place to enjoy a pint and watch the sun set over the water. Brave the back deck at the second-floor Sirens pub, a longtime Water Street establishment with sweeping views of Port Townsend Bay, Union Wharf and the old cannery. When it gets too dark or too cold, come inside to warm up by the stove, take in some live music and consider dinner. The menu features calamari, clam chowder and a great Gorgonzola burger that also comes with lettuce, tomato, onion and mayo. Add peppered bacon, sauteed mushrooms and crispy shallots for extra charge. Pourhouse, located past the ferry dock outside of the downtown core, is a popular watering hole for locals with 12 beers and two ciders on tap, plus more than 200 bottles and cans. There's live music Saturday nights but no food. You can bring in entrees from neighboring restaurants or have orders delivered, and menus are provided. Warm up at the fire pit in the outdoor beer garden, or "Impound Lot," which also offers picnic tables, ping-pong, Petanque and spectacular water views. Sirens: 823 Water St. (360) 379-1100. www.sirenspub.com. Pourhouse: 2231 Washington St. (360) 379-5586. ptpourhouse.com.
See just how much this cider house rules. Ten miles south of town at the four-way stop of Chimacum, find the bucolic Finnriver Orchard and Cider Garden. This family-friendly venue and tasting room is a must-stop for fans of hard cider. The Good Food Award-winning Finnriver offers live music on weekends and food vendors (wood-fired pizza, crepes, brats) daily as well as a growing variety of ciders and fruit wines. Look for creative combinations such as lavender black currant and cranberry rosehip as well as sour ciders, sparkling releases, and blueberry and raspberry wines. There's play equipment – think: giant old tires – for kids as well as a bocce ball court and farm store, too. 124 Center Road. (360) 339-8478. www.finnriver.com.
Enjoy a night cap. The Cellar Door, an intimate subterranean cocktail lounge in downtown, opens nightly at 5 and specializes in absinthe service, classic cocktails and seasonal house concoctions. Settle in with a hot toddy or barrel-aged Negroni. Alchemy, located next to the Haller Fountain, is a bistro and wine bar with a dimly lighted lounge. Sip a Snow Falling on Cedars, named for the 1994 novel by David Guterson that was made into a movie starring Ethan Hawke – and filmed partially in Port Townsend. The cocktail version is served on the rocks and features gin, Carpano Antica, Aperol and an egg. The Cellar Door: 940 Water St. No. 1. (360) 385-6959. www.cellardoorpt.com. Alchemy: 842 Washington St.(360) 385-5225. alchemybistroandwinebar.com.
Feel festive. Port Townsend celebrates all year long with myriad festivals and events. There's always something going on. In December, there's an annual Community Tree Lighting and Visit from Santa in downtown. On New Year's Eve, there's an all-ages First Night Celebration. At the end of January, there's the Strangebrew Festival, followed in February by the Red Wine and Chocolate Tour and Shipwrights' Regatta as well as the Victorian Festival in March. The rest of the year, look for the Rhododendron or "Rhody" Festival, Steampunk Festival, Port Townsend Acoustic Blues Festival, Port Townsend Ukele Festival, Fiddle Tunes and Jazz Port Townsend as well as the Wooden Boat Festival, Port Townsend Film Festival and Kinetic Skulpture Race, a not-to-be-missed event in which human-powered vehicles race through mud, water and neighborhoods. There's a dance, parade, plenty of costumes and a little bit of "kraziness." enjoypt.com.
Local journalism is essential.
Give directly to The Spokesman-Review's Northwest Passages community forums series -- which helps to offset the costs of several reporter and editor positions at the newspaper -- by using the easy options below. Gifts processed in this system are not tax deductible, but are predominately used to help meet the local financial requirements needed to receive national matching-grant funds.
Subscribe now to get breaking news alerts in your email inbox
Get breaking news delivered to your inbox as it happens.
---