Analysis: Gonzaga shines in crunch time again, holds off BYU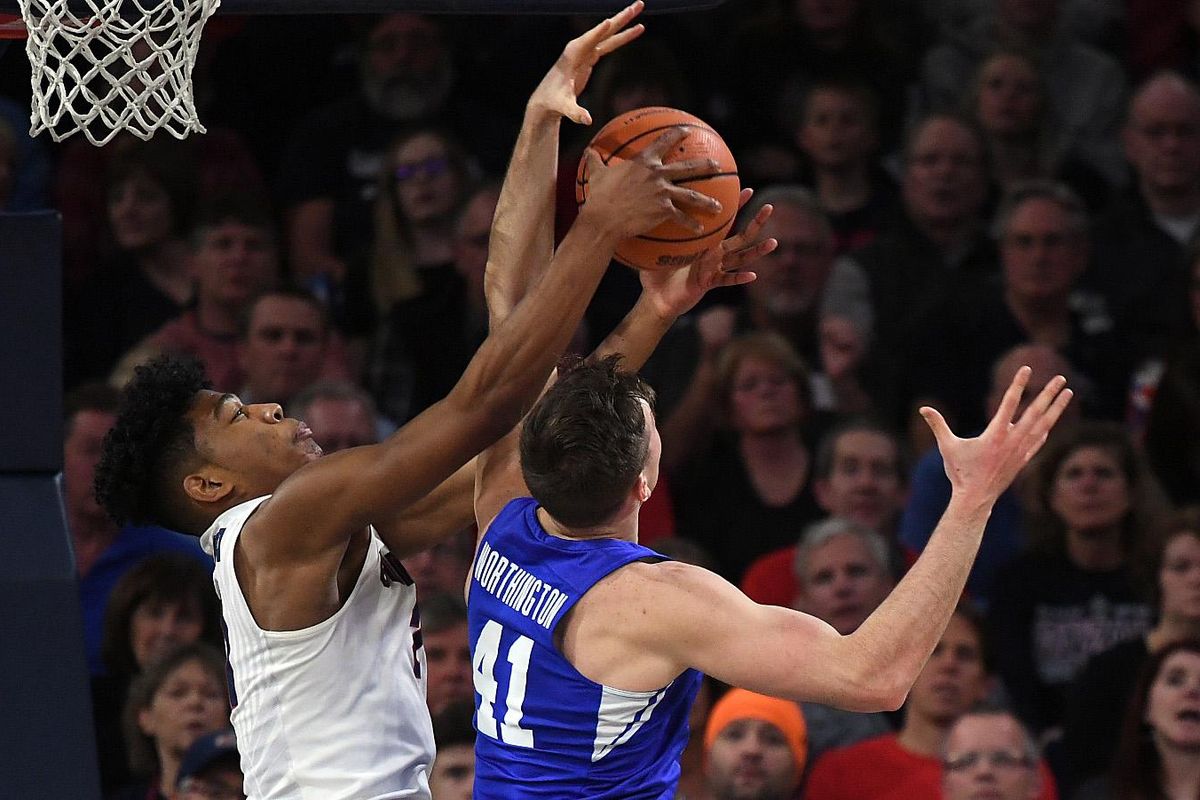 Those 30- and 40-point WCC blowouts in late December and early January have given way to a new-look Gonzaga basketball team.
Back then, the points came in bunches as the Zags' scored in the 80s, 90s and even 100s.
The 14th-ranked Zags have become late-game specialists, at least in their last three games. They came through in crunch time again to hold off BYU 68-60 in front of a loud gathering of 6,000 Saturday night at the McCarthey Athletic Center.
Gonzaga (21-4, 11-1 WCC) has won three straight tense, grind-it-out affairs, twice scoring in the 60s. The Zags have squeezed out just enough offense in the closing minutes – Zach Norvell Jr.'s enormous 3-pointer broke a tie with the Cougars with 2:19 left – but they've been even better at the defensive end. They closed out San Francisco, San Diego and BYU with 6-0 spurts to the finish line.
"I hope we can continue it," coach Mark Few said after Gonzaga's fifth consecutive win. "It is a good time to do it (at the defensive end). It's very timely. I feel like we're competing."
BYU (18-7, 7-5) didn't score on its last four possessions. Norvell, who was struggling at both ends of the floor most of the night, left his man and poked the ball away from TJ Haws, who tried to will the visitors to victory with 10 straight Cougars points late in the second half.
"Just knowing the scout," Norvell said. "I knew I was guarding a non-shooter so I could help out a little bit more."
Haws' turnover led to a pair of Rui Hachimura free throws and GU led 66-60 with 29.5 seconds left. Haws, who finished with 22 points, turned it over again on the next possession and Josh Perkins made two free throws.
BYU standout sophomore forward Yoeli Childs was a handful, putting up 14 points, with 11 rebounds and four assists, but his last basket came with 15:53 remaining. Hachimura and Killian Tillie, whose minutes were limited because he was fighting the flu, did a nice job guarding Childs as the second half wore on. Childs had limited touches, in part because of Haws' late-game success.
The Zags also shut down wing Elijah Bryant, who scored a season-low four points. Bryant, who leads the Cougars at 18.5 points per game, made just 1 of 11 shots and missed all eight of his 3-point attempts. Norvell, Corey Kispert and Jeremy Jones took turns defending Bryant.
Gonzaga needed more than just its defense and a couple of key late baskets, one of which was Johnathan Williams' driving layup with 1:33 left that bumped GU's lead to 64-60. The Zags' bench delivered with Hachimura and Kispert combining for 22 points and Jones contributing defensively.
"I don't know where we'd be without those two (Hachimura and Kispert)," said Williams, who finished with 13 points and 10 rebounds for his seventh double-double this season. "Corey has his confidence back and Rui was back to being Rui."
Meanwhile, BYU's four subs failed to score. Center Luke Worthington, who had a career-high 16 points, Haws and Childs combined for 52 of BYU's 60 points.
Gonzaga had its customary balanced approach, led by Hachimura's 15 and Perkins' 14. Tillie scored nine points, all in the first 7 minutes.
Hachimura and Childs staged an entertaining battle. Childs had three baskets early in the second half as BYU erased a 36-26 halftime deficit to pull even at 43. Hachimura countered with a layup, elbow jumper and a quick move around Worthington as GU went back in front 55-47.
"Two top-tier big men," Perkins said. "They're physical. Rui played really well, made some shots and got some big-time stops."
The Zags followed suit with critical defensive stands in the final 2 minutes.
"We've been working on defense all week," Williams said. "We were able to get stops when it counted."
---