Sports > WSU basketball
Washington State drops fifth consecutive Pac-12 game, 88-78 to Arizona State
Feb. 4, 2018 Updated Sun., Feb. 4, 2018 at 6:30 p.m.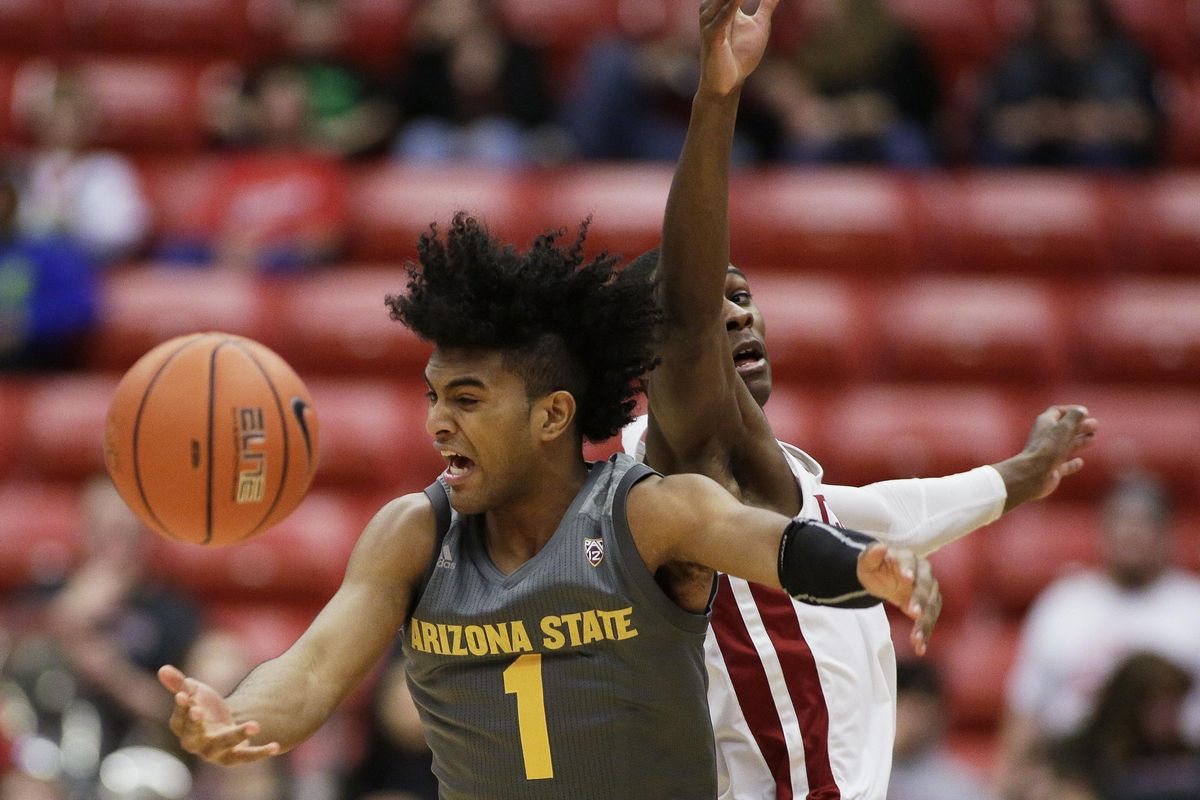 Arizona State guard Remy Martin (1) and Washington State guard Viont'e Daniels go after the ball during the second half of an NCAA college basketball game in Pullman, Wash., Sunday, Feb. 4, 2018. (Young Kwak / Associated Press)
PULLMAN – Many of the successful Oregon teams that Ernie Kent presided over in the early 2000's were buoyed by veteran backcourts with skilled guards who often made the right play when the situation called for it.
In year No. 4 at Washington State, Kent's still trying to assemble something similar with the Cougars. Or rather, he's waiting for it. Sometimes that wait can be an excruciating one.
On Sunday, the Cougars were in a close game with 25th-ranked Arizona State until a series of turnovers down the stretch allowed the Sun Devils to pull through for an 88-78 win in front of 2,803 fans at Beasley Coliseum.
"This team sure reminds me of a team I had at Oregon with Aaron Brooks," Kent said. "We had 10 games that came down to the wire where we put the ball in his hands to win the game and I think eight out of 10, he either kicked it away or threw it away. And we came back the next year and had 12 games at the wire. And six of the 12, he hit the shot to win the game. Four of the others, he made the right play."
Kent didn't directly compare Brooks to his current sophomore point guard at WSU, but perhaps there's a parallel to be drawn.
Malachi Flynn had a few sink-or-swim moments down the stretch of Sunday's game. The final score is reflective of how he handled them.
With five minutes left and the Cougars trailing by two, Flynn, who had an otherwise brilliant second half with 19 points, was picked by ASU guard Remy Martin. Martin took the ball to the rim for two points and Flynn committed two more costly mental lapses that led directly to Sun Devil buckets. Minutes later, the Cougars (9-13, 1-9) were trudging off the court with their fifth consecutive loss and 13th in the last 16 games.
"That's on me, that's uncharacteristic of me," said Flynn, who still finished with a team-high 22 points. "I had three the last three minutes, so I take blame for this loss. 100 percent."
Flynn's mistakes weren't timely, but they were also an extension of the problem that bugged the Cougars all game. WSU committed 18 turnovers and ASU repeatedly punished the hosts, scoring 34 points on the other end.
Shannon Evans II, a graduate transfer guard, closed down passing lanes whenever he had a chance, leading the Sun Devils with five steals and 23 points. Martin and Tra Holder also played feisty, aggressive games on defense, combining for another five steals and 30 points.
And even when the Cougars weren't throwing the ball away, they had a hard time sticking with ASU forward Romello White, who converted 10 of 11 field goals for 21 points. Four of those came on slam dunks.
"We were conceding the post, he's a really good player," Cougars forward Robert Franks said. "When you play back to the basket on him, you make it very easy on him. That was on my part, I've got to front the post. It goes for all our bigs."
The Sun Devils finished with 50 points in the paint and hit on 55 percent of their field goals. In Wednesday's 100-72 loss to Arizona, WSU conceded 52 points in the paint and a field-goal percentage clip of 62.
Franks chipped in 18 points, as did Viont'e Daniels, who canned 4 of 7 tries from 3-point range. Carter Skaggs came off the WSU bench to add another 14 points, on 4 of 9 from long range. The Cougars matched their season 3-point field-goal average, hitting 12 triples on 31 attempts.
Local journalism is essential.
Give directly to The Spokesman-Review's Northwest Passages community forums series -- which helps to offset the costs of several reporter and editor positions at the newspaper -- by using the easy options below. Gifts processed in this system are not tax deductible, but are predominately used to help meet the local financial requirements needed to receive national matching-grant funds.
Subscribe to the sports newsletter
Get the day's top sports headlines and breaking news delivered to your inbox by subscribing here.
---