Sports > Outdoors
Montana man takes up legendary relative's gun making
Thu., Feb. 8, 2018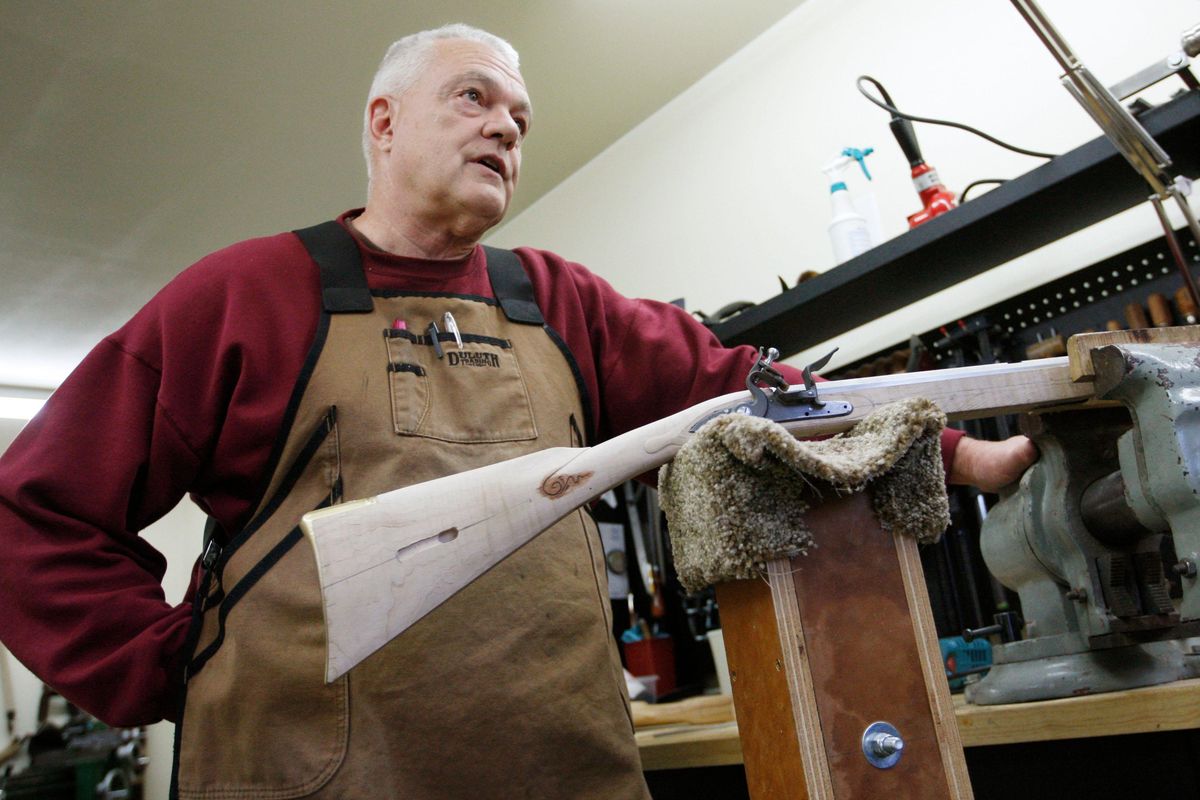 Jim Bonawitz talks about his historic replica flintlock rifles in his workshop Tuesday, November 22, 2016. (Casey Page / Courtesy Billings Gazette)
BILLINGS – Approximately 230 years ago, a master gunsmith in Pennsylvania left his mark during America's Golden Age of rifle making.
Now one of the distant relatives of Johannes (aka John) Bonewitz is taking up the family tradition.
"I'm basically an apprentice," said Jim Bonawitz, a 66-year-old Billings retiree.
But if his initial firearm-building attempts and earlier careers and hobbies are any indication – body shop owner, street rod and street machine builder, tail-dragging plane restorer and pipe fitter – he's inherited a family gene for masterful work with his hands.
Surprise legacy
Jim became curious about his ancestor after attending a mountain man rendezvous years ago. Someone suggested he should investigate to see if he had ties to his then-unknown ancestor, a master gunsmith.
After a little research, Jim became enamored with the older Bonewitz's crafting of Pennsylvania flintlock rifles – dubbed by one authority as "early American functional art" because it melded wood, iron and brass into a tool for hunting, fighting and protection of the newly formed United States of America.
"They just literally took it over the top" in that era of gunmaking, Jim said. "It's very technical when you get into that.
"I'm not to that stage in my apprenticeship to where I can justify trying to build this gun," he said, thumbing through a book with photographs of his ancestor's detailed engraving and carving work.
But he's persistently, patiently and steadily working toward it, sometimes up to eight hours a day in the small shop behind his home. In three years he's built eight rifles and one pistol, at first even making the barrels himself.
The firearms he's built are from what's called the Federalist period of gunsmithing – 1783 to 1830.
"The reason I like them is they are a bigger gun," Jim said, some of which ranged up to .72 caliber.
His current project is based on a .54 caliber Henry Albright design from around 1790.
Glory days
Bozeman gunsmith Bill Madden said the Golden Age, which took place roughly between the end of the Revolutionary War and the War of 1812, was in part driven by having a number of gunsmiths – once employed in keeping working weapons in the hands of patriots – with more time on their hands. So they marketed their craft to a well-heeled clientele – plantation owners and businessmen – seeking custom and distinct firearms.
"Unlike today where you go down to the big box store and buy a gun, these were custom-built for the customer," Madden said.
The Golden Age was defined by a combination of the German Jaeger high-end guns' engraving and carving of the cheek piece and patchbox, with the long lines of the French or British fowling pieces for birds, Madden explained. A patchbox was a compartment in the butt of the stock where greased linen patches used in firing the rifle could be stored.
"It was a period where gunmaking had reached its zenith in terms of embellishment – carving, wire inlays and patchboxes," Madden said. "Then it began to deteriorate and became quite plain. There are, of course, exceptions to all of this."
During this period, Bonewitz was considered "among the best," according to Henry I. Bishop, an authority on the topic. It's estimated about 30 of these Bonewitz original rifles still exist, mostly in private collections. There are similar rifles from the period that can be viewed at the Cody Firearms Museum in the Buffalo Bill Center of the West in Cody, Wyomig, as well as in the Carbon County Museum's Vern Waples collection of firearms in Red Lodge.
Revival
Interest in the firearms, and reproducing modern replicas, has resulted in the creation of several guilds across the United States. Madden and Bonawitz belong to the relatively small – about 30 members – Montana Historical Gunmakers Guild.
"Nationwide there are probably 3,000 to 5,000 people doing this," Madden said.
The gunsmiths trade information, suggestions and techniques via the guilds, as well as through the Contemporary Makers blog and the American Longrifle Association website.
"Most people probably get into it to make a gun to hunt with," Madden said. "Then they make one for family or friends, and finally they sell one. There are only a few really talented builders who can turn out the volume to survive, but they can sell for $2,500 to $25,000."
Madden became intrigued with building rifles after taking an interest in mountain man rendezvous and the blackpowder rifle era. About 20 years ago Madden built his first rifle to hunt with.
"It puts more sport in the game," he said. "It requires good hunting skills to get close enough to shoot – within 100 yards."
Jim said he doesn't shoot his rifles much anymore, concentrating instead on getting better at the many facets of building a firearm – everything from using 3-foot-long drill bits to bore the hole in the stock for the ramrod, to delicately engraving the steel and brass ornamentation. His next project is to learn how to forge parts.
Despite the attention to details, Jim likes to keep his rifles more simple in terms of ornamentation.
"I like a good, clean rifle," he said.
To that end, he's built two Lehigh Valley rifles – one in .45 caliber and another in .50 caliber; a .58 caliber Hawken; an early example of a Virginia rifle in .58 caliber; a later Virginia in .54 caliber; and a Tennessee rifle in .36 caliber. He also made a flintlock pistol for his wife. Although hanging on to his favorites, he's willing to part with his creations to fund new rifles.
Many of the techniques he learned how to perform in what's become an all-too-common way for today's do-it-yourselfers – by watching YouTube videos. He's also studied books and copied designs from photographs of old rifles to reproduce similar embellishments.
The tools required to build a rifle range from the antique – like chisels, hammers and rasps – to modern drill presses, engravers and the occasional use of a router. And let's not forget sandpaper and lots of old-fashioned elbow grease to work that sandpaper back and forth, back and forth, endlessly back and forth until the maple reaches a smooth finish. Old-fashioned linseed oil brings the wood grain to life.
"I just love the wood," Jim said, although he qualified, "Sometimes I don't like working with the wood."
The entire process starts at the butt end of the rifle barrel.
"The flash hole for the lock sets everything up for the whole rifle," Jim said. "Once you set the lock, that sets your trigger. Once you get the trigger, you figure the length of pull to put your butt plate on."
Many of the pieces are held on the rifle stock by small nails. Screws are also used, and Jim has gone so far as to make his own. But mostly he buys premade parts, a total of about 14 pieces that cost just under $1,000. The rest of the investment comes in time – hours and hours of delicate hand work.
"This is basically a lost art," he said.
Local journalism is essential.
Give directly to The Spokesman-Review's Northwest Passages community forums series -- which helps to offset the costs of several reporter and editor positions at the newspaper -- by using the easy options below. Gifts processed in this system are not tax deductible, but are predominately used to help meet the local financial requirements needed to receive national matching-grant funds.
Subscribe to the sports newsletter
Get the day's top sports headlines and breaking news delivered to your inbox by subscribing here.
---