News > Spokane
Ryan and Danielle Vanhook
Wed., Feb. 14, 2018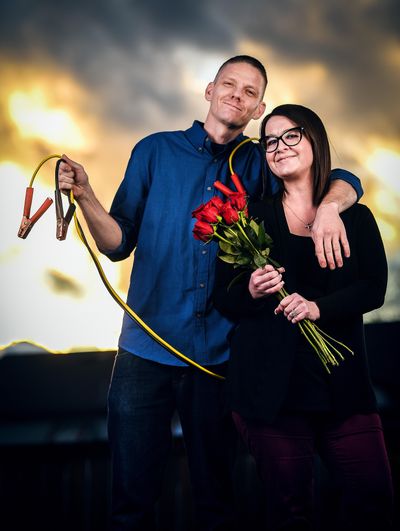 This love story began in June of 2002.
At the time I was 22 years old and a full time student at Spokane Falls Community College, working a part time job. One morning after class I drove home to check on my dog and as I opened the door to let him out, I noticed a red Ford Escort sitting in front of the house, apparently broken down. As I looked closer I saw that there were two female passengers sitting in the car. At which point I looked up and said: "Thank you God, this must be my lucky day."
I went outside to lend a hand while trying to maintain some level of coolness.
The driver got out, and she was beautiful. Well-dressed, pretty smile, and very down-to-earth. Needless to say, I thought she was out of my league.
She said the car had died while turning the corner. I said let me try some jumper cables, I'll be right back. You've never seen a guy look for jumper cables and tools so fast in his life.
When I had everything I needed I went back outside. I could see she was very concerned about getting her car out of there, understandably because my roommate and I did not live in a very safe-looking neighborhood.
I didn't say much as I connected the jumper cables. Honestly I've always been a bit shy when it comes to playing the love game. So I did my best to look like I knew what I was doing, and sure enough the car started.
When it started she looked at me like no woman ever has before and thanked me.
This is where the story gets good. Me being no Romeo, I said no problem. "Its nice to have a little help, and good people still exist out here," I said.
She got in her car a drove away while I kicked myself for not trying to ask her for a date. I should have played the role of Mr. Save the Day. You know, like, Hey lady I fixed your car, can I take you out to dinner. That didn't seem likely, so I just did the right thing and sent her on her way.
So at this point she's gone forever.
Later that evening, my roommate came home from work. As soon as I saw him, he looked at me and asked, "Did you help some girl start a red ford today?"
He said that the same car had died while entering the parking lot in the alley right behind his work. He helped push her car into the lot because that's where she worked as well, just another building over.
Capping off this series of coincidences, it turns out that she worked with my roommate's girlfriend.
So fast forward to about a month later. My buddy and I were out at his dad's lake place having a great time when his girlfriend called and told us "You will never believe this: I was sitting at at stop light on my way out there and I look over and Danielle is waving at me asking what was going on this weekend."
My buddy's girlfriend asked if Danielle wanted to come along with her, and thank all things holy to this day, she did.
When they arrived I was nervous, but it seemed fate had given me another chance. Like I said, she was very easy to talk to and super cool. We hit it off pretty well and began to get to know one another.
Since that fateful day when her car broke down, and again when she spotted my friend's girlfriend at the stop light, my life has been fullfilled. I found true love. Rather, it found me.
Or maybe we found each other.
Danielle and I have been married 16 years, and have two of the best kids ever, Logan and Lola. I don't know much about how life and love work, but I can honestly say it was meant to be. I love you Dani Jo', forever and ever babe.
Local journalism is essential.
Give directly to The Spokesman-Review's Northwest Passages community forums series -- which helps to offset the costs of several reporter and editor positions at the newspaper -- by using the easy options below. Gifts processed in this system are not tax deductible, but are predominately used to help meet the local financial requirements needed to receive national matching-grant funds.
Subscribe to the Coronavirus newsletter
Get the day's latest Coronavirus news delivered to your inbox by subscribing to our newsletter.
---