Sports > Gonzaga basketball
Johnathan Williams has big showing on Senior Night to lead No. 9 Gonzaga to a 81-67 win against Pepperdine
Feb. 17, 2018 Updated Sun., Feb. 18, 2018 at 12:03 a.m.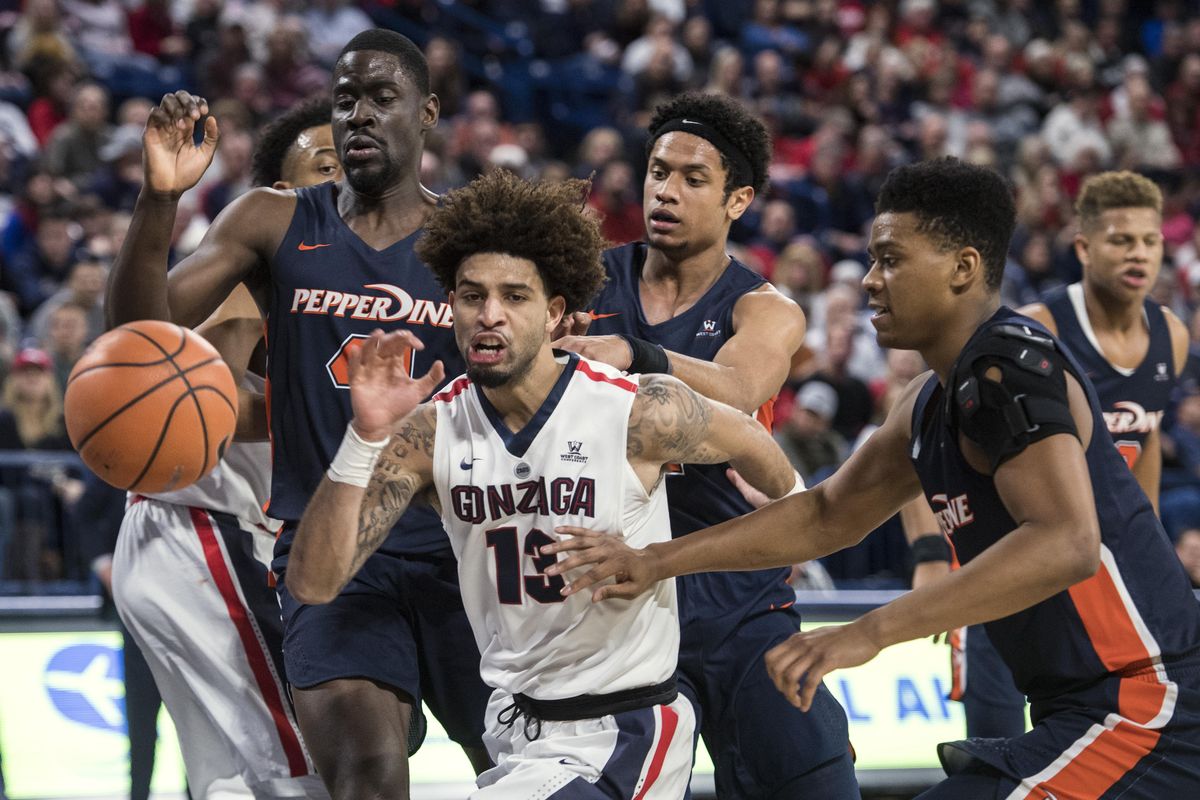 Gonzaga guard Josh Perkins chases after a loose ball against Pepperdine players Matthew Atewe, Trae Berhow and Eric Cooper, Saturday, Feb. 17, 2018, in the McCarthey Athletic Center. (Dan Pelle / The Spokesman-Review)
Johnathan Williams scored 18 points and grabbed 12 rebounds as No. 9 Gonzaga overcame a pesky Pepperdine squad for an 81-67 victory on Saturday at the McCarthey Athletic Center in Spokane.
Williams was one of three players taking the court in The Kennel for the final time, along with guard Silas Melson and manager-turned-player Brian Pete.
The Bulldogs (25-4, 15-1) had lost three straight Senior Night games coming into Saturday night, but was able to pull away late in the game after Pepperdine cut the GU lead to just two points.
Four Gonzaga players finished in double figures scoring, as Josh Perkins (15), Killian Tillie (15) and Zach Norvell Jr. (13) joined Williams. Melson scored nine.
The Bulldogs also reached the 25-win mark for the 11th straight season with the victory.
Colbey Ross led the way for the Waves (4-24, 1-15) with a game-best 21 points.
Gonzaga finished the game shooting 51.7 percent from the floor and 56.5 percent from 3-point range, while Pepperdine shot 41.4 and 42.1 percent respectively.
The Bulldogs will now embark on their final regular-season road trip, starting with a Thursday visit to San Diego (6 p.m., ESPN2).
Second half
Final – Gonzaga 81, Pepperdine 67: Exclamation point finish for the Zags and Williams, who helps the Bulldogs pull away in the end for a victory on senior night.
The forward finished with a double-double of 18 boards and 12 rebounds.
GU with two more games on the road next week before the WCC tournament in Las Vegas.
4:00 – Gonzaga 71, Pepperdine 64: Bulldogs slow it down on offense and take advantage of some good looks. Also helps that Pepperdine is starting to cool off.
Four Zags also into double figures as Tillie is up to 12 points, while Melson still sits at nine.
7:19 – Gonzaga 66, Pepperdine 64: Two huge 3-pointers from Zach Norvell get the GU offense going a bit, but Pepperdine can't miss at the moment.
Norvell up to 11 points for the Zags, the third player in double figures.
Pepperdine inching closer to 50 percent shooting from the floor and deep.
9:29 – Gonzaga 60, Pepperdine 56: Bulldogs sleepwalking through the last few minutes as Pepeprdine quickly gets the GU lead down to four.
Ross up to a game-high 18 points, while Matthew Atewe has seven points and eight boards.
11:51 – Gonzaga 58, Pepperdine 49: Great ball movement from the Zgas results in a Melson triple, as the senior guard is now up to nine points.
Gonzaga shooting just under 50 percent overall and 53 percent from deep so far, while the Waves are shooting 44 and 31 percent respectively.
Ross also the first Pepperdine player into double figures with 13 points.
15:46 – Gonzaga 54, Pepperdine 40: Corey Kispert gets the second-half start in place of Norvell, who is sitting on three fouls.
The freshman quickly knocks down his first bucket along with getting a block.
Pepperdine with a couple of 3-pointers, but senior Silas Melson answers with one of his own for the Zags.
Tillie also joins GU's 3-point party as the Zags get the lead back to double figures.
Williams the second Zag into double figures with 11 points. he also has 10 rebounds, his sixth straight game with a double-double.
First half
Halftime – Gonzaga 39, Pepperdine 32: And just like that, the cold streak is snapped for Williams.
The senior knocks down a wide-open 3-pointer to get up to nine points. Perkins also the first Zag into double figures with 11 points.
Pepperdine not going away quietly though, as the Waves look to spoil Gonzaga's senior night for the fourth year in a row.
Both Ross and Darnell Dunn have nine points for the Waves.
Other big news for GU is the third personal foul on Norvell.
3:56 – Gonzaga 31, Pepperdine 21: Rough stretch here for GU and Williams. The senior post missed two shots around the basket, followed by a three-second violation.
Bit of a chilly stretch on offense for the Bulldogs, who can't quite get in any sort of rhythm.
Teams go into the media break with Tillie flushing home a one-handed slam following a very long loose-ball sequence.
7:12 – Gonzaga 28, Pepperdine 15: Perkins hits his second 3 of the night to lead GU with eight points.
Zags shooting an impressive 55.6 percent from the floor and 50 from deep so far, but have turned the ball over three times.
Pepperdine shooting at a 44 percent clip overall and have four turnovers.
11:49 – Gonzaga 23, Pepperdine 10: Quick impact off the bench from Rui Hachimura, as the big man is having his way inside against the Waves.
He's got four points to join Williams, while Norvell leads the Zags with five.
13:12 – Gonzaga 19, Pepperdine 8: Gonzaga manager turned player Brian Pete gets the start on senior night. He is one of three GU seniors, along with Johnathan Williams and Silas Melson.
Pete misses his first two shots before knocking down a 10-footer. Williams also has four quick points in this one, two of which came on a thunderous dunk.
Bulldogs though not terribly sharp out of the gate, but a nice inside move from Killian Tillie is followed by a 3-pointer from Josh Perkins to give GU some breathing room.
On the other end, GU will have to contend with Colbey Ross, who scored the first six points for the Waves.
Teams finally get a breather after a Zach Norvell triple forces a Pepperdine timeout.
Gonzaga announces starting lineup
Silas reflects on being a Zag
J3 takes a look back
Local journalism is essential.
Give directly to The Spokesman-Review's Northwest Passages community forums series -- which helps to offset the costs of several reporter and editor positions at the newspaper -- by using the easy options below. Gifts processed in this system are not tax deductible, but are predominately used to help meet the local financial requirements needed to receive national matching-grant funds.
Follow along with the Zags
Subscribe to our Gonzaga Basketball newsletter to stay up with the latest news.
---