A&E > TV
Stream on demand: 'Seven Seconds' drops on Netflix
Wed., Feb. 21, 2018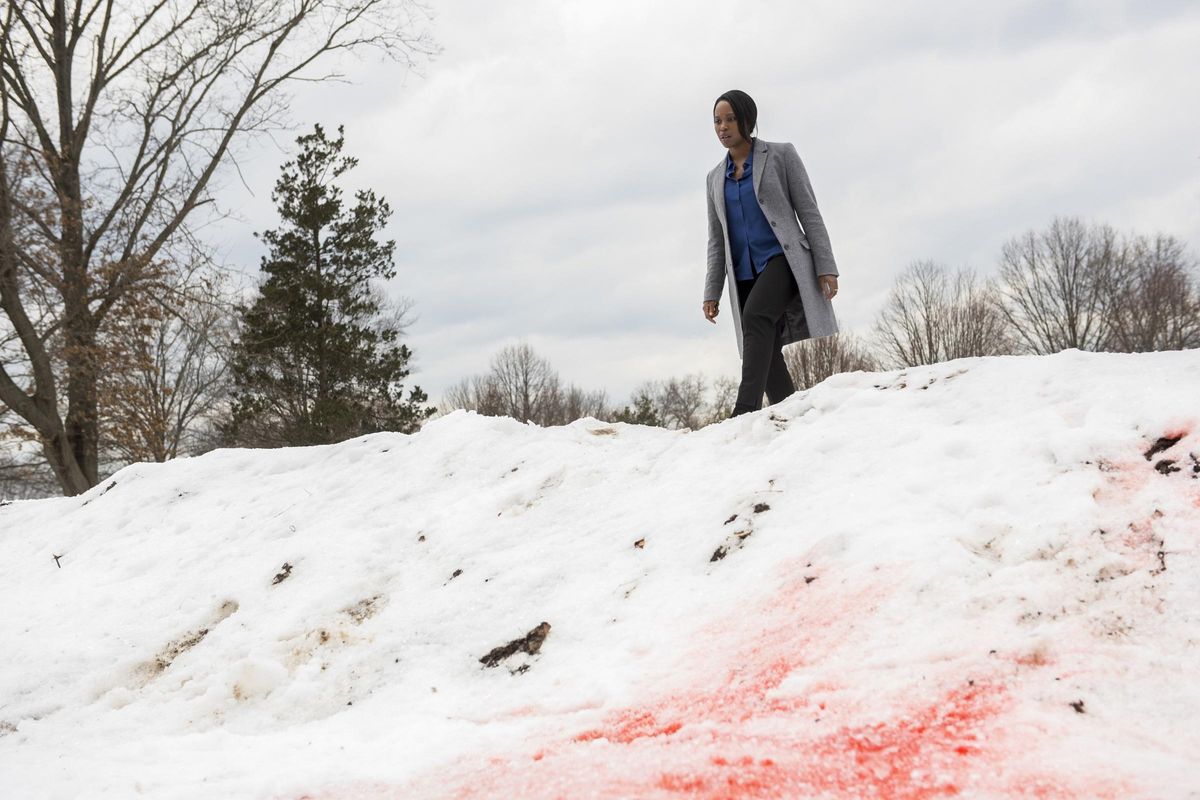 Clare-Hope Ashitey in "Seven Seconds." (JoJo Whilden / Netflix / Netflix)
What's new for home viewing on video-on-demand and Netflix, Amazon Prime, Hulu and other streaming services.
Top streams for the week
"Seven Seconds: Season 1" takes on a timely subject with the fictional story of the death of an African American teenager and a cover-up by white cops. Clare-Hope Ashitey, Beau Knapp and Regina King star. 10 episodes.
Also on Netflix is the Oscar-nominated animated feature "The Breadwinner" (2017, PG-13), produced by Angelina Jolie, and Duncan Jones' "Mute" (2018, not rated), starring Alexander Skarsgård as a mute bartender searching for a missing woman in the underworld of a "Blade Runner"-esque Berlin in 2052.
Andrew Garfield is Robin Cavendish, the real-life activist who fought to live a full life after being paralyzed by polio, in "Breathe" (2017, PG-13), the directorial debut of actor and motion capture master Andy Serkis. It's new on Amazon Prime.
"Detroit" (2017, R), based on the real-life murders committed by police during the 1967 Detroit riots, is a powerful drama from Oscar-winning filmmaker Kathryn Bigelow that was missed by most audiences. Now streaming on Hulu.
Before "Black Panther," Ryan Coogler directed the powerful and intimate drama "Fruitvale Station" (2013, R) (streaming on Netflix) and the next generation "Rocky" sequel "Creed" (2015, PG-13) (Amazon Prime and Hulu), both starring Michael B. Jordan.
Pay-Per-View / Video-On-Demand
Will Ferrell and Mark Wahlberg deal with more daddy issues in the comedy "Daddy's Home 2" (2017, PG-13) with John Lithgow and Mel Gibson. Also on DVD and at Redbox.
Also new: drama "Same Kind of Different as Me" (2017, PG-13) with Greg Kinnear and Renee Zellweger, animated nativity story "The Star" (2017, PG) and documentary "Black Code" (2017, not rated) about the more sinister aspects of the Internet.
Available same day as select theaters nationwide is action thriller "Beast of Burden" (2018, R) with Daniel Radcliffe as a drug smuggling pilot caught between the cartel and the DEA. Also new: treasure-hunting adventure "7 Guardians of the Tomb" (2017, not rated) with Li Bingbing and Kelsey Grammer; Irish horror drama "The Cured" (2017, R) with Ellen Page; comedy "Half Magic" (2018, R) with Heather Graham (who also directs), Angela Kinsey and Stephanie Beatriz; and documentary "Survivor's Guide to Prison" (2018, not rated) with Danny Trejo.
Netflix
Daniel Day-Lewis won his third Academy Award for playing "Lincoln" (2012, PG-13) in Steven Spielberg's compelling drama about the politics of abolition in the final days of the Civil War.
"The Joel McHale Show with Joel McHale" (Netflix Original) is a new weekly comedy show with skits and interviews. New episodes arrive each Saturday.
"FullMetal Alchemist" (Japan, 2017, not rated, English and Japanese versions with subtitles) is a live-action feature based on the popular comic book and animated series.
Also new: political satire "A Perfect Day" (2015, R) with Benicio Del Toro and Tim Robbins, and survival thriller "Blood Money" (2017, R) with John Cusack and Ellar Coltrane.
More streaming TV: 19th century crime drama / horror hybrid "The Frankenstein Chronicles" from Great Britain; second season of the French crime drama "Marseille" (with subtitles) with Gerard Depardieu; fifth and final season of "Psycho" prequel "Bates Motel: Season 5"; international foodie show "Ugly Delicious: Season 1."
Three crime thrillers arrive from South Korea: a reformed serial killer goes after a new killer in "Memoir of a Murderer" (2017), a young man suspects that his brother is not really his brother in "Forgotten" (2017), and a shady cop gets caught between Internal Affairs and his corrupt bosses in "Asura: The City of Madness" (2016). All three not rated, with subtitles.
Stand-up: "Chris Rock: Tamborine" (2018), the comedian's first special in a decade, and "Agustín Aristarán: Soy Rada" (2018, with subtitles) from Argentina.
Amazon Prime Video
Gugu Mbatha-Raw is a self-destructive R&B diva struggling to find her own voice in "Beyond the Lights" (2014, PG-13), a nuanced drama from filmmaker Gina Prince-Bythewood.
Fans of the big blue bug of justice rejoice: the tongue-in-cheek superhero series "The Tick: Season 1B" is now streaming.
Also new: the Western "The Ballad of Lefty Brown" (2017, R) with Bill Pullman and Peter Fonda; "Vincent and Theo: The Miniseries" (1990), the longer version of Robert Altman's film starring Tim Roth as Vincent Van Gogh; animated folktale/rock opera/erotic drama "Belladonna of Sadness" (Japan, 1973, not rated, with subtitles).
More streaming TV: "Touching Evil: Complete Series" (1997-1999), a British mystery with Robson Green as a criminal profiler; "Hogfather" (2006), a British mini-series based on the comic fantasy novel by Terry Pratchett; "Thunderbirds Are Go!: Season 4," the animated adventure series from Britain.
True stories: Ken Burns' documentary mini-series "The Roosevelts: An Intimate History" (2014) follows the lives and legacies of Theodore, Franklin and Eleanor Roosevelt.
Stand-up: "Bob Saget: Zero to Sixty" (2017) presents the decidedly non-family friendly comedy of the "Full House" star.
Mark Ruffalo, Tim Robbins and Gwyneth Paltrow star in "Thanks for Sharing" (2013, R), a romantic comedy about recovering sex addicts.
Hulu
A South Korean twist on "La Femme Nikita," "The Villainess" (2017, not rated, with subtitles) is a high-energy thriller with astounding action scenes and plenty of melodrama.
"White Bird in a Blizzard" (2014, R) stars Shailene Woodley as the teenage girl coping with the sudden disappearance of her enigmatic mother (Eva Green).
Streaming TV: the mini-series "The Long Road Home" is an Iraq war drama about an American platoon ambushed during a patrol through Sadr City.
HBO Now
Will Ferrell and Amy Poehler turn their home into a secret suburban casino in the comedy "The House" (2017, R).
"Last Week Tonight with John Oliver" is back with new episodes on cable each Sunday night and streaming the next day.
Arriving Saturday night is "Notes From the Field" (2018, not rated), the one-woman stage show written and performed by Anna Deavere Smith and recorded exclusively for HBO.
FilmStruck / Criterion Channel
FilmStruck's Director of the Week is Peter Greenaway, who mixed avant-garde approaches into such movies as "The Draughtsman's Contract" (1982, R), the notorious "The Cook, the Thief, his Wife, and her Lover" (1989, not rated), and "Prospero's Books" (1991, R), his take on Shakespeare's "The Tempest."
Get a bit of Buddha with these three films with Buddhist themes: Kon Ichikawa's lyrical World War II drama "The Burmese Harp" (Japan, 1956, with subtitles), Bae Yong-kyun's meditative "Why Has Bodhi-Dharma Left for the East?" (South Korea, 1989, with subtitles) and the gentle road movie "Travelers and Magicians" (Bhutan, 2003, with subtitles).
A collection of films featuring singers in acting roles includes "Carnal Knowledge" (1971, R) with Art Garfunkel, "Quadrophenia" (1979, R) with Sting and "Merry Christmas, Mr. Lawrence" (1982, R) with David Bowie.
New to the Criterion Channel is "A Slave of Love" (USSR, 1977, not rated, with subtitles) is a satirical portrait of moviemaking and revolutionary activity during the Russian Revolution from Russian director Nikita Mikhalkov. Also new: "Festival" (1967) featuring performance from four years of the Newport Jazz Festival;
Noah Baumbach's "Francis Ha" (2013) with Greta Gerwig, who also co-wrote the screenplay; and the animated short film "Bluebeard" (France, 1938, with subtitles).
Sean Axmaker is a Seattle film critic and writer. His reviews of streaming movies and TV can be found at http://streamondemandathome.com.
Local journalism is essential.
Give directly to The Spokesman-Review's Northwest Passages community forums series -- which helps to offset the costs of several reporter and editor positions at the newspaper -- by using the easy options below. Gifts processed in this system are not tax deductible, but are predominately used to help meet the local financial requirements needed to receive national matching-grant funds.
Subscribe to the Spokane7 email newsletter
Get the day's top entertainment headlines delivered to your inbox every morning.
---