News > Education
Students ignite gun control debate at Cheney High School
Feb. 21, 2018 Updated Wed., Feb. 21, 2018 at 9:18 p.m.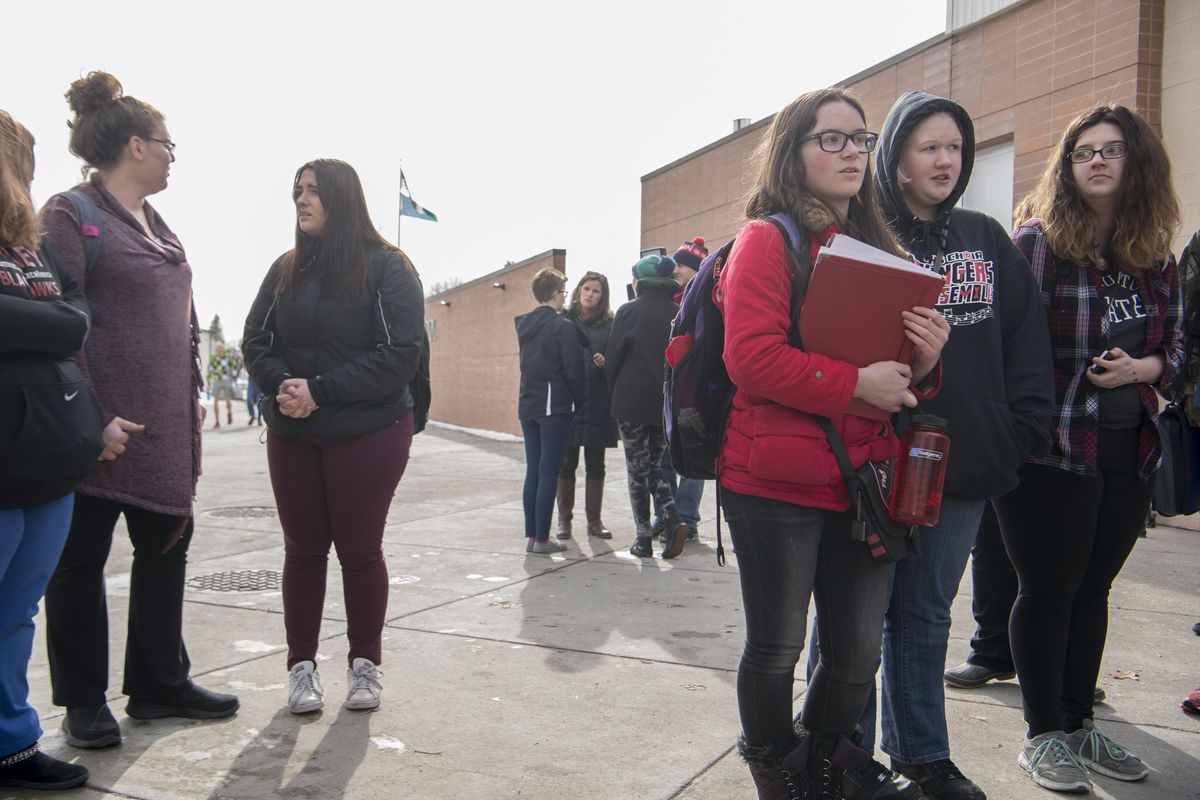 Cheney High School students stand outside the school entrance and take turns giving their thoughts on recent school shootings Wednesday, Feb. 21, 2018, during a lunch-hour walkout and protest. (Jesse Tinsley / The Spokesman-Review)
Dozens of Cheney High School students left their classrooms when the clock struck noon Wednesday and staged an hourlong demonstration in subfreezing temperatures, joining a wave of young people across the country who are demanding tighter restrictions on firearms.
The walkout could be the first of many similar demonstrations in the Spokane area, as student-activists coordinate on social media in the wake of yet another mass shooting on school grounds.
Last week's attack at a high school in Parkland, Florida, which killed 17 people, came five months after a sophomore boy opened fire at Freeman High School, just south of Spokane Valley.
Kyra Gardner, a 17-year-old junior who plays softball for Cheney High, said too many of her peers are indifferent about gun violence because the school has not been terrorized by a shooting spree.
"Some students just have the mindset that it doesn't matter, it's not us," Gardner said. "Even though we're not part of the statistic, it matters."
She organized Wednesday's walkout with Maura Duffy, a 15-year-old sophomore who's active in the drama department. They also made flyers and plan to take part in demonstrations on March 14 and April 20 – the 19th anniversary of the massacre at Columbine High School.
"It's time to break the old system, because parts of it just aren't working," Duffy said. "The most important thing we can do is speak up for ourselves."
Sophomore Heavynne White was among those who gave impassioned speeches to her peers at Wednesday's rally. She said she worries about her younger brother, a sixth-grader she called her "other half," and what might happen if his school were attacked.
"It's been scaring me to think that he might not come home," White said.
Clara Shaw, a senior, also addressed the crowd, but she said guns aren't the problem.
"It's about bullying and social media," she said. "It's about how people are being treated."
When classes broke for lunch, some students heckled the crowd with shouts about the Second Amendment, and a few called names.
Ryan Flick, a senior, stood just inside the front doors of the school, watching the demonstration with several other boys who identified themselves as gun owners.
"Teachers should have guns," Flick said. And, "I think parents should teach their children how to use guns the right way."
One boy said gun restrictions are largely fruitless because criminals can obtain guns illegally. Another chimed in, "Guns don't kill people. People kill people."
Troy Heuett, the school's principal, stood by during the demonstration to make sure no arguments got out of hand.
"Students want their voices heard," he said. "I think for everyone involved, their main concern is student safety."
Local journalism is essential.
Give directly to The Spokesman-Review's Northwest Passages community forums series -- which helps to offset the costs of several reporter and editor positions at the newspaper -- by using the easy options below. Gifts processed in this system are not tax deductible, but are predominately used to help meet the local financial requirements needed to receive national matching-grant funds.
Subscribe now to get breaking news alerts in your email inbox
Get breaking news delivered to your inbox as it happens.
---