News > WA Government
Critics question lawmakers' proposal to block access to some records
Fri., Feb. 23, 2018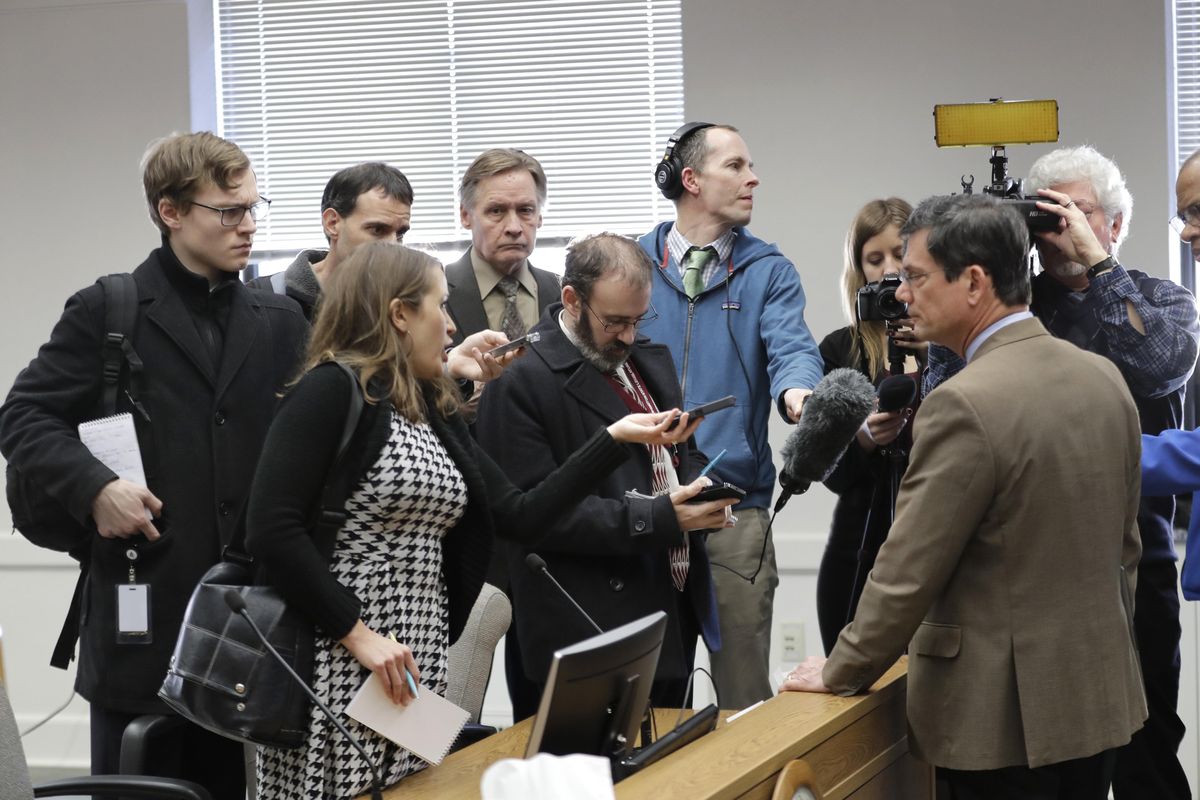 Reporters talk with Sen. Mark Miloscia, R-Federal Way, third from right, following a joint work session of the Senate and House State Government Committees, Thursday, Feb. 22, 2018, at the Capitol in Olympia, Wash. The session was held to discuss a bill filed Wednesday by lawmakers who want to circumvent a recent court ruling finding them fully subject to the state's public disclosure laws. The bill would make some of their records public but would retroactively prohibit the release of other records being sought by a coalition of news organizations. (Ted S. Warren / AP)
OLYMPIA – Critics accused the Legislature on Thursday of trying to sneak through a major change in state law that would allow them to hide some of their records from the public.
"It makes the government appear less transparent. You don't shove through something this important in this short of a time frame," Gordon Padget told a special joint "work session" of the Senate and House committees that have jurisdiction over state government.
The unusual work session – technically not a hearing because neither committee had to vote on the proposal – was a halfway stop for a bill that was just introduced Wednesday and is scheduled for a vote Friday in the Senate.
Sections of the bill that don't allow judicial review of the Legislature's denial of a public records request and an emergency clause that would put it into effect as soon as it is signed seem designed "to cover the Legislature's collective backsides," said Padget, a Vancouver, Washington, retiree.
The bill would take the Legislature out of the state Public Records Act, approved by voters some 45 years ago, and create a new system for determining what records legislators have to disclose. It also would require that appeals be handled by legislative committees and make the committees' denial final, without a chance at judicial review.
Senate State Government Committee Chairman Sam Hunt, D-Olympia, who was running the work session, wondered aloud whether the Legislature could exempt itself from judicial review.
Rowland Thompson, a lobbyist for the newspaper industry and a longtime watchdog of public records law, said he didn't think it could, adding he had been contacted earlier in the day by "lawyers willing to take that case for nothing."
The bill is in response to a lawsuit brought by news organizations throughout Washington, led by the Associated Press and including The Spokesman-Review, challenging the Legislature's regular refusal to release public records. Last month, Thurston County Superior Court Judge Chris Lanese ruled that individual legislative offices are subject to the Public Records Act, just as other governmental offices outside the court system are.
City and county legislative bodies operate under the more open rules of the Public Records Act, said David Zeek, publisher of the News Tribune, Olympian and Bellingham Herald.
"People are going to ask 'What are you trying to keep from me?' " Zeek said. "You're setting up an imperial Legislature that's not subject to people knowing what you're doing."
At some points of the session, Hunt tried to deflect any public anger from members of the two committees in attendance.
"We are not the authors of this bill," Hunt said. "We are learning about it as we go on."
The bill was drafted by legislative attorneys after lawmakers lost key parts of a summary judgment ruling by Lanese. It was released less than 24 hours before the work session. Zeek was the only publisher at the session, but he contended there would have been 20 in attendance if they'd had more than a day's notice.
Tim Eyman, the sponsor of numerous initiatives on taxes, said he could support the Legislature setting up rules to handle public records requests because, if voters don't like it, "we can vote you out." But he challenged the process, which is outside all the normal rules for introducing, holding hearings and voting on legislation.
"It seems like one rule for powerful people, one rule for regular people," Eyman said, adding that while it can be frustrating to lose in court, "you guys are about to exempt yourselves from a lawsuit you lost."
Arthur West, an Olympia resident who has won some public records fights against state agencies, urged legislators to slow down, ask the court for a stay of its order and go through a more open process rather than "attempting to exempt itself from the consequences of hiding records."
Rep. Sherry Appleton, D-Poulsbo, said she worried personal information might be in a constituent's email that she'd have to release, adding she would "do everything I can to protect their privacy."
Thompson said she can do that now, without the bill, because the Public Records Act that other government agencies follow allows them to use discretion for personal information.
What about the judicial branch, asked Rep. Vicki Kraft, R-Vancouver. It has special rules that exempt it from the Public Records Act.
Those rules were set up through a public process that took several years, West said.
The committees were not required to vote on the bill, which is scheduled for a full vote in the Senate as early as Friday. But some lawmakers at the hearing said they will vote no when they get a chance.
Sen. Mark Miloscia, R-Federal Way, said he objected to rushing the bill through in the last two weeks of the session and that legislators should not be treated differently than other government officials.
"I don't see an iota of difference between me and my local mayor," Miloscia said after the hearing. "I don't get it at all."
Rep. Mike Pelliciotti, D-Federal Way, said he voluntarily provides all of his public records, including the ones sought by Washington news organizations last year before the lawsuit was filed. He also co-sponsored a bill to require all legislators to provide their public records.
He said he would "absolutely not" vote for the bill when it comes to the House, and that the Legislature should not continue with the lawsuit.
Hunt said after the meeting he was undecided on how he'll vote. He doesn't think the bill is as bad as witnesses painted it, but he doesn't like prohibiting judicial review. As a member of the Legislature since 2001, he said he'd never seen anything like the process being used to rush the bill to a vote in the final weeks of a session.
The bill is not without its supporters. Rep. Marcus Riccelli, D-Spokane, said he expects to vote for the bill when it comes to the House because it would protect correspondence from constituents from public disclosure. It's also more open than the rules that lawmakers were told governed their records before the court ruling.
Sen. Mike Padden, R-Spokane Valley, said he was leaning toward a yes vote because he fears the court ruling would create a full-time Legislature, by requiring all lawmakers' offices to be open at least 30 hours a week. He also believes that as a separate branch of government, it should be able to set up rules for disclosing records, just as the judicial branch has.
Sen. Andy Billig, D-Spokane, said he supports the bill, calling it "a significant step forward in transparency."
"I believe the Legislature should be more transparent than current practice," he said.
Some of those current practices are what Judge Lanese ruled were violations of current public records law, but Billig said the Supreme Court could rule against Lanese. After passing the law, the Legislature should drop the appeal of Lanese's ruling, he said.
Local journalism is essential.
Give directly to The Spokesman-Review's Northwest Passages community forums series -- which helps to offset the costs of several reporter and editor positions at the newspaper -- by using the easy options below. Gifts processed in this system are not tax deductible, but are predominately used to help meet the local financial requirements needed to receive national matching-grant funds.
Subscribe now to get breaking news alerts in your email inbox
Get breaking news delivered to your inbox as it happens.
---