Getting There: Name this bridge that will become the University District's gateway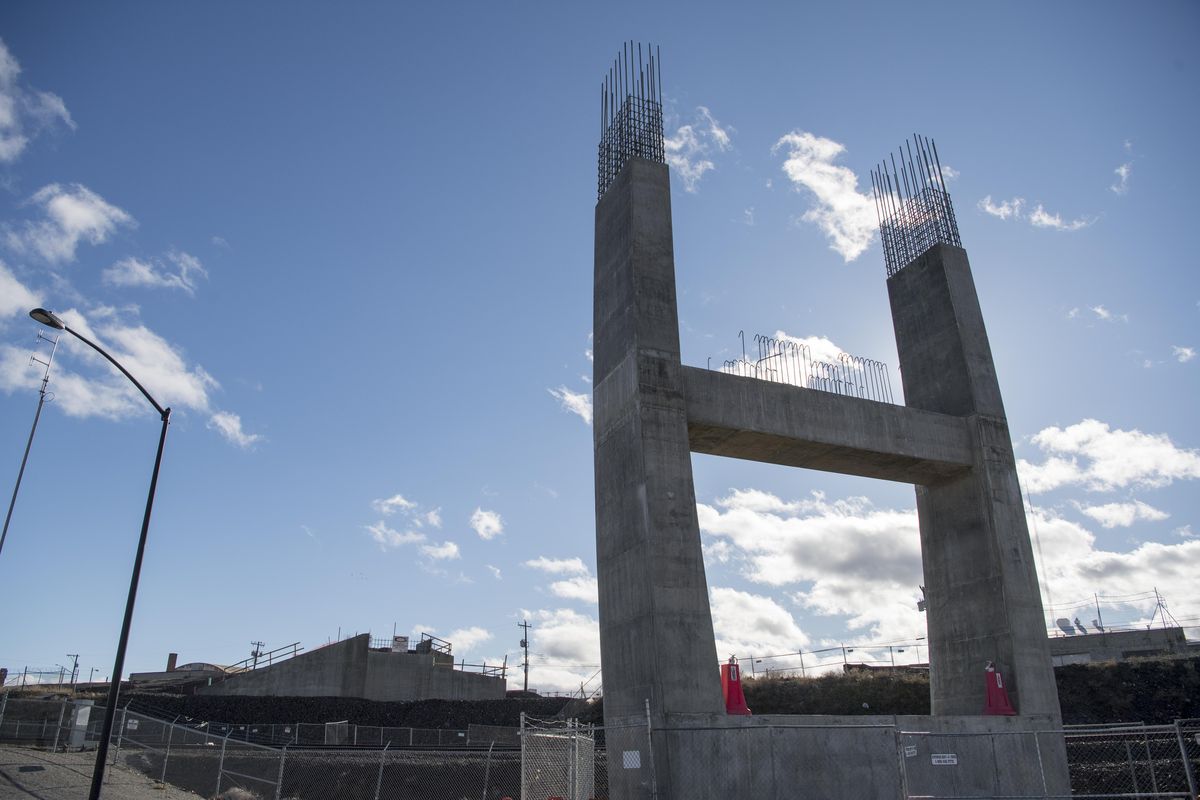 Stand below the tall arch of the new bridge in Spokane's University District, or take a bird's-eye view of its flowing landings on either side of the railroad tracks. There's just something poetic about it.
But its unofficial name, the one that's been bandied about in news stories for almost three years, is anything but poetry: the University District Gateway Bridge. Very dull indeed.
Change is afoot. The city of Spokane is seeking recommendations for what will become the bridge's true and official name. The call has been put out, by tweet, email, Facebook and phone call, for any and all recommendations.
So far, the results are mixed, to say the least.
First, with the genuine suggestions.
On Twitter, someone put forth the Sp'q'n'i Bridge, which is something close to the native Salish name for Spokane. In the same vein, someone said it should be called Children of the Sun Footway.
Another tweet recommended Mother Joseph Bridge, in honor of the missionary Sister of Providence who helped found 11 hospitals and five schools for Native American children in the Pacific Northwest, including Spokane's Sacred Heart Medical Center.
It's a nice thought, considering the University District is in large part devoted to education in the fields of medicine. Other tweets stuck to this theme: the University Bridge, Bell Curve Bridge and Achievement Bridge.
Someone noted that the bridge will span Martin Luther King Jr. Way, and suggested Equality Bridge.
Other names with the word "bridge" following were recommended, many for more modern personalities: Ryan Crocker, the former diplomat who was born in Spokane; Jess Walter, the novelist; Mark Few, the Gonzaga men's basketball coach; to name just a few.
And then there were recommendations for people who made an impact on the city, but are no longer with us: Carl Maxey, a giant in civil rights, law, sports and politics; Margaret Hurley, a state representative who fought for the downtrodden; Tom Foley, a powerful Democratic member of Congress; and Elson Floyd, the Washington State University president who brought a medical school to the University District.
Following the recent death of local artist Harold Balazs, a lot of people suggested the Balazs Bridge or some other similar iteration.
Someone said it should be the Carlo Alfonso Bridge, named for an Army specialist from Spokane who was killed by a roadside bomb in Iraq in 2008.
On Facebook, a commenter put forward Sherman C-Way, for Sherman Connection Way, since its south landing emerges from the dead end of South Sherman Street. Another said SPARC, for Sprague Pedestrian Access and Revival Corridor.
Not every recommendation came from such an earnest place.
On the online discussion board Reddit, someone put forth an eternal favorite among haters, Bridgey McBridge Face. And there was the oh so creative The Bridge. And Bridgette Goesover. Which is funny.
And then, since it is the internet, the trolls came out.
On Twitter, someone recommended the Comrade George McGrath Bridge, paying debt to the man responsible for bestowing a childish and crude name on the bridge at City Council meetings. Time and again, the angry man in an Elmo sweatshirt would growl about the "Bridge to Hookerville," referring to a tired reputation about a part of town once known for its high level of prostitution.
And, of course, someone suggested McGrath's moniker for the bridge.
And, lastly, someone recommended the bridge be named for Augusto Pinochet, the former Chilean dictator, because, well, he is an anonymous troll who wants to see the world burn.
But like any good troll, the people who recommended these names should remain under the bridge and never be allowed to name anything.
The tactic of seeking recommendations to name a public place has been done before, both here and afar. The city used something like a public naming process for the Spokane Tribal Gathering Place, the plaza just north of City Hall. And Portland's transit agency called for suggestions for its new cable-stayed bridge, which allows for nearly every mode of transportation but cars. With 9,500 submissions, they settled on Tilikum Crossing.
But maybe we should just keep it simple and descriptive. The Monroe Street Bridge isn't a fancy name, but we all know where it is and still marvel at its beauty. So how about the East Sprague Span? Or Railway Crossing? Anything but Bridgey McBridge Face.
Join the naming fun, but don't be a hater, troll or world-burner. Post your proposed name to Facebook, Twitter or Instragram and tag @spokanecity. Give some details why you think your suggestion is the best. Give it some love, and tag it #NameTheBridge.
Or write Julie Happy, a spokeswoman with the city, at JHappy@spokanecity.org. Or, call 311.
The deadline is Jan. 31.
---