Sports
USA Gymnastics ends agreement to train at Karolyi Ranch
Thu., Jan. 18, 2018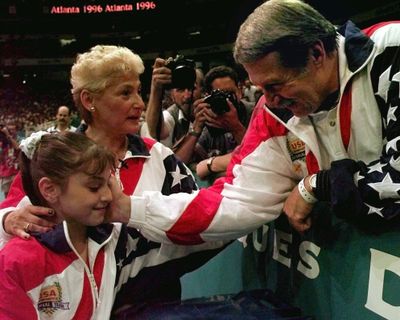 INDIANAPOLIS – The long relationship between USA Gymnastics and the Karolyi Ranch is over.
The organization announced Thursday it has terminated its agreement to have the ranch outside of Huntsville, Texas, serve as the National Training Center for the women's elite program. The decision came three days after Olympic champion Simone Biles expressed dismay at having to attend camps there, where Biles says she was sexually abused by a former national team doctor.
Kerry Perry, USA Gymnastics president and CEO, said it was her intent to have the women's program leave the ranch when she began her tenure in December.
"Our most important priority is our athletes, and their training environment must reflect this," Perry said in a statement. "We are committed to a culture that empowers and supports our athletes."
The ranch is the home of former national team coordinator Martha Karolyi and her husband, Bela. USA Gymnastics initially agreed to buy the training facility in August 2016 but then backed out of the agreement following an investigation into sexual abuse by former national team doctor Larry Nassar, who worked with the organization for nearly three decades before stepping away in 2015.
Several Olympians – including Biles, 2012 Olympic champion Gabby Douglas, six-time Olympic medalist Aly Raisman and two-time medalist McKayla Maroney – say they were abused by Nassar, with some of the alleged abuse occurring at the facility.
Biles, who has returned to training after winning five medals at the 2016 Olympics, said in a statement released Monday that "it is impossibly difficult" to attend team camps at the ranch.
"It breaks my heart even more to think that as I work towards my dream of competing in Tokyo 2020, I will have to continually return to the same training facility where I was abused," Biles wrote.
Nassar has already been sentenced to 60 years in federal prison on child pornography crimes and is awaiting sentencing after pleading guilty to molesting girls at Michigan State University and his home. Maroney said in a victim's statement at Nassar's sentencing hearing on Thursday that he "left scars on my psyche that may never go away."
Perry said the organization is exploring alternate sites until a permanent location is determined. USA Gymnastics canceled a team camp scheduled for later this month.
Local journalism is essential.
Give directly to The Spokesman-Review's Northwest Passages community forums series -- which helps to offset the costs of several reporter and editor positions at the newspaper -- by using the easy options below. Gifts processed in this system are not tax deductible, but are predominately used to help meet the local financial requirements needed to receive national matching-grant funds.
Subscribe to the sports newsletter
Get the day's top sports headlines and breaking news delivered to your inbox by subscribing here.
---