News > Spokane
A needle and thread to hold memories close: Otis Orchards resident creates cross-stitch portraits
Jan. 25, 2018 Updated Mon., Feb. 19, 2018 at 10:49 a.m.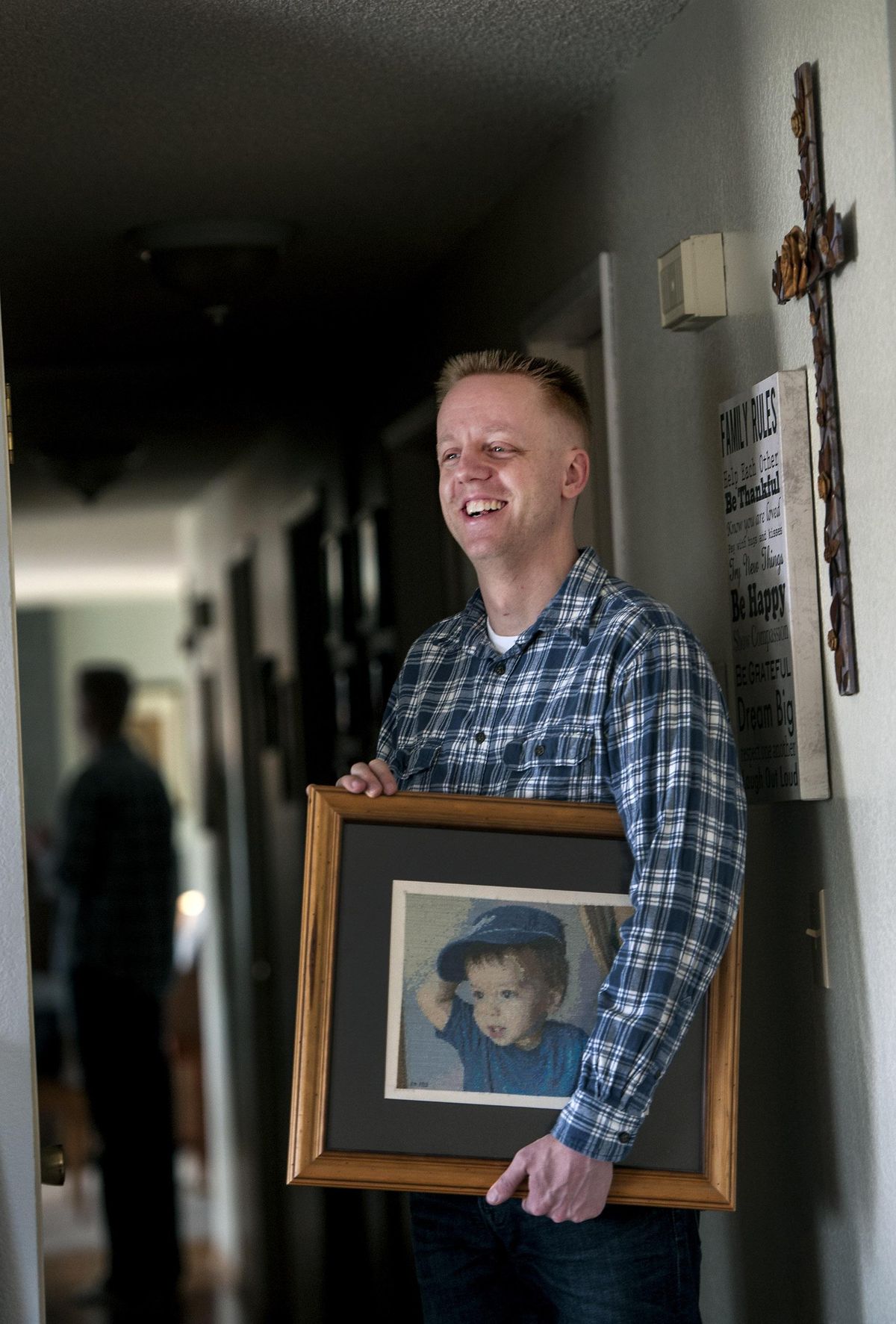 Eric Miller, of Otis Orchards, Wash., talks about his needlepoint hobby at his home in Otis Orchards on Wednesday, Jan 17, 2018. One of the first cross-stitch portraits he did was of his son Micah who died in 2003. He said it was a way to honor his son's memory. (Kathy Plonka / The Spokesman-Review)
We all have our hobbies. Sometimes, your hands just itch for something to do. Sometimes, a project helps to keep you busy and you can create a memory that lasts forever.
For Otis Orchards resident Eric Miller, that hobby is cross-stitch.
When he was in the third grade, his mother taught him how to cross-stitch. He made his first project from a store-bought pattern. The craft appealed to him because the squares of stitches put together reminded him of the graphics in his old 8-bit Nintendo.
"I don't know how to work on a car, but I can cross-stitch," he said.
After that first project, he didn't do much with it. He grew up, got married and studied to be a nurse in pediatric oncology.
Eric and his wife, Jenna, started a family. In 2003, their first child, Micah, died in an accident when he was 17 months old.
Dealing with grief means something different for everyone. For Jenna and Eric, they leaned on their faith and read books about grief. Eric eventually wrote a book about their journey, "It's Okay to Yell at God…: And Other Life Changing Discoveries Made on My Journey of Grief." They had more children: Owen, 13, Amelia, 12, Peyton, 10 and Ava, 8.
Around Christmas in 2006, Eric decided it was time to dust off his old hobby. He found a computer program, STOIK, that turns photographs into cross-stitch patterns. The program allowed him to input how big he wanted it and what kind of floss he wanted to use.
"It's my hobby, I've always had it," he said.
He found a photograph of Micah and made a cross-stitch portrait for Jenna.
"It was just to honor our son," he said.
"And then he hasn't stopped," Jenna said.
Since then, he's made similar portraits of their other children from photos of them when they were about the same age Micah was. The pictures proudly hang near the front door of their house. On average, each project takes about 150 hours of work.
Eric takes pictures every 10 hours of his progress and keeps the backs of his projects just as neat as the fronts.
"He's very tidy," Jenna said.
He has stitched characters of video games and moments on the beach.
His latest project involved 421 hours of work, 59,378 stitches, 80 colors and 2,300 feet of floss.
It's a recreation of one of the more famous moments in Seahawk football history - the 2014 NFC Championship game. Richard Sherman reached up and knocked away a pass to San Francisco 49ers wide receiver Michael Crabtree that decided the game for the Seahawks. Photographers everywhere captured the moment, and Eric recreated it with cross-stitch.
"That took it out of me," he said.
His grandmother, Dorothy Davenport, called the paper after reading a story in the paper about a woman in Yakima who does needlework. She immediately thought of Eric, of whom she is very proud. She noted that he is a husband, father, pediatric oncology nurse, author and a runner.
"He's just always been a jewel," she said. "He's just an amazing kid."
Eric took a break after the Seahawks project but is already thinking about his next one. The family recently traveled to Disneyland and took the usual photos of the family having a great time.
He'll work on his portrait during his breaks at work or while sitting with Jenna while she crochets.
"We joke we're a couple of old folks," he said.
Local journalism is essential.
Give directly to The Spokesman-Review's Northwest Passages community forums series -- which helps to offset the costs of several reporter and editor positions at the newspaper -- by using the easy options below. Gifts processed in this system are not tax deductible, but are predominately used to help meet the local financial requirements needed to receive national matching-grant funds.
Subscribe now to get breaking news alerts in your email inbox
Get breaking news delivered to your inbox as it happens.
---