A&E
Thrillist names Coeur d'Alene's Meltz Extreme Grilled Cheese a top U.S. sandwich shop
UPDATED: Thu., Jan. 25, 2018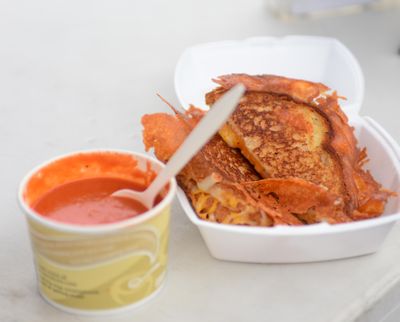 Meltz Extreme Grilled Cheese in Coeur d'Alene has been recognized as one of the best sandwich shops in America.
Thrillist published its list of the 31 top sandwich spots in late January. The New York City-based web site – which covers food, drink, travel and entertainment – specifically hailed the eatery's signature Ultimate Meltz special, which features white cheddar, mozzarella, fontina, provolone, chevre and Gorgonzola cheeses – "with the extra cheese getting crispy and crunchy as it seeps out onto the grill."
Meltz was honored overall for taking "things to the next level with its rotating selection of mad-scientist grilled-cheese innovations that constantly change with the seasons and the chef's whims, with past creations like a curd-filled poutine sandwich seeming to have emerged from our (very Canadian) dreams and into reality."
Meltz specializes in gourmet grilled cheese, from the Classic Kid Comfort – with a choice of cheese and bread as well as additional cheeses, meats or toppings, if desired – to the Pork Belly Banh Mi, featuring provolone, pepperjack, slow-roasted red pepper-bacon, pork, pickled daikon and jalapeño, cucumber-cilantro-lime aioli and sweet chili sambal. Other top-selling sandwiches are the Cubano and CC Poutine.
Find Thrillist's original write-up – along with the other 30 honorees – at www.thrillist.com/eat/nation/best-sandwich-shops-near-me-america.
Meltz is at 1735 W. Kathleen Ave. in Coeur d'Alene. Call (208) 664-1717. On the web: www.meltzextreme.com.
Local journalism is essential.
Give directly to The Spokesman-Review's Northwest Passages community forums series -- which helps to offset the costs of several reporter and editor positions at the newspaper -- by using the easy options below. Gifts processed in this system are not tax deductible, but are predominately used to help meet the local financial requirements needed to receive national matching-grant funds.
Subscribe to the Spokane7 email newsletter
Get the day's top entertainment headlines delivered to your inbox every morning.
---