News > Spokane
Starbucks, some Spokane coffee shops switching to eco-friendly straws
July 9, 2018 Updated Mon., July 9, 2018 at 9:04 p.m.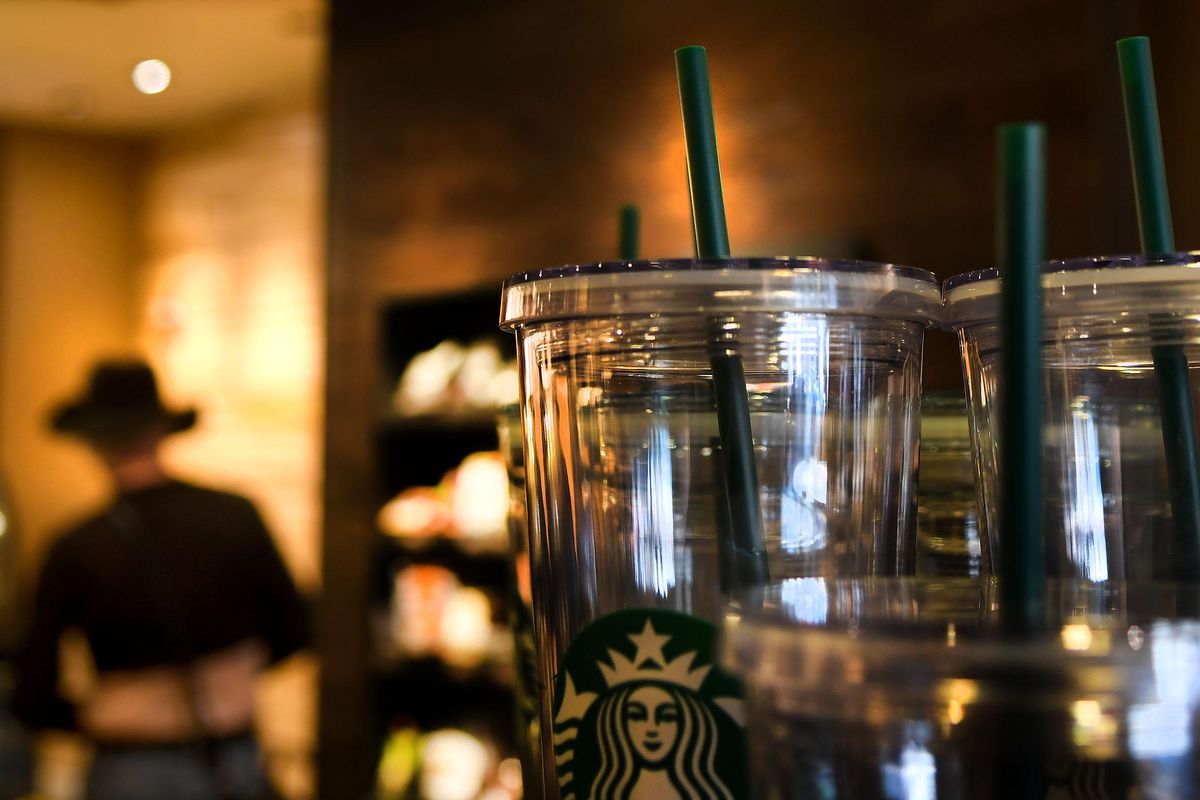 A display of Starbucks' reusable cups and straws is on display at a Starbucks' location in Spokane on Monday, July 9, 2018. (Kathy Plonka / The Spokesman-Review)
Starbucks announced Monday it will offer recyclable strawless lids and eco-friendly straws in its more than 28,000 stores beginning this fall.
The new offerings already are available for environmentally conscious caffeine addicts in Spokane, where even Starbucks' independent competitors are adopting alternatives to traditional plastics.
The straws made from paper or compostable plastic will be available to customers by request and eventually become standard for all iced coffee, tea and espresso drinks, Starbucks said in a news release. The company plans to eliminate plastic straws from all of its locations within two years. Starbucks' customers use more than 1 billion straws a year.
"For our partners and customers, this is a significant milestone to achieve our global aspiration of sustainable coffee, served to our customers in more sustainable ways," Kevin Johnson, president and chief executive officer for Starbucks, said in a statement.
Seattle and Vancouver will be the first cities to implement strawless lids in stores with phased rollouts to follow elsewhere in the U.S. and Canada. Seattle stores began offering compostable straws, splash sticks and cutlery July 1, according to a release. That's when Seattle's ban on restaurants providing plastic straws went into effect, part of an effort to protect ocean wildlife.
Starbucks already is offering the new lids in some Spokane stores, including a downtown location at Main Avenue and Post Street.
Adam Harris, a customer at the location Monday afternoon, said he agrees with the company's initiative to remove plastic straws from its stores.
"It's unnecessary waste," he said. "We have enough garbage on the planet. I don't think it's a bad idea."
Some local independent coffee shops in Spokane are also switching to eco-friendly straws and lids
Bobby Enslow, owner of Indaba Coffee, said he plans to implement eco-friendly straws and lids similar to Starbucks this fall.
"We've been looking into different alternatives," he said. "We'll maybe get some better products that are compostable. Paper straws are becoming super trendy because they are better for the environment."
Enslow said Indaba is committed to being eco-friendly by offering glass coffee cups to customers, or a discount for customers who bring in their own cup.
"It's just less wasteful in general and more enjoyable of an experience, too. Whenever we serve anything in-house, we don't even give (customers) a lid," he said. "Part of that is to subtly influence them to say, 'You don't necessarily need a lid.' "
The movement to eliminate single-use plastic straws is gaining momentum globally as consumers are showing an increasing concern for the issue of waste.
Cravens Coffee owner Simon Thompson said the roastery's wholesale customers are approaching him about eco-friendly options for straws, including ones made by Indiana-based Aardvark Straws, which focuses on paper options.
"Our customers are very in tune with what's going on," he said. "With someone like Starbucks doing this, it gets their attention because they know it's something they will have to respond to."
Thompson said eco-friendly solutions for small coffee shops have to be practical – both operationally and financially.
"It's important to them that they are addressing all these issues such as environmental waste, but it has to be in a frame where it can be a viable solution and doesn't put them out of business," he said.
Thompson said coffee shops will continue to be creative to find affordable, alternative options.
"It's on our radar. It's for a good reason, too. It has to happen," he said. "The amount of waste, it's filling up landfills, it's ending up in the oceans. We have a lot of waste we discard, and we need practical solutions."
Thomas Hammer, founder and CEO of Thomas Hammer Coffee Roasters, said the company began using compostable straws in its stores earlier this year, with plans to shift to paper straws sometime later this year.
"We're scheduled right now to bring in paper straws starting right around Sept. 1," Hammer said. "Some people like a straw, so I think a paper straw is the way to go. We had to eat some of the cost, but the oceans are worth more than a few cents for a straw."
Local journalism is essential.
Give directly to The Spokesman-Review's Northwest Passages community forums series -- which helps to offset the costs of several reporter and editor positions at the newspaper -- by using the easy options below. Gifts processed in this system are not tax deductible, but are predominately used to help meet the local financial requirements needed to receive national matching-grant funds.
Subscribe now to get breaking news alerts in your email inbox
Get breaking news delivered to your inbox as it happens.
---