News > Spokane
Spokane Valley residents express disapproval of City Council members' removal of peer from committees
July 10, 2018 Updated Wed., July 11, 2018 at 6:37 a.m.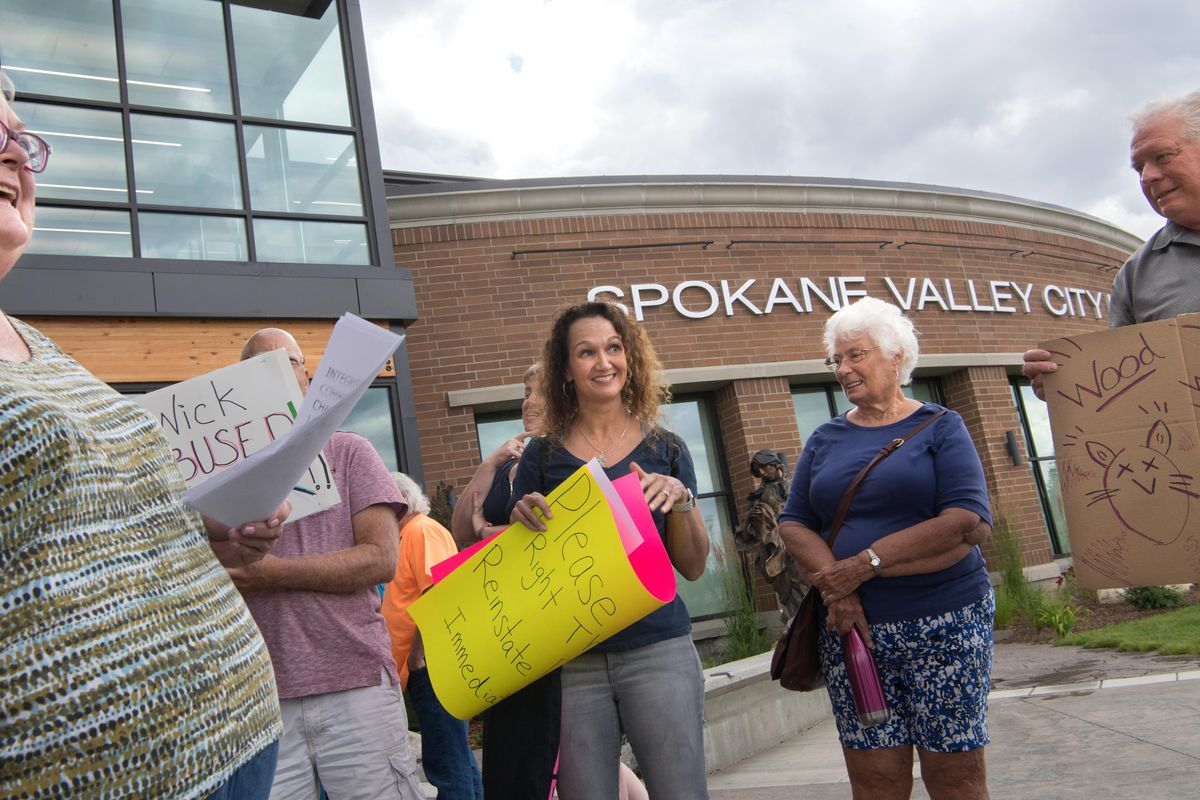 Leilani Delong, left, with Valley Indivisible Progressives, leads chants with Petra Hoy, center left, Hallie Koyukuk, center right, and Mike Foley, right, outside Spokane Valley City Hall following Mayor Rod Higgins' abrupt ousting of Council Member Ben Wick from the Spokane Regional Transportation Council Board and the council's Finance Committee last week during a rally on Tuesday, July 10, 2018, in Spokane Valley. (Tyler Tjomsland / The Spokesman-Review)Buy a print of this photo
At a packed Spokane Valley City Hall, resident after resident lambasted City Council members for ousting fellow Councilman Ben Wick last week from his appointments on the Spokane Regional Transportation Council Board and the city's Finance Committee without public notice.
More than 50 residents attended Tuesday's council meeting to call for Wick's reinstatement. Members from the Valley Indivisible Progressives gathered outside prior to the meeting to protest Wick's committee removal by Mayor Rod Higgins without public comment and with little notice.
Wick, who was appointed by Higgins to the SRTC earlier this year, was vice chairman of the board and selected as chairman-elect to represent the community next year. He told The Spokesman-Review last week he wasn't provided with a reason for his removal from the two committees.
Carol Allen, a member of the Valley Indivisible Progressives, said she hopes Higgins reinstates Wick's committee assignments. She said the group is pushing for more transparency from the City Council.
"No reason was given except the mayor thought it was best," she said. "I want them to know they can't work in the dark anymore."
Spokane Valley resident Tim Lake said he was approached by numerous people who said they are embarrassed by the city's actions because of how Wick was removed from the committees, which is reminiscent of how former City Manager Mike Jackson was fired in 2016 with little notice.
"The action that took place on July 3 in the evening prior to the Fourth of July holiday was not transparent. It was not on the agenda," he said. "Not all council members were notified in advance that this motion was to be brought forth, and it was not sufficient notice to the residents of the city of Spokane Valley to comment on this.
"So, here we are today, the first opportunity to comment. I don't believe that is a right way to conduct Spokane Valley business."
Spokane Valley resident Sally Jackson told council members the city is supposed to have a representative form of government.
"You got this young fellow here, Ben Wick. He's an intelligent kid. He cares about the area. He's here because he wants to make a difference. He wants to represent the people," she said.
"And instead of some of you welcoming him, you cut him out. I don't understand that. That's not a representative form of government."
However, not everyone at the meeting was opposed to the council's actions to remove Wick from the committees.
Former Councilman Ed Pace said he's in favor of the council's action last week because any council member is competent to serve on any board. And the mayor has the authority to make decisions on committee appointments, he added.
"If he can appoint you, he can remove you," he said. "It's no big deal."
Former Councilman Chuck Hafner said he is well aware of the difficulty the council faces when making decisions that will affect residents.
"However, as I think and listen to (the meeting) last week, shades of the past became very visible to me," he said. "As you well know, we went through a lot of turmoil when I was still on this council. We were talking about the same identical thing now that happened at that point in time."
Resident Jennifer Calvert said she's lived in the city for more than 10 years and hasn't actively been participating in meetings, but she will now because of the council's actions last week.
"I was dumbfounded when I was told about how the council went about removing Mr. Ben Wick from the SRTC as well as from the Spokane Valley finance committee," she said.
"It was jaw-dropping to see that four members of the council were just fine with voting on the committee changes without getting input or comment from the public."
Local journalism is essential.
Give directly to The Spokesman-Review's Northwest Passages community forums series -- which helps to offset the costs of several reporter and editor positions at the newspaper -- by using the easy options below. Gifts processed in this system are not tax deductible, but are predominately used to help meet the local financial requirements needed to receive national matching-grant funds.
Subscribe now to get breaking news alerts in your email inbox
Get breaking news delivered to your inbox as it happens.
---