'Into the Woods' gives audiences a peek behind closed doors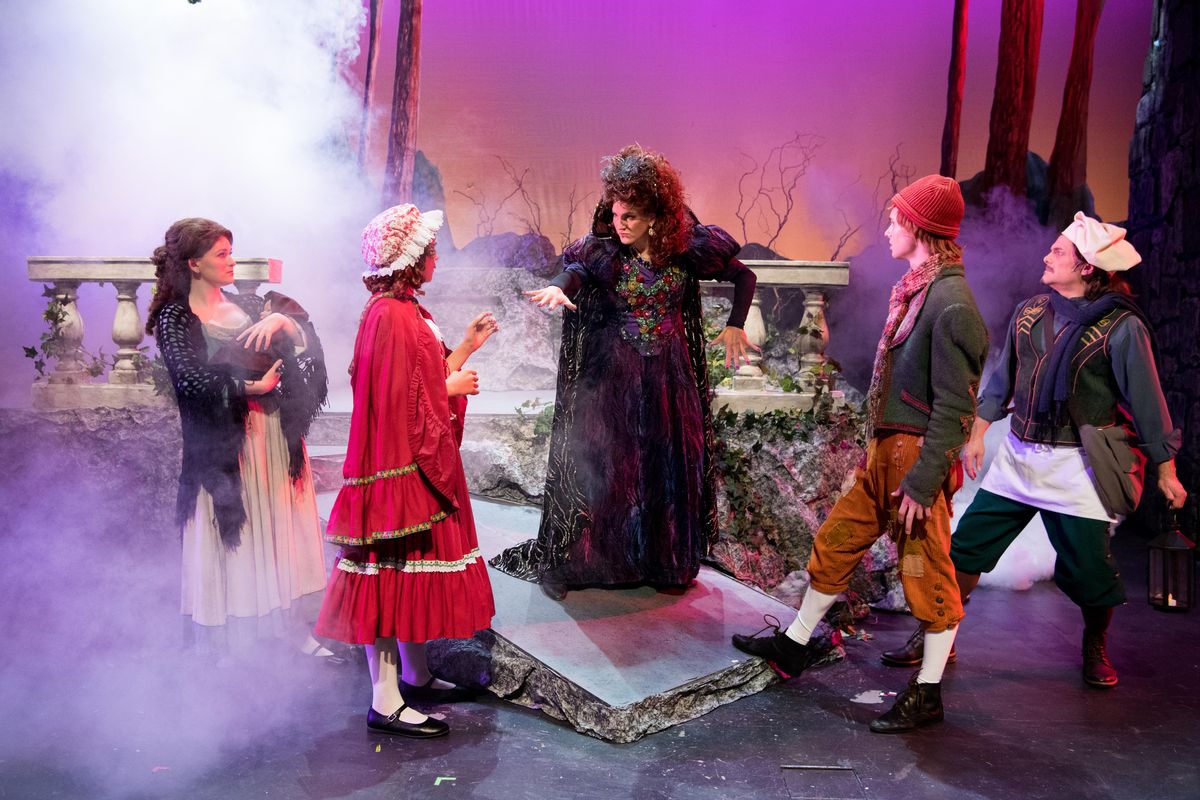 A silly but perhaps necessary word of advice: The intermission during "Into the Woods" marks the end of the first act, not the end of the show.
It's understandable to think that the show is over though because at the end of act one, the fairy tale characters we know and love thanks to stories by the Brothers Grimm and Charles Perrault have gotten everything they wished for.
Cinderella has gotten to attend the King's festival, where she meets her prince; Jack (of beanstalk fame) has a cow, Milky White, that is once again producing milk; and a baker and his wife are expecting a baby after struggling with infertility.
Little Red Ridinghood, Rapunzel, and Cinderella's stepmother and stepsisters too receive their storybook endings.
Happily ever after, right?
Not exactly.
Act two of "Into the Woods" picks up where the fairy tales left off, and things aren't as picture perfect as they might've seemed.
"We deal with the consequences in act two because all of act one is 'I wish, I wish, I wish. Here's what I want and here's what I need,' " director Yvonne A.K. Johnson said. "Then how that all affects the community and how they deal with the situation at the end."
"Into the Woods" opens at Spokane Valley Summer Theatre on Friday and runs through July 29.
"Into the Woods" features Paul Villabrille (narrator), Jennifer Tindall (Cinderella), Kyle Adams (Jack), Darnelle Preston (Jack's mother), Michael J. Muzatko (baker), Callie McKinney Cabe (baker's wife), Tamara Schupman (Cinderella's stepmother), Amy D'Orazi (Florinda), Emma Larson (Lucinda), Nate Edmons (Cinderella's father) and Noelle Fries (Little Red Ridinghood).
The show also features Andrea Olsen (witch), Ryan Patterson (Cinderella's mother), Dennis Craig (mysterious man), Austin Burrowes (wolf), Marnie Rorholm (Granny), Gracie Dibble (Rapunzel), Clark Marchese (Rapunzel's prince), Cameron Bonsignore (Cinderella's prince), Joshua Givens (steward), Susan Windham (giant), Maddie Burgess (Snow White), Meaghan Redmond (Sleeping Beauty) and, Piper Burney and Gunnar Rorholm (Milky White).
The musical features a book by James Lapine and music and lyrics by Stephen Sondheim.
The Sondheim score proved challenging, but Johnson said music director David Brewster guided the cast and musicians through each song.
"He's really done an exemplary job with the cast to prepare them for this piece because the preparation on this was more involved and extensive than doing a Rodgers and Hammerstein, for example," she said. "Sondheim doesn't make it easy on us."
Bringing the story's fantastical elements to life also required a great deal of creativity.
Spokane Valley Summer Theatre is using a mix of Muzatko's set design, set construction by Eric Rorholm, Lydia Fout and Will Long, digital projection, shadow effects and puppetry.
Designer Linay Robison has also created a special take on Milky White, making an animatronic-like two-person costume with eyes that blink and a tail that wags.
A few larger numbers in the show were choreographed by Central Valley High School graduate Joshua Spencer, who now works in New York.
"He has a wonderful energy and charisma, so it was a joy to have him here for that week," Johnson, who acts as Spencer's manager, said. "Hopefully, he'll be able to do more in the future."
Working with Spencer was a nod to the theater's mission to foster individuals who want to pursue theater professionally, both on and off stage.
Kyle Adams, who is playing Jack, for instance, recently won a Northwest Regional Emmy for Excellence in a High School Music Video, and Austin Burrowes, who plays the wolf, just received a full-ride scholarship to the Stella Adler Studio of Acting.
"We have this beautiful tree, I call it the magic tree, in the set and I think 'All of you are a branch or a leaf on that tree,' " Johnson said. "That's part of the magic of the theater, of the arts. I could not be more fortunate to have such a beautiful group of people that are talented, committed, passionate and curious about the arts."
"Into the Woods" premiered on Broadway in 1987 and was made into a 2014 film starring Meryl Streep and Johnny Depp.
Johnson believes a big part of the story's longevity is the natural curiosity of audiences to know what they aren't being shown.
"We see the outside image of (public figures), what we're supposed to see, and yet I think we're all interested and would be intrigued about what's their real life like behind closed doors," she said. "We see that in all these characters."
---