Kyle Busch dominates again to win Xfinity Series race at Pocono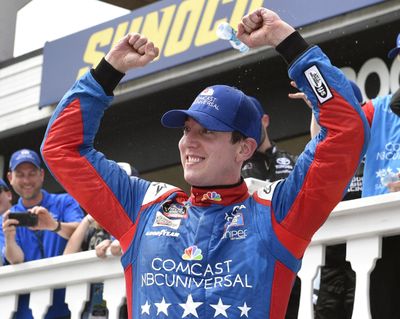 LONG POND, Pa. – Kyle Busch had a flicker of concern when a speeding penalty dumped him to the rear of the field.
"You're always worried about something crazy or unpredictable situations taking place," he said.
There's very little unpredictable about an Xfinity Series race with Busch in the field.
He romped again, overcoming an early penalty that dropped him to the back to win the Xfinity Series race on Saturday at Pocono Raceway for his 189th career NASCAR victory.
"We knew we had speed in our race car. It was really fast out front," he said.
He led 24 of the first 26 laps and the final 40 to win for the 92nd time in Xfinity to add to his series record. Busch scaled back his schedule in the second-tier series and won for the first time in four races this season.
"I hear about the numbers from everyone else. I don't necessarily go back and check stats or look at records," he said.
The 33-year-old Busch is piling up quite the list of milestones over a 14-plus year career.
Busch also has 47 Cup wins and 50 in the Truck Series to become perhaps the most dominant driver across all three national NASCAR series in history. He dominated early on Saturday and won the first stage until he was busted on the 27th lap for speeding on pit road.
"I didn't think I sped," he said. "I never saw any of our top indicating lights that would have said we were speeding."
It didn't matter. He had the No. 18 Toyota up to sixth by the end of the second stage and controlled the race in the final stage, easily holding off runner-up Chase Elliott.
"I think if you run on Saturday, it's more just for fun," Elliott said.
Xfinity regulars completed the top five: Daniel Hemric was third, followed by Austin Cindric and pole winner Cole Custer.
Busch won the Cup race last week at Charlotte Motor Speedway to become the only driver in NASCAR's modern era to win a points race on every track on the schedule.
His first win at Pocono in Xfinity gives him wins on 26 tracks in the series.
"It's been one I wanted to get," he said.
Elliott Sadler finished sixth and has a 62-point lead over Custer for first place in the points standings.
Busch's Toyota failed a post-race inspection and his team will face penalties this week.
---