A&E
Andy Samberg supports Terry Crews, 50 Cent explains LOL post
Fri., June 29, 2018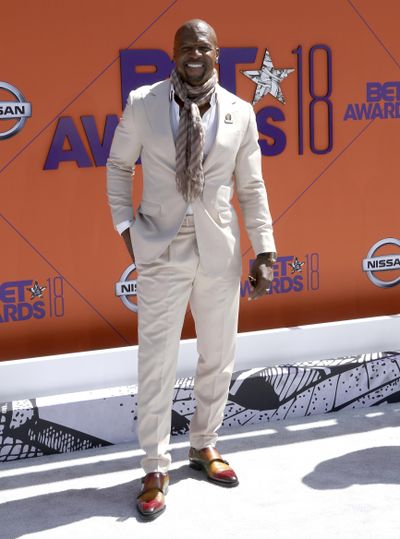 Andy Samberg says he and others who appear on "Brooklyn Nine-Nine" are in awe of fellow cast member Terry Crews after the ex-football player's testimony to U.S. senators earlier this week about sexual assault
Support for the actor hasn't been universal. Rapper 50 Cent mocked Crews' testimony and was excoriated on social media.
Crews testified Tuesday in Washington before the Senate Judiciary Committee about being groped at a party by a powerful Hollywood agent he is now suing. Sen. Dianne Feinstein asked the actor, comedian and former athlete why he didn't physically fight back. Crews explained that with the help of his wife, Rebecca, he has learned the benefits of non-violence in America, especially as a black man.
"We have a cast text chain and we were all texting him how incredible it was," Samberg said Thursday of Crews' testimony at a media appearance promoting his new film, "Hotel Transylvania 3: Summer Vacation."
"He's a miracle. Terry's the best guy," Samberg said. "I am proud to know him."
Los Angeles prosecutors declined to file charges against the agent, stating the groping didn't meet the criteria for a felony and that the February 2016 incident fell outside the statute of limitations to prosecute it as a misdemeanor.
In a now-deleted post on Instgram, 50 Cent placed mocked Crews' testimony. "LOL … Terry: I froze in fear. They would have had to take me to jail. …"
At a Starz network event Thursday night to support "Power," a series 50 Cent appears on and executive produces, the rapper told The Associated Press: "You know what? When you put LOL behind any statement, it means you're laughing out loud. That means it's a joke. That's it. Sometimes journalists leave those things out."
The rapper then walked away.
Local journalism is essential.
Give directly to The Spokesman-Review's Northwest Passages community forums series -- which helps to offset the costs of several reporter and editor positions at the newspaper -- by using the easy options below. Gifts processed in this system are not tax deductible, but are predominately used to help meet the local financial requirements needed to receive national matching-grant funds.
Subscribe to the Spokane7 email newsletter
Get the day's top entertainment headlines delivered to your inbox every morning.
---