Boys 2B: Top-seeded Kittitas/Thorp overpowers St. George's en route to second straight title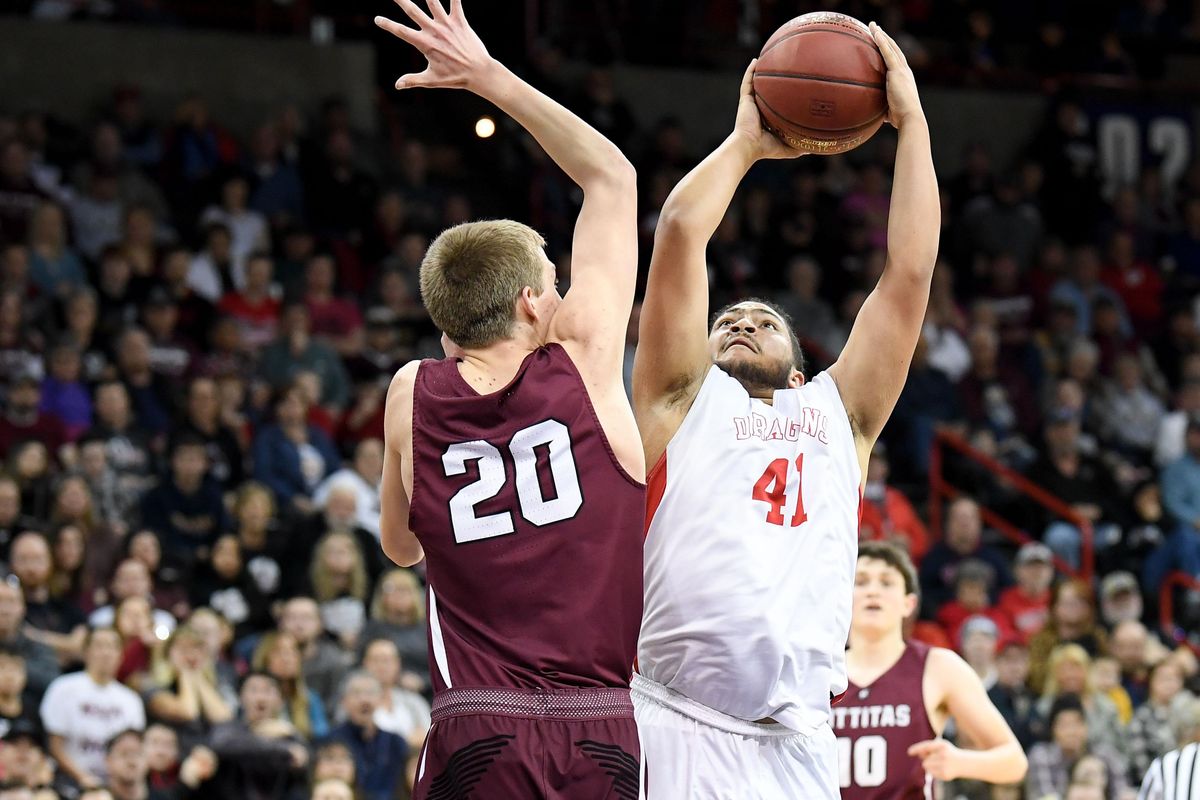 What did the defending state champs do for an encore?
The Kittitas/Thorp Coyotes used the State 2B tournament field as their playground.
The top-seeded Coyotes fought off the game No. 2 St. George's Dragons, who gave a good account of themselves for 2 1/2 quarters before succumbing 65-50 in the 2B final at the Spokane Arena.
"It's a great accomplishment for the kids because they got in the gym after last year and really worked on their fundamentals," Kittitas/Thorp coach Tim Ravet said.
The Coyotes will be heavily favored to make it three straight. They lose just one senior who had measurable playing time.
It was the Dragons' first loss (26-1) and a difficult one considering they didn't back down from the Coyotes for nearly three quarters. When they couldn't make a basket, the Coyotes started getting some separation.
"We played well enough to win, we defended well enough to be there in the end," St. George's coach Ryan Peplinski said. "Our offense left us a little bit."
The Dragons were in tough to begin with, having to devise a plan to defend one of the best players in the state regardless of classification – Gonzaga University commit Brock Ravet, a junior.
Ben Adams drew the assignment, and the transfer from Blaine did a good job. Ravet scored a game-high 30 points, but many of his shots were contested – except the step-back, NBA-range 3-point shots.
Adams was so disappointed following the game he ran to the bench, grabbed his warmup top and jogged into the tunnel leading to the locker rooms. A passer-by tried to get him to join his team on the court where the Dragons were accepting the runner-up trophy, but Adams wasn't having any of it.
Peplinski was asked to retrieve Adams from the locker room for an interview, but Adams was too distraught to come out.
"He was great," Peplinski said of Adams' play. "Brock's points – he had a lot – they were tough points. He was stepping back to NBA range. We got him to miss quite a bit early. If you're getting 15 points on 15 shots, you're doing your job."
St. George's could have lost touch early. The Coyotes used a 13-6 surge for a 19-10 lead after the first quarter.
Adams took care of much of the deficit with back-to-back 3-pointers to open the second period.
The Dragons got within a point twice. A 3-pointer from Mitchell Ward cut the Coyotes' lead to 35-32 by intermission.
The Dragons were cold coming out of halftime and started to fall into a deep hole. The Coyotes extended the lead to 50-39 by the end of the quarter.
By midway in the final period, the lead had grown to 17 points.
Ravet, who made 5 of 12 from 3-point range, had 17 rebounds, four steals and three assists.
Xander Werkman had 11 points and seven rebounds and Cade Peplinski had 12 rebounds for the Dragons.
"I thought it'd be a two- or three-possession game going down the stretch, either way," Peplinski said. "I don't think we left a lot out there. This was a special group."
The Coyotes lose just one player to graduation.
"I don't know what else we can think about now except a three-peat," coach Ravet said.
---