Simplified statewide fishing rules go into effect in July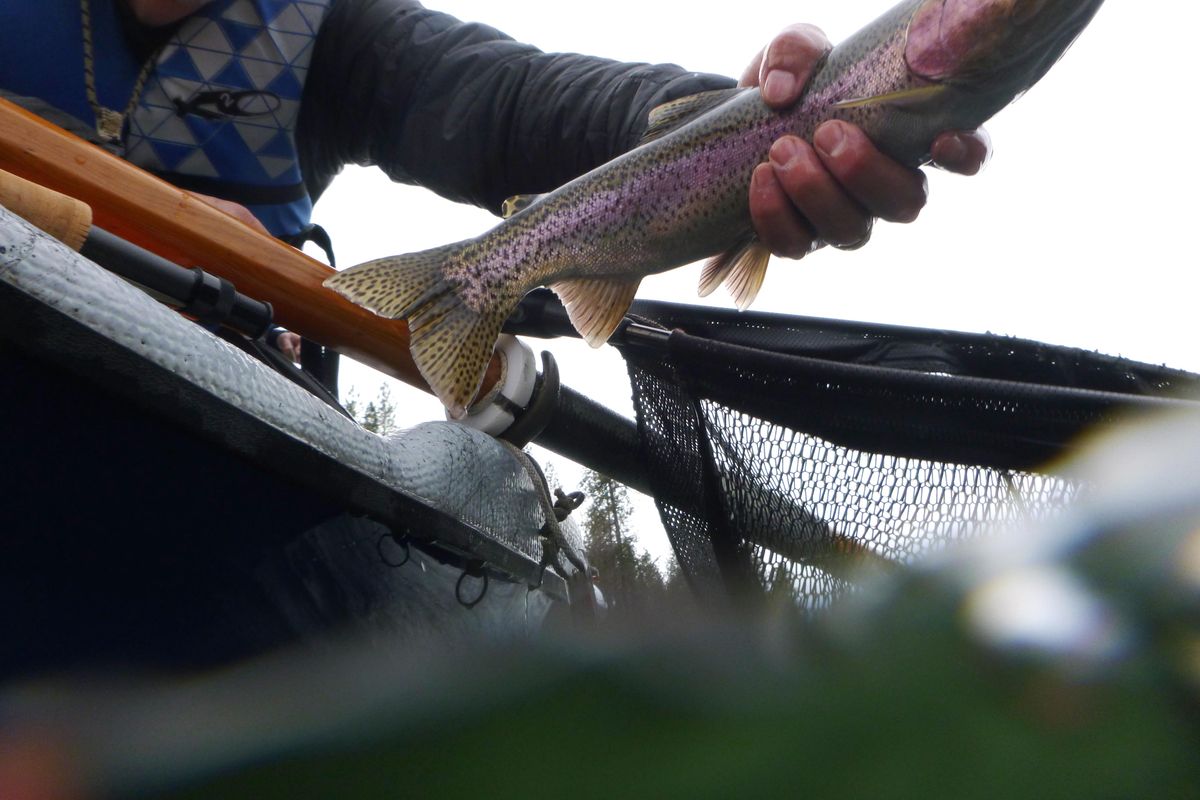 New simplified fishing rules will go into effect throughout Washington in July.
Changes in season-opening dates call for the majority of rivers and streams to open the Saturday before Memorial Day and stay open through Oct. 31, unless otherwise noted, said Steve Thiesfeld the Washington Department of Fish and Wildlife's inland fish program manager.
Those rules don't start until July 1, meaning most opening days in 2018 stay the same. For example, the Spokane River from the Nine Mile dam to the Idaho border will reopen on June 1. It closed Thursday.
Next year, seasonal segments of the Spokane River will open at the same time – the Saturday before Memorial Day.
Season openers and bag limits for lakes also changed, Thiesfeld said.
"We had so many different regulations on lakes, between when we had them open and what the bag limits are, we really tried to streamline the number of options that biologists could apply to lakes," he said.
For example, Waitts Lake in Stevens County will become a year-round after it opens in April. That change has bothered resort owners who thrive on opening-day crowds, Thiesfeld said. He emphasized that WDFW will continue to restock most lakes on or near traditional opening-day dates. Jump Off Joe Lake will also remain open year-round, but be restocked around mid-April.
Resort owners on Waitts Lake asked the WDFW commission to reconsider the change, he said. WDFW decided to wait and see what the new rules' impact is.
"We want to see if there is a problem before we reconsider it," he said.
Default bag limits have also changed for kokanee and trout caught in lakes. Now the default statewide daily limit for kokanee is 10 with no size restriction. The default statewide daily limit in lakes will be five. Certain lakes will have exceptions and anglers should check before they go, Thiesfeld said.
In addition to changed opening and closing days , Thiesfeld said there will no longer be a minimum length or daily limit on brook trout.
"We've pretty much removed the limit on brook trout statewide," he said.
That decision was made because the non-native brook trout population has grown too large and stunted in most areas.
The new rules also change which streams are open. Under previous rules, a stream was considered closed unless specifically marked open. Starting in July streams will be open unless specifically closed.
"There are a lot of small little streams that were closed previously that will be open," Thiesfeld said.
In the Spokane-area, anglers can expect all trout streams to be open, said Chris Donley the eastern regional fish program manager. The new bag limit is two fish 8 inches or greater in length.
Donley emphasized that the new rules won't change Spokane River regulations too drastically.
"There won't be any harvest of wild salmon in the Spokane River," he said. "We are fully aware of the conservation risks of having more liberal rules there."
Many of the state's "juvenile only" waters will be opened to seniors and anglers with disabilities. One example is the Columbia Basin Hatchery Creek in Grant County. Come July 1 seniors will be allowed to fish there.
"Now grandpas can go out to particular lakes," he said.
Boat motor restrictions will no longer be published in state fishing regulations. Those restrictions are set by municipal or county governments. In the past WDFW would adopt those rules and publish them in the annual fishing pamphlet. That required WDFW to monitor and track laws and ordinances across the state.
Thiesfeld emphasized that just because an angler might not see a motorboat restriction listed on a lake or body of water doesn't mean there isn't one.
"They (anglers) would want to check with that municipality to see if it's still in existence or not," he said. "We no longer have that kind of staff time to keep up with those."
Although the changes can seem confusing, many anglers won't be overly impacted said WDFW spokeswoman Madonna Leurs.
"When you walk through it, you realize that for a lot of people for the type of fishing they do they're not going to see a change," she said.
Other rules that were passed in January include:
– Eliminating mandatory steelhead retention in most waters;
– Separating trout and steelhead rules;
– Allowing incidental steelhead retention in almost all state waters;
– Standardizing whitefish-only season rules;
– A proposal to allow chumming statewide received overwhelming negative feedback and was not adopted.
"There was strong opposition to this proposal based on the perception that it will create ethical issues, conservation issues and potential for negative environmental impacts from the over use of chumming materials," according to a summary of the WDFW's January commission meeting where the proposals were passed.
Another series of rules that drew attention from Eastern Washington anglers was a proposal to eliminate panfish special limits. If passed that would have eliminated the 9-inch minimum size restriction for keeping crappie at Eloika Lake. Those rule changes were not adopted.
This story has been updated to clarify the name of the Columbia Basin Hatchery Creek in Grant County.
---