A&E > Art
Sculpted by the spirit: Sister Paula Turnbull's work continues to tell her story
Sun., March 18, 2018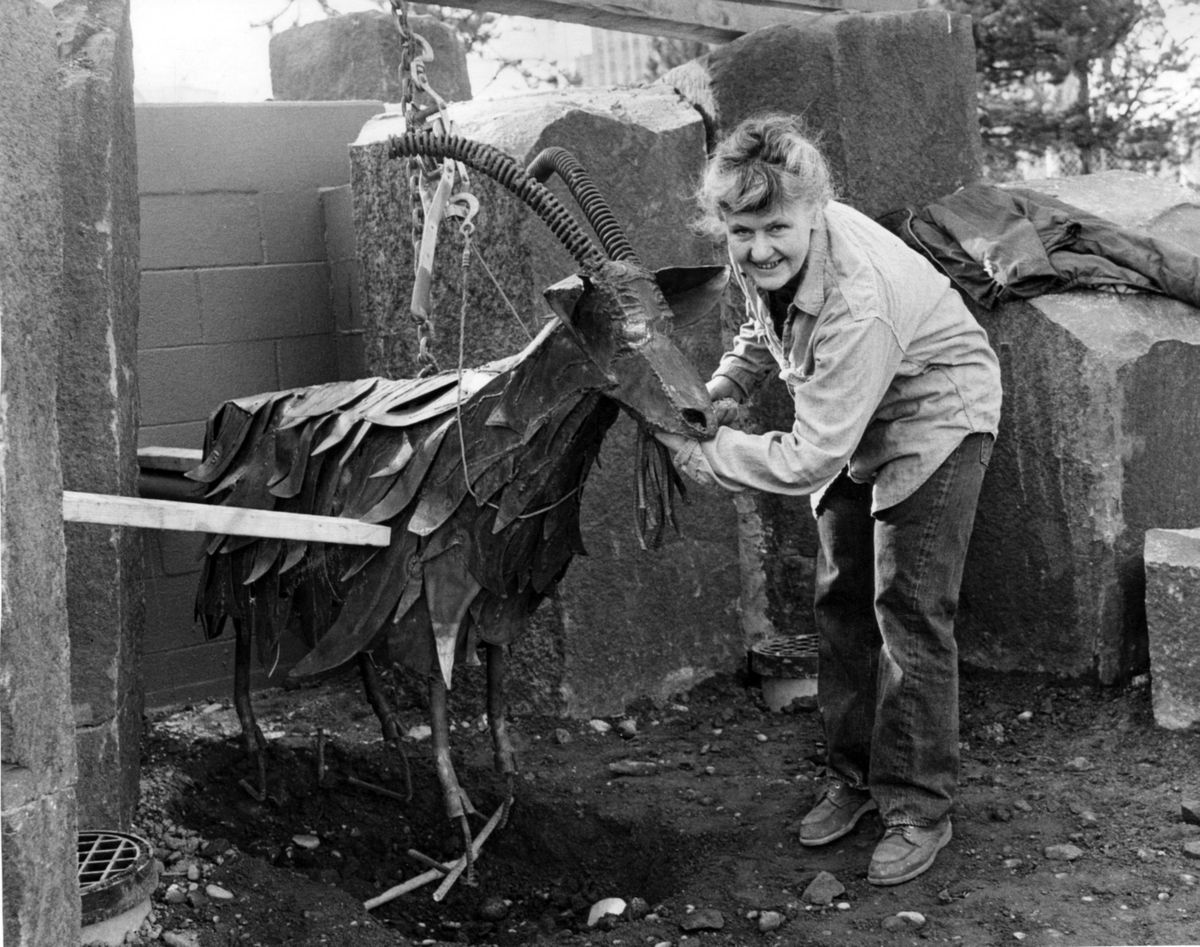 A hand-eating goat? Actually it is a trash barrel that Sister Paula Mary Turnbull, Fort Wright college art department chairman, is testing. Her unique welded weathering steel sculpture, commissioned by the Women's Council of Spokane Board of Realtors in cooperation with the City Park Department, this week was installed on the Expo '74 grounds. A vacuum will draw litter from the goat's stomach into a barrel behind a stone wall and the goat will ask for trash from a hidden recorder. 4/24/1974 photo. Photo Archive/The Spokesman-Review. (SR)
"Humans cannot live without music and art. I strive to help others to fill this void."
A nun wrote that. Not just any nun, but arguably the most famous habit-wearing welder in Spokane: Sister Paula Mary Turnbull of the Sisters of Holy Names of Jesus and Mary.
In an essay she wrote 18 years ago for Sisters Today magazine, when she was still just a spry 78-year-old, Turnbull explained her concept of art as ministry. "Art tells a story and helps the viewer recognize that deep longing for beauty and the presence of God in all creation," she wrote.
Sister Paula, now 96, first became a break-out Spokane arts star nearly 45 years ago when the city hosted Expo '74. She was the metal-sculpting artist/nun who created the Garbage Goat nestled in a basalt grotto of Riverfront Park to reflect the Expo's ecology theme. At the request of the Australian government during Expo, she installed a life-sized sun dial in the park, brazing plants and animals indigenous to Australia onto the gnomon, the part of the dial that casts the shadow.
Turnbull created countless other public works and commissions over the decades, including the iconic Browne's Addition statue of Anna Stratton Browne and her daughter, at the corner of Riverside Avenue and Maple Street. The Sasquatch perching in the stairwell at Spokane Community College, the Bear greeting visitors to Central Valley High School, and the "Cosmos – In the Beginning" in the Chapel at the Convent of the Holy Names are all her creations.
She sculpted the panels of swimmers, baseball players, skateboarders and other athletes at Hillyard Aquatic Center, the Mike Cmos Memorial outside the Spokane Wastewater Treatment Facility, as well as several stations of the cross and religious figures at various churches and private schools throughout the region. She did metal angels, wood carvings of the Virgin Mary, Murano glass crosses, ornamental gates, marble and clay sculptures. The layering of copper tubing to create the look of flowing fabric became her trademark.
And for Turnbull, art and art educaiton was her ministry.
"I am an artist because I can't not do art. It is a gift from God to be developed and shared," she told The Spokesman-Review in 2002.
After more than 80 years of making art, Turnbull is finally retiring from her studio. The building on the convent grounds in which she worked, hosted tours and talked about art with fellow artists, nuns, and staff for the past 25 years is nearly all packed up. Her recent works, mostly smaller figures of whimsy, an extensive collection of watercolors from decades ago, her carved walking sticks, and even some of her brushes and supplies will be on sale for an upcoming retrospective on Friday in downtown Spokane.
Kaufman & Associates co-owner Tom Keefe, a longtime Spokane resident whose late mother went to high school with Turnbull when she was growing up in Seattle, is helping put on the show dubbed "A Gathering of Friends." Proceeds will benefit the Sisters of the Holy Names Retirement Fund and their ministry in African missions educating young women.
"My mother used to joke, 'I begged Paula not to take that vocation, and look at her now: She's traveled all over the world and I stayed in Seattle and had children,' " Keefe said with a laugh.
Turnbull told The Spokesman-Review in 2002 that a big part of her success was because she was a member of a religious order.
"Over the years," she said, "the sisterhood has become increasingly accommodating to artists. … They are very supportive and encourage me in my work."
After earning three different advanced degrees at New York's Parsons School of Design, Seattle's University of Washington, and the School of the Art Institute of Chicago, Turnbull taught sculpture and art history at Fort Wright College for 25 years.
Each spring for nearly 35 years, she conducted month-long study group tours for a travel experience she called Art Studies of European Sites. Dozens of her watercolors, many that she painted en plein air on those trips, will be available for purchase at her upcoming retrospective.
Keefe's own residence, which once served as a rectory for Cataldo Catholic School, is home to several of Turnbull's works he's collected over the years.
He even commissioned the sister to create a statue of Eddie Gaudel, the only dwarf to ever play in a major league baseball game when he was the surprise pinch-hitter in a St. Louis Browns double-header. Tongue-in-cheek or not, Turnbull's statue of Gaudel at bat is permanently ensconced over the bar at O'Doherty's Irish Grille downtown, where Keefe holds his annual meetings of the Eddie Gaudel Society he started.
Nearly every week, Keefe picks up Turnbull at her South Hill retirement facility to take her to lunch and to enjoy a single glass of cabernet at his regular table at O'Doherty's. Still fashionable, Sister Paula often wears black jeans, crisp jackets and bright berets over her thick silver hair.
"Sister Paula's art is really an expression of who she is, whether it's the upbeat, whimsical quality of a garbage-eating goat, or an Eddie Gaudel, or these little figures we are going to sell at the show, she just infuses them with her personality," Keefe said. "Paula talks about her art as an expression of love and happiness. She literally talks to the pieces when she's making them."
Local sculptor Rick Davis worked with Turnbull over the past couple of years to assist her in her studio on a volunteer basis as her memory has declined. He said her storytelling, art-making, and physical abilities were surprising for anyone, not just for a small person in her mid-90s. Before her recent slow-down, the elderly nun would walk in the woods, scale hills, and climb stairs. "She never took the elevator," Davis said.
Davis said that another beloved nun of the Holy Names, Sister Celine Steinberger, who died recently, told him the story of Turnbull ditching her habit years ago. "Sister Celine told me that those habits were 10 yards of wool, layer upon layer, and that Sister Paula had to work in her shop and sometimes just wouldn't wear it, even though it was forbidden not to," Davis said. "But Sister Paula made her own rules."
Jere Mansfield, who works in the Spokane regional office of the Holy Names order, acted as Turnbull's longtime administrative assistant. She said that for 20 years, Turnbull would ask her to take a walk down to the river after lunch on most week days.
"She would blaze our own trails down to the river through the beautiful wooded property, through brush, over logs, yelling 'Look at this flower! We have to look this one up!' " Mansfield said. "She was always picking up rocks and spitting on them to change their color."
Turnbull liked to tell stories about students who would come to her drawing or sculpting classes and experience nude models posing for the first time. "Sometimes the students wouldn't come back," Mansfield said. "Sister Paula would chuckle about that."
Mansfield's voice breaks as she describes what feels like the end of an era at Holy Names in the wake of Steinberger's death and the closing of Turnbull's studio.
"It's not just about losing friends, but also losing all these marvelously gifted women who have been the glue that has held us all together, the face of Spokane, the backbone of the Sisters of the Holy Names in Spokane," Mansfield said. "All the committees they've been on, the art in the city, the good they've accomplished. It's a sadness and also a blessing in my life."
Local journalism is essential.
Give directly to The Spokesman-Review's Northwest Passages community forums series -- which helps to offset the costs of several reporter and editor positions at the newspaper -- by using the easy options below. Gifts processed in this system are not tax deductible, but are predominately used to help meet the local financial requirements needed to receive national matching-grant funds.
Subscribe to the Spokane7 email newsletter
Get the day's top entertainment headlines delivered to your inbox every morning.
---