Marketing > Sponsored
Talking Trafficking
Entire community must team up to find serious solutions
Sun., March 18, 2018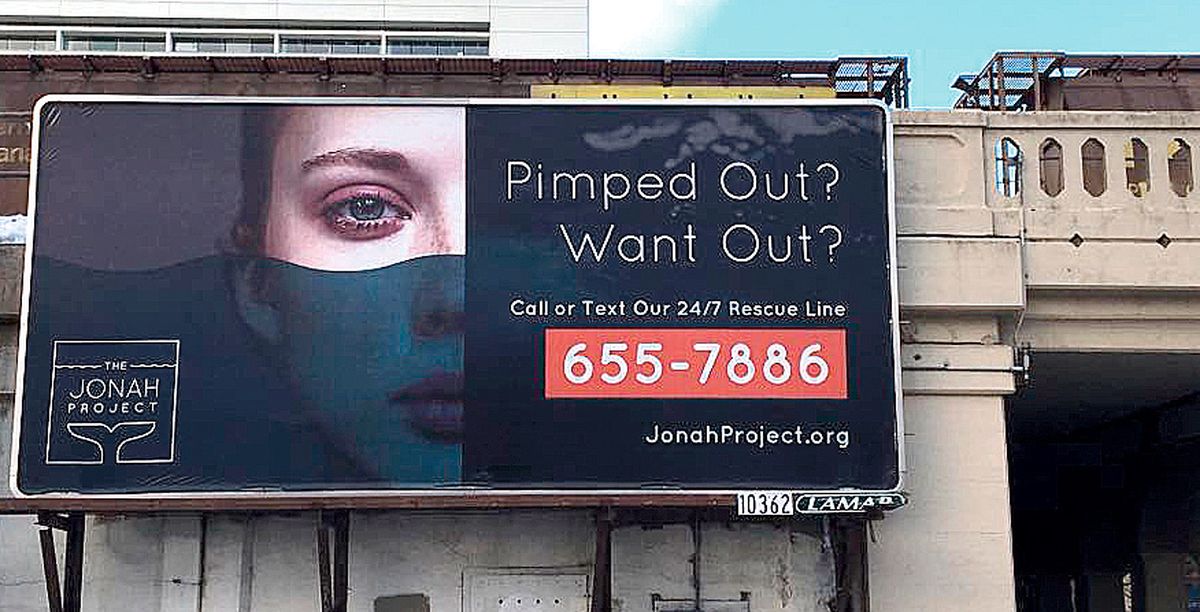 One of the billboards for The Jonah Project rotates throughout Spokane. (Courtesy The Jonah Project)
It was a mixed group, those 14 people.
Only one man sat among them. But otherwise, they represented a blend of occupations – a nurse and a therapist among other concerned community members. Some had lived in Spokane for decades, others for only a matter of months.
But they were all at the Indian Trail Library on a winter's night in February driven by a common purpose: to discuss how to tackle the complex issue of human trafficking.
"It's the entire community's problem," one person said. And over the course of the next hour, the group discussed what to do about it.
At the center sat Nicole Bishop, a member of the Spokane Human Rights Commission and chair of the commission's subcommittee on Human Trafficking. As she would explain in a separate interview, the problem of trafficking is more serious than is generally known.
"Actually, it's pretty staggering," Bishop explained. "As of 2008, and granted this was close to a decade ago, it was estimated that there were 1,500 people being trafficked, brutalized on any given day."
More current statistics are difficult to access. Yet a multitude of sources stress the severity of the situation.
In a federal report titled the "National Strategy to Combat Human Trafficking," former U.S. Attorney General Loretta Lynch stated, "Human trafficking is a devastating crime that threatens society's most vulnerable members, exploiting them for sex, labor, and servitude of all kinds. It destroys families, shatters lives, and undermines our most fundamental beliefs about the dignity of all people."
On its website, the Washington State Attorney General's Office reported that "our state is a hotbed for the recruitment, transportation and sale of people for labor." The office also stressed, "In 2003, Washington was the first state to pass a law criminalizing human trafficking and we have the most stringent law in the country."
The 2008 report Bishop referred to was prepared by the Western Regional Institute for Community Oriented Public Safety and focused on trafficking in the Spokane area. It pointed to "a wide spectrum of trafficking activities that include sex slavery, forced prostitution, forced panhandling, farm labor, janitorial work and domestic servitude."
Most recently, the City of Spokane tried to bring local attention to the matter by declaring January "Human Trafficking Awareness Month."
Crime remains hidden
Despite all this attention, some continue to call trafficking a "hidden crime." True, a plethora of problems face the nation – and, in particular, Inland Northwest residents –everything from low incomes and rising rents to homelessness and the ongoing need for school funding. Trafficking isn't perceived generally as a priority.
That point was emphasized at a 2016 event sponsored by the Gonzaga Journal of International Law. Speaking at a symposium titled "Combatting Human Trafficking: Theory and Practice," Mark Kadel – then-director of World Relief Spokane – made an intriguing comparison.
"Do you know what the issue amongst college law students was 152 years ago?" Kadel asked. "The argument – and among churches as well – was whether or not slavery was right or wrong. Do you know what the issue, the argument, is today? It's whether (slavery) still exists."
Vanessa Nelsen, World Relief's managing attorney of immigration legal services, puts it a different way. "The problem with human-trafficking is that a lot of it is invisible," Nelsen said. "It could look like a domestic-violence situation."
Complicating things even further, the 2008 report stressed that the most prevalent forms of trafficking in the Spokane area involve sex. The main targets: women, underage boys and girls being pandered in ways that range from escort services to on-the-street prostitution.
A quick Internet search will unveil dozens of first-person accounts of those who have been sex-trafficked. A recent photo exhibit Jan. 9-Feb. 28 at the downtown branch of Spokane Public Library accomplished something similar.
Titled "If You Really Knew Me: Stories of Survivors and Warriors," the exhibit featured photos of women telling stories of domestic violence and/or sex-trafficking. One was a 21-year-old former Rogers High School student named Diamond Justice Lashay Morrow.
"I had boyfriends I thought were normal people," Morrow's testament said, "and they ended up pimping me out."
In an interview, Morrow explained how she'd been kicked out of her house, how she'd lost track of her father (who was in the military) and how she'd begun doing drugs.
"That got me to the point where I ended up hanging out with a bunch of dangerous men," she said. "One thing led to another," she said, resulting in the men "prostituting me out and sex-trafficking me through Washington."
How does such a thing happen?
"You don't go into it wanting to sell your body," Morrow said. "It just ends up happening because the guy or pimp who recruited you grooms you. They start to give you money, out of nowhere, wanting to take care of you, give you a place to stay. And after a while, they expect you to pay for all the stuff they did for you."
Morrow barely escaped. Beaten bloody by a man, tied up and fearing for her life, she managed to struggle free. "I thought he was going to do something to me," Morrow said, "so I opened up a window, crawled out, and I ran."
After her hospital stay, which included stints in Yakima and Medical Lake's Eastern State Hospital, Morrow gradually regained her health. She is still recovering.
"I had PTSD pretty bad," she said.
What helped her was the support she received both from her father, with whom she reconciled, and from a Spokane-based organization called the Jonah Project – a group that works with at-risk and homeless youth and seeks to rescue sex-trafficking victims such as Morrow.
"They gave me a home and a phone and became my family when I had nothing," Morrow said. "They've been there for me ever since. They're still there for me even today."
Volunteers needed
Which brings us back to Bishop, who in addition to her role on the Spokane Human Rights Commission, doubles as the Jonah Project's director of community relations.
"Diamond is wonderful," Bishop said. "She has stayed humble and open, which has helped her get to the point where she is now. There are so many in the Jonah Project who consider her like family."
One of those family members is the Jonah Project's founder, Aaron Tilbury. It was Tilbury who, while helping coach baseball at Rogers High School, ended up buying one player a pair of baseball cleats. It didn't take long for him to recognize what was a larger problem than simply one boy in need.
Eventually, Tilbury said, he realized that "there was a lot going on under the surface for those kids that we pass on the streets every day." Over time, he hatched the idea that would become the Jonah Project.
Today, with volunteer help from maybe 30 individuals, funds provided by two local churches – Real Life North and Live Center Church – and connections with counselors at various area schools, Tilbury's organization is able to run two safe houses.
Moreover, following what he describes as a four-prong program – rescue and relocation, security, education and awareness, and advocacy – he has a desire not only to do more but also to partner with others who share his concerns.
"We're a small unit," he said. "Maybe others will have the funding to come in and do it bigger and better, not that bigger is always better. But maybe they can. In which case, we'll augment to that. "We just want to catch what's falling through cracks,"
Education, awareness and advocacy. Those are the very activities that the 14 people at Indian Trail were investigating on that cold February evening.
Fourteen people – just like you.
Local journalism is essential.
Give directly to The Spokesman-Review's Northwest Passages community forums series -- which helps to offset the costs of several reporter and editor positions at the newspaper -- by using the easy options below. Gifts processed in this system are not tax deductible, but are predominately used to help meet the local financial requirements needed to receive national matching-grant funds.
Subscribe now to get breaking news alerts in your email inbox
Get breaking news delivered to your inbox as it happens.
---