A&E > Stage
Civic aims to draws audiences in with suspenseful 'Dial M for Murder'
Thu., March 22, 2018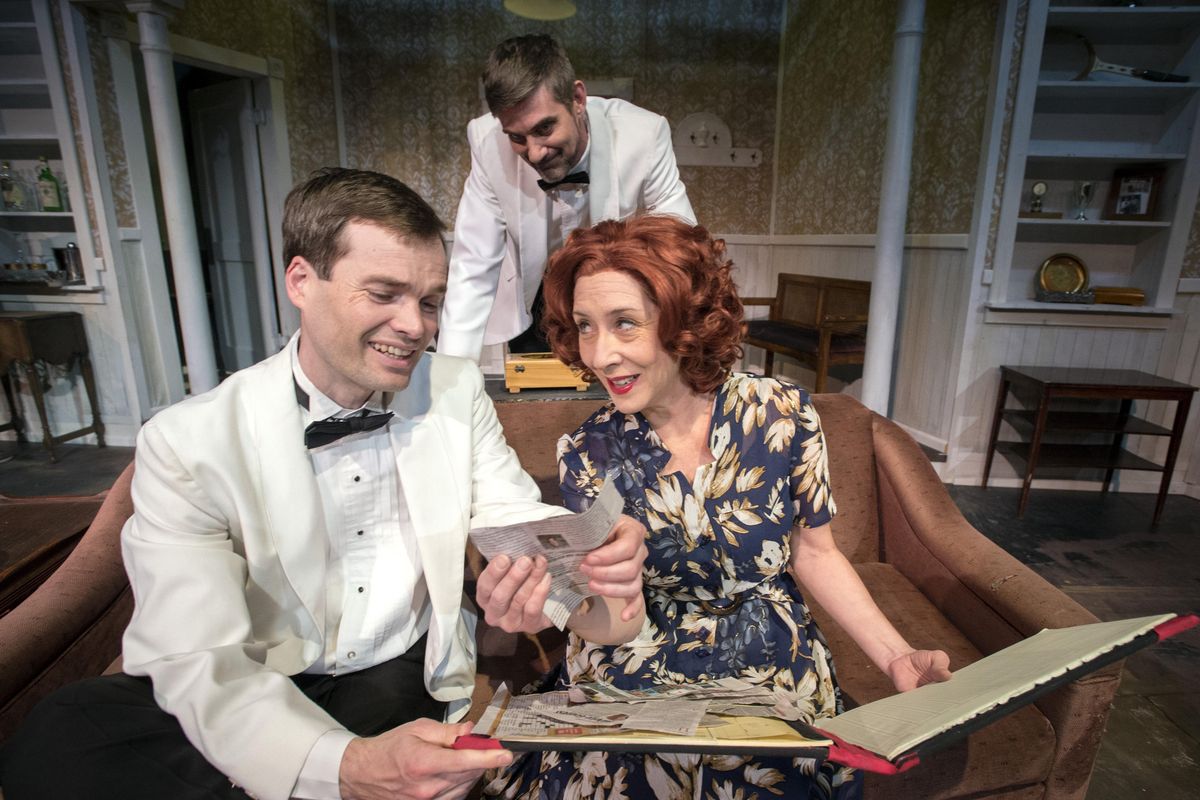 Actors (on couch) Andrew Biviano (Max Halliday), Molly Allen (Margot Wendice) and Patrick McHenry-Kroetch play a scene from Spokane Civic Theatre's production of "Dial M for Murder." (Colin Mulvany / The Spokesman-Review)Buy a print of this photo
It wasn't hard for Heather McHenry-Kroetch to say yes to the opportunity to direct Spokane Civic Theatre's production of "Dial M for Murder."
After all, she loves a good mystery story and felt like the play – written by English playwright Frederick Knott, who adapted it for the Alfred Hitchcock film of the same name – was right up her alley.
"It feels like something you'd want to (read) on a rainy afternoon," she said. "I really liked it so I was excited. Then, of course, I was terrified, then I was excited again."
"Dial M for Murder" opens at Spokane Civic Theatre on Friday and runs through April 8.
In "Dial M for Murder," retired professional tennis player Tony Wendice hires a hit man to murder his socialite wife Margot after discovering her affair with writer Max Halliday and in an attempt to get his hands on her inheritance.
But things start to go awry for Tony after the hit man, not Margot, is killed. He then does all he can to ensure Margot is charged with murder so his original plan is not found out.
"Dial M for Murder" stars Patrick McHenry-Kroetch as Tony Wendice, Molly Allen as Margot Wendice, Andrew Biviano as Max Halliday, Matt Cardoza as Lesgate, Thomas Heppler as Inspector Hubbard and Kaylan Martin as Bobbie and various voices.
After agreeing to direct the play, McHenry-Kroetch watched the film version of "Dial M for Murder," which starred Ray Milland as Tony and Grace Kelly as Margot.
She doesn't usually watch recordings or film adaptations of the plays she's working on to avoid being influenced, but with a show as iconic as "Dial M for Murder," McHenry-Kroetch wanted to get a feel of the production.
"You don't want to make a copy but you want to honor it," she said. "There's a lot of pieces there and you don't want to leave out something."
The David Baker-designed set, for example, is almost identical to the set drawing in the back of the script and closely matches the film's set.
Because the film is so popular, McHenry-Kroetch acknowledges that some audience members might have certain expectations of what they'll see onstage.
But even so, McHenry-Kroetch said she has to go back to Knott's script, rather than his screenplay, to see how the play was actually written, noting that the film emphasizes things that aren't emphasized in the play and vice versa.
"You do want to go back to the script and say 'How was this story actually meant to be told?'…" she said. "And then you want to throw in a couple things that remind them of the movie so they don't feel like they got ripped off."
McHenry-Kroetch said the appeal of suspenseful productions like "Dial M for Murder" lies in their ability to make audience members put themselves in the characters' shoes and wonder if they could outwit the villain or solve the case before the detective.
"In this show in particular, I find myself going 'Would I have noticed?," she said. "Could this have happened to me?… Could you be the inspector? Could you have put those clues together or would you be Margot and would you be naive to it all?
"If you feel like 'I would have caught him there,' then you feel a little superior. You feel a little safer."
Local journalism is essential.
Give directly to The Spokesman-Review's Northwest Passages community forums series -- which helps to offset the costs of several reporter and editor positions at the newspaper -- by using the easy options below. Gifts processed in this system are not tax deductible, but are predominately used to help meet the local financial requirements needed to receive national matching-grant funds.
Subscribe to the Spokane7 email newsletter
Get the day's top entertainment headlines delivered to your inbox every morning.
---