News > Spokane
Bonner County advisory vote could determine future of Scotchman Peaks wilderness
Wed., May 9, 2018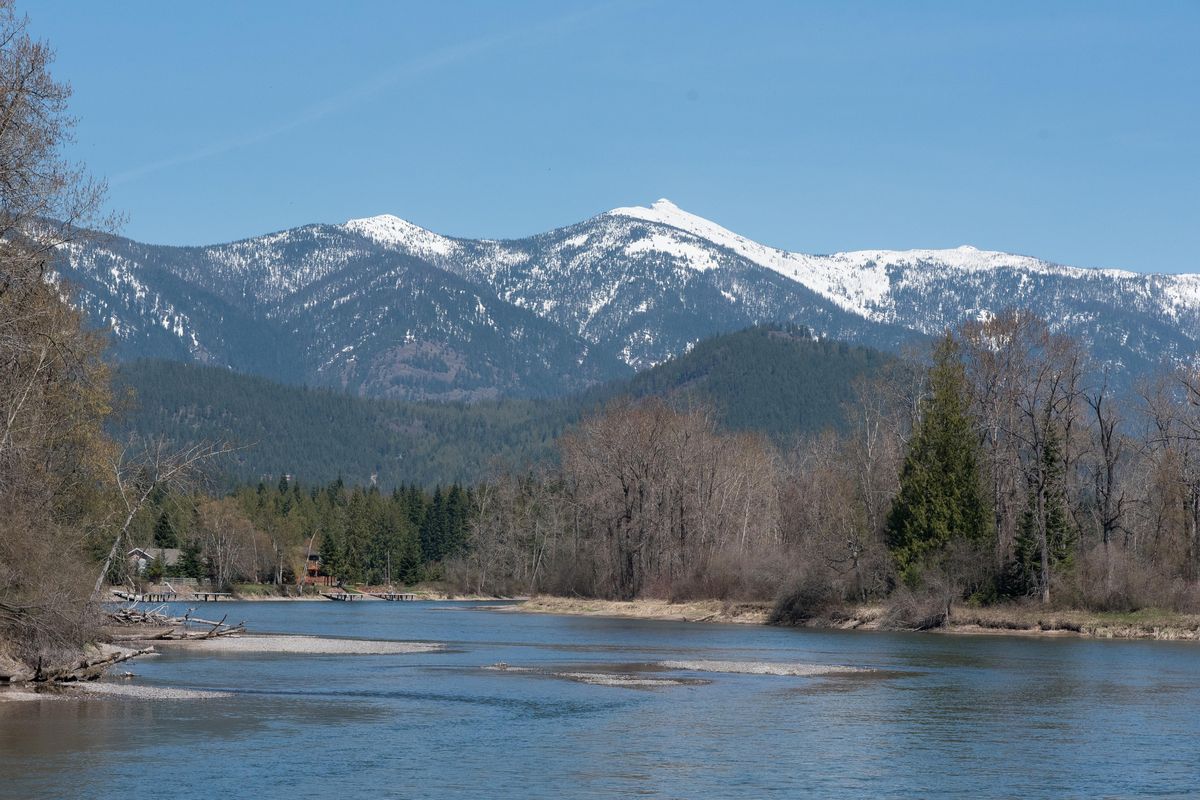 Scotchman Peak pictured here on April 26, 2018. An advisory vote in May will signal how much, or how little, area support there is for a federal wilderness designation for the peak and its surrounding area. (Eli Francovich / The Spokesman-Review)
Towering over the Clark Fork River and Lake Pend Oreille, Scotchman Peak is covered in snow even as the sun of a late April day bakes the fields and streams at lower elevations.
The peak dominates the landscape. The paths leading up to the 7,009-foot summit wind through low-lying forests, fields of shattered rock and alpine meadows.
And while the peak stands serene, seemingly untouched by humans, a battle is brewing. A battle some say will determine the future of the peak and surrounding land for generations to come.
"We think it's really important to leave some places the way they are now," said Phil Hough, executive director of the Friends of Scotchman Peaks Wilderness. "The people who came here before us were able to experience something that we are still able to experience today."
On Tuesday, voters in Bonner County will vote on whether or not they support a wilderness designation for the roughly 13,000 acres that make up the Idaho portion of the proposed Scotchman Peaks wilderness area. Though the advisory vote is not binding, advocates and politicians say the vote's outcome will greatly influence if federal lawmakers in Idaho and Montana support the wilderness designation.
"One of the fallacies that has been repeated over and over again … is that the Scotchman Peaks Wilderness project had overwhelming support in Bonner County," Bonner County Commissioner Dan McDonald said.
The Bonner County commissioners added the advisory vote to the ballot in February. McDonald's fellow commissioners, Jeff Connolly and Glen Bailey, have said they support the wilderness designation.
McDonald does not support the wilderness. However, he and the other commissioners have said they will honor the advisory vote outcome.
What's more, Sen. Jim Risch, R-Idaho, has indicated he will follow the advisory vote result. In an April 11 opinion article published in the Sandpoint Reader, Risch urged people to vote.
He wrote, "However it turns out, I am proud of the community's work on this issue and to have been part of it and I will of course honor the outcome of the election."
The debate about the Scotchman Peaks Wilderness area, and what should or shouldn't be done with it, isn't new. For more than a decade, the Friends of the Scotchman Peaks group has built support in Idaho and Montana. Roughly 48,000 acres of the proposed wilderness area are in Montana. Hough said the group has built support among conservatives and liberals alike.
The area was first recommended for wilderness designation in 1970. The U. S. Forest Service designated the 88,000 acres in Idaho and Montana as a roadless area in 1979.
That culminated with Risch introducing wilderness designation legislation in December 2016.
Prior to the bill's introduction there seemed to be widespread support for the designation.
During a 1987 review of the roadless area designation, more than 6,100 comments were submitted. Of those, 75 percent favored a wilderness designation.
After Risch introduced the wilderness legislation, he held a series of open houses in Hope and Clark Fork, Idaho. More than 600 people attended, according to Risch's article in the Sandpoint Reader.
"Overwhelmingly, I was told people were ready to see the proposal advance," he wrote.
McDonald was a supporter when he ran for office two years ago. However, he now maintains he was misled about the specifics of the proposal and community support. That prompted him to change his mind.
McDonald is concerned the proposal limits access. Under the wilderness designation, motorized vehicles and mountain bikes are not allowed.
"When you start talking about locking up public land to a select few, I have a problem with that," he said.
He also worries that the more restrictive wilderness designation hampers the Forest Service's ability to manage the land, including limiting forest fire-suppression efforts.
"I'm a big fan of forest management," he said.
The wilderness designation does not prevent the Forest Service from managing the area, including controlled burns.
McDonald also said he opposes the designation because he doesn't think it's necessary. Instead, he said there are local ways that certain areas could be protected without restricting access to motorized recreation throughout.
One such proposal, he said, is to protect the popular trails and surrounding acreage via a county ordinance.
He presented that idea to the Friends of Scotchman Peaks Wilderness, but said he was rebuffed.
"If they had agreed to the compromise, or some sort of a compromise, we could have put this thing to bed last year," McDonald said. "To me, it's about trying to find a balance, and it's clear the friends of Scotchman Peaks don't want balance."
Hough is loath to get pulled into the politics of the issue. Still, the controversy bothers him.
"This opposition has only become vocal since the bill was introduced," he said.
And while he has theories about why the opposition has appeared now, he won't discuss them.
Instead, Hough stays on point, highlighting the long-term importance of protecting the area. He points out that Idaho and Bonner County are growing. Increasing economic and social pressures could endanger the wild areas of the Cabinet Mountains range, especially if there is no long-term protection.
"There is not an imminent threat to protect it from now," Hough said. "But that's not what wilderness designations are about. It's about preserving things."
As for McDonald's compromise, Hough said, the wilderness area is already a compromise, one created after numerous public meetings and Forest Service management draft plans.
"It is a compromise position," he said of the proposed wilderness area.
As for reduced access for motorized recreation, Hough points out that the 13,000 acres that would become wilderness make up a tiny fraction of the 3.2-million-acre Idaho Panhandle National Forest.
"There should be some places where quiet recreation is preserved," he said.
Hough is "cautiously optimistic" about the advisory vote, but he knows anything could happen. If voters don't support the wilderness designation, he said, he and his group will keep working.
"We're not going to walk away from it," he said. "Numbers matter; the outcome matters. People who have an interest in the area should make their voices heard."
Local journalism is essential.
Give directly to The Spokesman-Review's Northwest Passages community forums series -- which helps to offset the costs of several reporter and editor positions at the newspaper -- by using the easy options below. Gifts processed in this system are not tax deductible, but are predominately used to help meet the local financial requirements needed to receive national matching-grant funds.
Subscribe now to get breaking news alerts in your email inbox
Get breaking news delivered to your inbox as it happens.
---