Mariners designated hitter Nelson Cruz pulled with bruised foot after second hit by pitch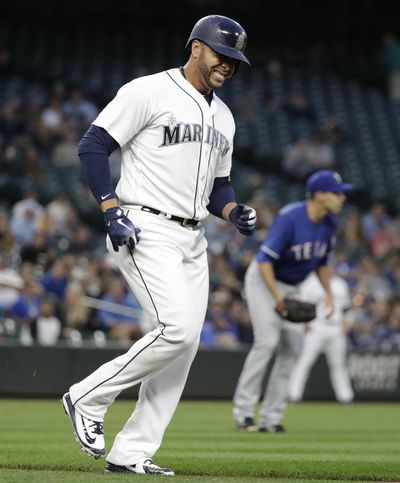 SEATTLE – Mariners slugger Nelson Cruz was pulled from a game with a bruised right foot after being hit by a pitch in the fourth inning Tuesday night.
Seattle and Texas were tied at 8-8 in the 10th inning at press time.
Cruz was struck by a changeup from Texas' Brandon Mann and limped to the dugout with the help of two staff members. Seattle says X-rays were negative and that Cruz will be re-evaluated Wednesday.
It was the second time Cruz was hit by a pitch in the game. Starter Mike Minor plunked him in the third inning.
Cruz was making his 358th start at designated hitter for Seattle, breaking a tie with Ken Phelps for most in franchise history.
The Mariners and Rangers will wrap up their series today at 12:40 p.m. The game will be streamed via Facebook under the "MLB Live" page at bit.ly/2Ip1gb4.
---