News > Idaho
Raining cats and kittens
Mon., May 21, 2018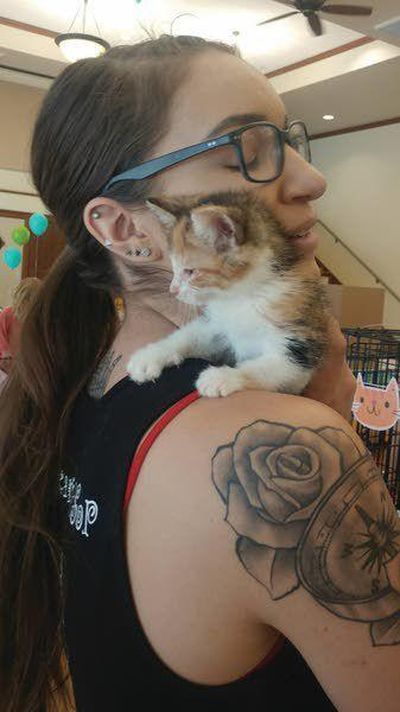 To prepare for the challenges of "kitten season," the Humane Society of the Palouse hosted its first annual "kitten shower" Sunday afternoon at the 1912 Center in Moscow.
Kitten season, as humane societies nationwide have dubbed it, occurs during the spring months, when local animal shelters become flooded with hundreds of kittens.
Sandra Kelly, a board member with the humane society, said the start of kitten season can vary from year to year, but it essentially follows spring weather or when, as Kelly put it, "a young cat's fancy turns to love and kittens."
Tara Wimer, humane society executive director, said the humane society takes in anywhere from 140 and 200 kittens during kitten season each year. To put the kitten rush into perspective, Wimer said the humane society sees about 300 cats total per year.
"A majority of our cat intake happens in three months," Wimer said. "It's an adorable issue to have, but it's an issue."
Wimer said the shower was a success.
She was unable to confirm how much money was raised from the kitten shower, but donations of cat food, kitty litter and milk replacement formula were evident.
Milk replacement formulas and kitten food are in especially high demand, Wimer said.
"This is our first time we've ever done this. We had no idea what to expect altogether," Wimer said. "We're really happy with it – just looking at how many supplies we were able to get today makes a huge difference."
Wimer said the event was also a great opportunity to educate people about cat care and the importance of spay and neutering practices.
Tony Poulsen, 9, in attendance with his mother, Amy Martinez, twin brother Alex and step sister Lily Eberhardt, said the event gave those who may not make it out to the humane society a chance to interact with the animals.
"It's just a really fun event for a lot of people in the public to come here and just look at some baby kittens," Poulsen said. "I've actually never raised a kitten, but I'm sure it's quite fun and adventurous, especially with one of these really cute cats."
Kelly said the shower is sure to become an annual event.
Local journalism is essential.
Give directly to The Spokesman-Review's Northwest Passages community forums series -- which helps to offset the costs of several reporter and editor positions at the newspaper -- by using the easy options below. Gifts processed in this system are not tax deductible, but are predominately used to help meet the local financial requirements needed to receive national matching-grant funds.
Subscribe to the Coronavirus newsletter
Get the day's latest Coronavirus news delivered to your inbox by subscribing to our newsletter.
---