Sports > NFL
John Blanchette: Pro Football Hall of Famer Jerry Kramer returns to Sandpoint completely validated
UPDATED: Thu., May 24, 2018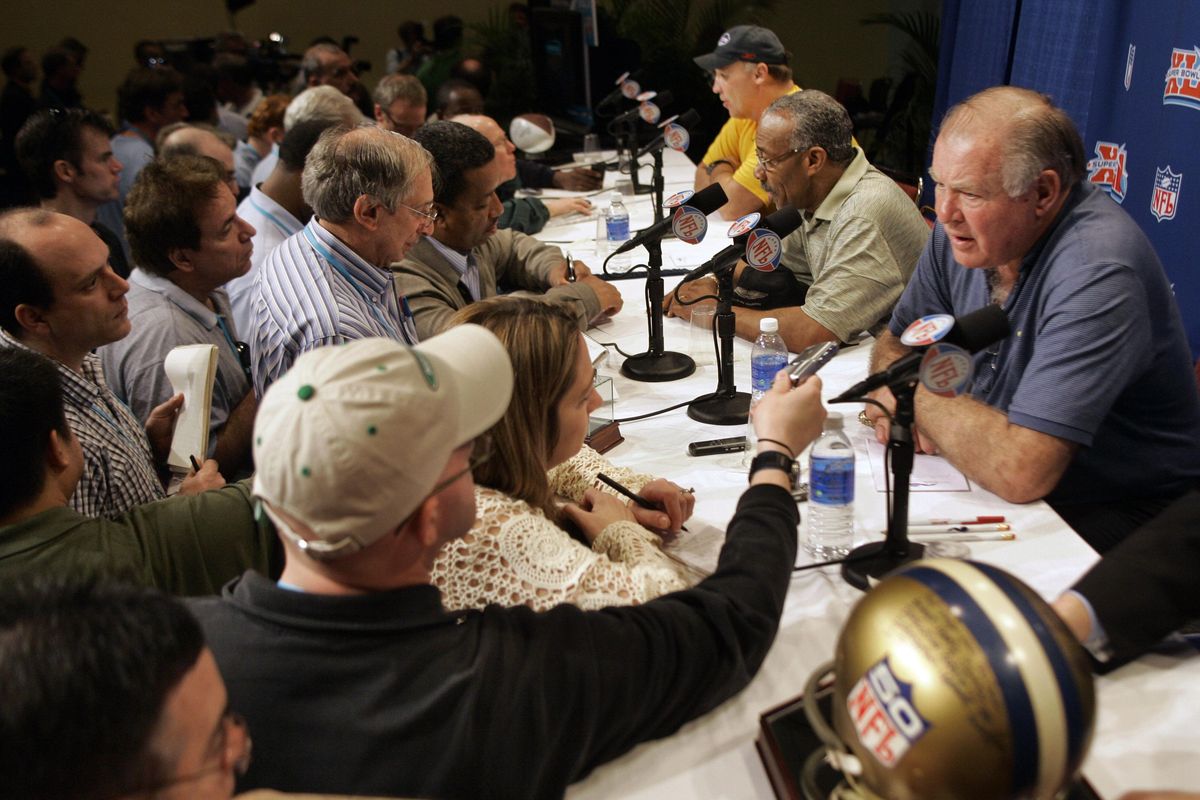 From left, former NFL players Joe Delamielleure, Lem Barney and Jerry Kramer talk to reporters after announcing an online auction and donation drive to provide financial assistance to retired NFL players at the Miami Beach Convention Center in Miami Beach, Fla., Thursday, Feb. 1, 2007. The mementoes will be collected from NFL players for the online auction. (Wilfredo Lee / AP)
It was 1951 and he was awkward, a little clumsy and searching for an identity.
"I'm wondering who the hell I am," Jerry Kramer, "and what people think of me."
He was, then, every 15-year-old.
On a chilly spring day, he rode down to Priest River with the rest of the Sandpoint High School track team and finished fourth in the shot put. The next day, he opened the newspaper and flipped back to the sports pages and found the results, including the listing for "4th, J. Kramer, Sandpoint."
"It was the first time I'd seen my name in the paper," he remembered. "It was very small print, but it gave me some substance. I'm somebody. Not a big somebody – a fourth-placer – but it's neat to get your name in the paper. It kind of validates your existence."
As it did again in February, when his pinch-me moment was opening up the paper to have it confirmed that he'd finally been elected to the Pro Football Hall of Fame.
Since then, he's been awash in congratulations – though it rarely stops at that.
"About 99 percent of the people," he noted, "follow that up by saying, 'It's about damned time.' "
The number may well reach 100 percent today when the 82-year-old Kramer returns to present his high school a Hometown Hall of Famer plaque in a 1:15 p.m. ceremony in the Sandpoint gymnasium – the 119th school so honored by the pro hall.
Why Kramer had to wait more than half his life – 45 years – for a distinction that should have been pro forma will remain a mystery, though joining the parade of his Green Bay Packers teammates from the 1960s into the hall was like trying to merge into rush-hour traffic. In any case, with an appearance schedule that was already busy before, the countdown to the August induction on and his daily triple-team of joy, relief and gratitude, fixating on old slights doesn't fit into Kramer's schedule.
"Maybe it would have been nicer to be able to spread all this out over 10 years to enjoy it," he said, "but the saving grace is that everyone has been so thoughtful, considerate and happy for me.
"I'm on a Southwest flight going to Milwaukee last week and I'm on the aisle and a lady takes the middle seat and introduces herself and starts asking me questions – thoughtful questions that made you think a little and explain things. We're still talking as we're getting off the plane and about 10 people around us had been listening the whole time and a couple of them say, 'Wow, that's the best flight I've ever been on.' "
Kramer's trove of stories is bottomless, whether the subject is legendary Packers coach Vince Lombardi, the Ice Bowl block or his time at the University of Idaho. These days, he likes to recall the morning after his HOF election when he went to be measured for his Canton bust and his gold jacket with his daughter Alicia and grandson Charlie.
"I tried on a jacket," he recalled, "and turned to Alicia and she had just lost it, crying her heart out."
It was Alicia Kramer who marshaled – initially against her dad's will – support for his induction, including soliciting endorsement letters from 60 Hall of Famers, from Merlin Olsen to Roger Staubach as well as Packers teammates.
"Eventually, I decided I'd rather have those 60 guys say I belonged and not be in than be in and not have their support," Kramer said.
But he's in – and now there's a speech to give. Lombardi will figure prominently, but it figures to go deeper.
"I'm trying to come up with a theme that I hope will bring a little peace to this nation that's getting so divided," he said. "Maybe issues with prejudice and intolerance might be addressed – just asking people to talk to one other a little bit."
His motivation?
"I think it's because of Willie Davis," he said. "Willie and I were roommates with Green Bay, I think the first interracial roommates there and among the first in the NFL – and we didn't know it. It wasn't important. Willie and I were friends, and we would talk into the night about everything. And I just love him to death.
"I never saw a black person until I was in the eighth grade in Sandpoint. I didn't have any notions about it and I had a lot to learn. It was awkward, maybe, but you get by that. You talk to people. Let's take a look at that again. Anyway, it's on my mind now and I'm of an age where I can bitch about those kinds of things."
It'll get his name in the paper again, but that's not important anymore. Jerry Kramer has all the validation he needs.
Local journalism is essential.
Give directly to The Spokesman-Review's Northwest Passages community forums series -- which helps to offset the costs of several reporter and editor positions at the newspaper -- by using the easy options below. Gifts processed in this system are not tax deductible, but are predominately used to help meet the local financial requirements needed to receive national matching-grant funds.
Subscribe to the sports newsletter
Get the day's top sports headlines and breaking news delivered to your inbox by subscribing here.
---