Sports > Outdoors
Declining caribou illustrate the challenges of conservation
Nov. 11, 2018 Updated Mon., Nov. 12, 2018 at 10:45 a.m.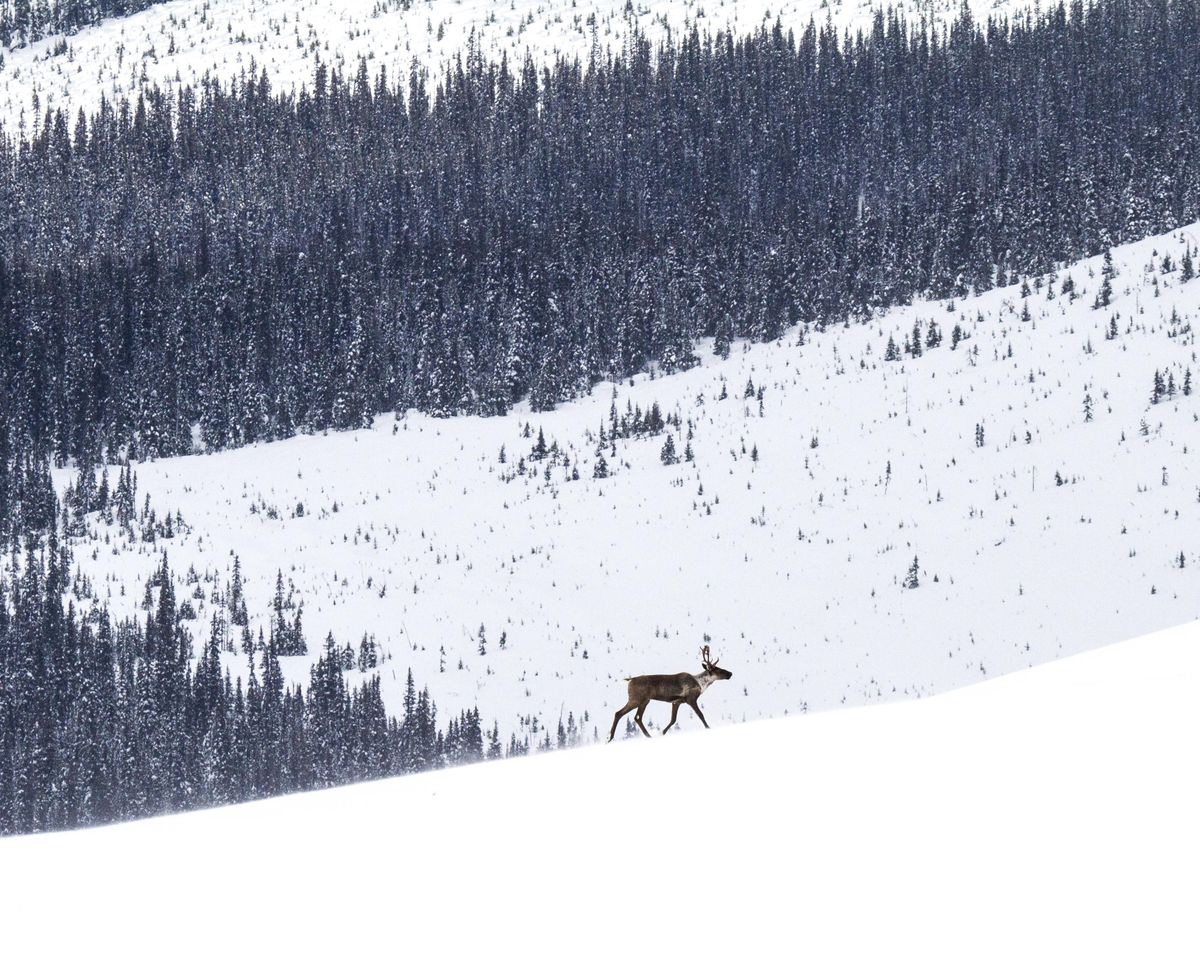 A mountain caribou traverses an alpine slope with a high-elevation clearcut behind him in Hart Range, British Columbia. (David Moskowitz)
Three years ago, David Moskowitz saw a mountain caribou for the first time.
He was high in the Monashee Mountains in British Columbia. He'd spent a month tracking and trying to photograph the elusive ungulates. And then one morning he woke to fresh caribou tracks crossing the snow in front of his tent.
"It was amazing," he said. "I was hooked."
Moskowitz is a biologist, photographer, author and outdoor educator. He's spent much of his life tracking and photographing elusive animals.
Most recently, he has focused on caribou.
Despite his commitment to the animals, Moskowitz wasn't surprised when Canadian officials announced last week plans to relocate the six surviving caribou that still occasionally enter the United States farther into Canada.
The species has been in decline for decades. This spring, aerial surveys found only three animals left in the South Selkirk herd.
"What's going on with the South Selkirk herd is very predictable," Moskowitz said. "This is not the consequence of choices made last week or last year. These are the consequences of decades of choices."
The fate of the mountain caribou highlights the myriad ways in which habitat degradation impacts the natural world. It also illustrates the unsavory choices conservationists often make about which species live and which die.
"Caribou are a great case study for how difficult conservation is," said Mark Hebblewhite, a wildlife biologist at the University of Montana who has studied caribou for 20 years. "The notion that we can save everything and have a fully healthy, vibrant and continually growing economy is just being challenged. We have more species on the endangered species list all the time."
Caribou are an ancient species, one that once roamed widely across North America.
But their numbers have declined precipitously as logging and human development destroyed their native habitat. Mountain caribou, unlike tundra caribou, use their wide feet to walk on top of deep snowpack. That allows them to reach lichen growing high on old-growth trees.
"Caribou are really like a gigantic spotted owl," Hebblewhite said. "They need lots of big, connected, intact patches of old-growth forest."
Much of that old-growth forest has been logged in the United States and is in the process of being logged in Canada.
The declining population is not a surprise to biologists.
"Scientists knew caribou were in decline all over their range everywhere in the 1980s, and governments did very little to stem that tide," said Joe Scott, Conservation Northwest's international programs director. "All of those industries have been very powerful. Governments have supported them, and caribou have paid the price for that."
But the South Selkirk caribou herd has not starved to death, Scott said. Despite increased protection of winter caribou habitat, the numbers continued to decline.
One reason why? Predation.
When an area is logged, smaller, younger plants flourish.
"When you cut down an old-growth forest, you get a whole bunch of productive food," Hebblewhite said.
That food attracts elk and deer, and with them come cougars and wolves. That's a problem for caribou, whose primary defense against predation is staying far away from predators.
"It's an animal that goes higher in the wintertime," Scott said. "They are uniquely suited to those habitats and it served them well for a long time."
That's no longer the case.
That's where things become more complicated. Logging and habitat loss are undoubtedly the ultimate cause of the animals' decline, Hebblewhite said.
But the more immediate cause is predation by wolves and cougars. Wolf predation is "amongst the most important, if not the most important proximal cause, of adult female caribou" death, Hebblewhite said.
One short-term solution? Killing wolves.
Suddenly, conservation-oriented people find themselves at loggerheads. Wolves are a federally protected endangered species in the United States. So are caribou.
"This is where we get a bit murky," Hebblewhite said. "Is it OK to kill one species to save another one? We do it all the time."
For example, should sea lions be killed to protect salmon in Washington? The same question has been raised in California and Oregon.
"We're basically going to be inadvertently or advertently picking winners and losers," Hebblewhite said.
That's what's happened with the South Selkirk herd. In 2009, the herd had 46 animals and was growing.
But wolves started to filter back onto the landscape after being reintroduced in Yellowstone. Attracted by the elk and deer, wolves started killing caribou.
In response, Canada started killing wolves in 2014. The backlash was swift. Celebrities, including Miley Cyrus, condemned the killings, drumming up outrage.
That's despite the fact that, in the short term, predator control works, Hebblewhite said.
For example: There are five caribou populations in Alberta and British Columbia that wouldn't exist if the Canadian government hadn't killed wolves, he said.
Predator control in the South Selkirk herd was "too little, too late."
"If society decides that we like wolves more than caribou, then fine," he said. "But that means caribou won't persist.
"21st-century conservation is about these kinds of awkward, really challenging decisions."
Still, the only reason the caribou population is so susceptible to predation is because of the degradation of their natural habitat and the herds' small numbers.
Even when the South Selkirk herd numbered near 50 animals, that wasn't a sustainable population. Instead, herds need to number in the 100s to have long-term viability, Hebblewhite said.
For any population that small, one or two deaths can have profound impacts. For example, an avalanche wiped out the few surviving members of the caribou herd that called Banff National Park home.
"Bad things happen to good caribou," Hebblewhite said.
That's why efforts to relocate the surviving South Selkirk herd and breed them in captivity are doomed to fail unless the underlying cause of the species' decline is addressed.
"What we've learned about translocations is that they are expensive, and unless you fix the underlying habitat and predator prey imbalance it's only shoveling sand," Hebblewhite said.
The U.S. Fish and Wildlife Service wrote its first recovery plan for mountain caribou in the early 1980s and reworked it in 1994. Working with Canadian agencies and First Nations, caribou from other regions were trapped and released in the area with some positive results.
But that didn't last.
"There was a lot of money spent on the South Selkirk herd," Hebblewhite said. "They tried everything except letting the trees grow back."
Which isn't to say there isn't hope. Moskowitz believes that there is a growing understanding and belief that development needs to be done differently.
He points to towns such as Ione and Metaline Falls as examples of how all-out industrial extraction of resources doesn't, in the long run, benefit humans or animals.
"There are better ways to use those resources that will keep more resources in the community," he said.
In Moskowitz's view, it's more than an ecological issue. It's an issue of justice. Much of the caribou's habitat lies on lands that belong to native tribes.
"The majority of the habitat for caribou is unceded indigenous peoples' land," he said.
Tribes in the United States have led recovery efforts even as state and federal agencies have backed off.
But in the end, perhaps the most compelling argument for saving caribou is the most selfish one.
"Caribou are a canary in the coal mine for an ecosystem that is on the verge of collapse," Moskowitz said. "If you want to have a happy future for your children, then you will care about the plight of caribou."
Local journalism is essential.
Give directly to The Spokesman-Review's Northwest Passages community forums series -- which helps to offset the costs of several reporter and editor positions at the newspaper -- by using the easy options below. Gifts processed in this system are not tax deductible, but are predominately used to help meet the local financial requirements needed to receive national matching-grant funds.
Subscribe to the sports newsletter
Get the day's top sports headlines and breaking news delivered to your inbox by subscribing here.
---