A&E
Ladder Coffee and Toast opens in Browne's Addition
Tue., Nov. 13, 2018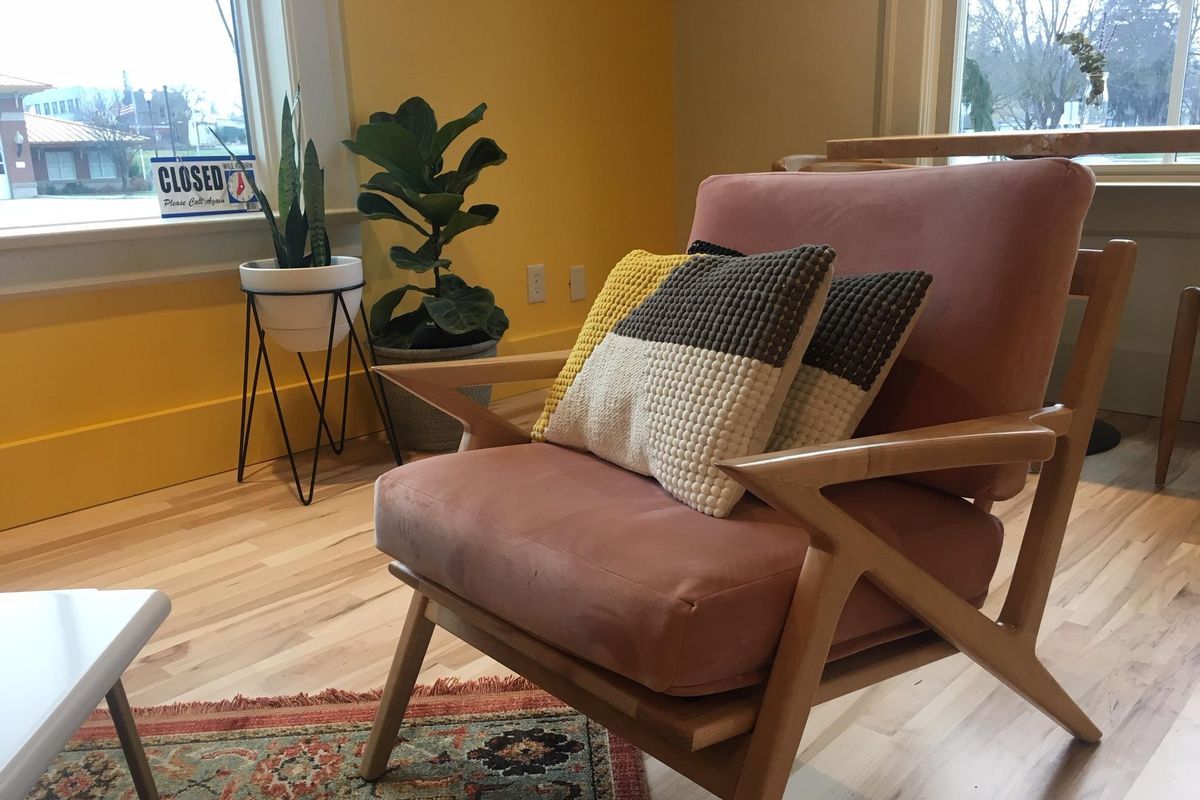 Ladder Coffee and Toast, newly opened in Browne's Addition, features a mid-century modern look complete with a pair of pink velveteen chairs, one of which is shown here. (Adriana Janovich / The Spokesman-Review)
Ladder Coffee and Toast has opened in Browne's Addition.
Owners Aaron and Katie Rivkin were going for a "West-Coast-meets-mid-century vibe," and they designed the space themselves. It's light, bright and airy and done in black and white and blond wood with yellow and teal accent walls and plenty of potted plants.
"We wanted it to feel like you're walking into your home," Aaron Rivkin said. "It's that third space. You have your home and your work."
And that third space is a home away from home, where customers can meet people and socialize and relax – or study or do more work.
The wifi's free. So's the parking. There's a lot with 36 spots on the west side of the building, which sits just across the way from Spokane Fire Station No. 4.
Once inside, have a seat on the gray mid-century modern-inspired couch in the front of the new shop, designed to feel like a living room. Or, opt for one of the two pink velveteen chairs facing it and inspired by the same era.
There's room for 49 in the entire shop, which stretches about 2,300 square feet. And, when the weather's nice, look for additional seating on the back deck overlooking the Maple Street Bridge.
Although it's only been open a week, it's been "absolutely crazy" busy, Aaron Rivkin said.
Ladder specializes in single-origin coffees from Guatemala, Peru, Costa Rica and Ethiopia. The goal is to "focus on coffees that exceed expectations on how coffee should taste or how coffee could taste," Aaron Rivkin said.
Twelve-ounce bags of Ladder beans are for sale at the new shop for $15 to $20. The business started its roasting operation in February using another roaster's equipment and space. Soon, roasting will for Ladder will be done in-house. A roaster – in teal to match the shop's color scheme – from Diedrich Roasters in Ponderay is en route.
White, hexagonal tiles line the sides of Ladder's coffee bar as well as the floor in front of it. Smaller ones carry out that same motif on the walls behind the counter top.
The menu is still being developed – "We're still in soft launch mode," Aaron Rivkin said – but there are two toasts to start: a seasonal option and avocado toast.
And, "The avocado toast will always stay," Aaron Rivkin said.
It's served with prosciutto and cilantro and on bread from Central Food in Kendall Yards. The current seasonal offering, also served on bread from Central Food, features pear, fig, honey, ricotta and walnuts.
The plan is to offer the same coffee drinks all year round, plus a couple of seasonal beverages as well as non-alcoholic coffee and tea mocktails and chai from Spokane's Mandala Chai Co. Specialty drinks include the sugar-and-clove specialty latte, gently sweetened and sprinkled with ground cloves.
Ladder got its start in the Rivkins' yard before they opened a North Side drive-thru last November. They closed that spot in August, when construction started on the new, larger space located just west of downtown on West Riverside Avenue.
Ladder now occupies half of the first floor in what's believed to be one of Spokane's early apartment buildings. According to Spokane County records, the building was built in 1907 and remodeled in 1990. It's since housed office space, and the second floor will continue to be used for offices.
The Rivkins are still putting the finishing touches on their new location. Floating shelves made out of maple have yet to be installed, for example.
And, next year, they're hoping to open a craft cocktail lounge across the hall from their coffee shop. The idea is to offer a speakeasy-esque, Prohibition era-themed bar.
Meantime, Ladder has just two employees, not including Aaron Rivkin. He's looking to hire a couple of more baristas in the coming months. But, he said, "we need to get our feet under us first."
He had originally planned for an Oct. 1 opening, but renovations took a little longer than planned. The soft launch started Nov. 5. And a grand opening is slated for early December. To help celebrate, Ladder is planning to partner with the Union Gospel Mission to organize a drive for new socks and gloves.
"We believe Ladder will provide more than coffee," Aaron Rivkin said.
In fact, part of Ladder's mission is giving people with criminal convictions second chances.
The coffee industry, Aaron Rivkin said, was where he found his. After doing time and sobering up, the self-described "two-time felon" found it wasn't easy to land a job with a record. He found opportunity in the coffee industry, where he's worked in all for about a decade. And he wants to give people who need a fresh start – people like him – a place to gain work experience and job and life skills.
"They don't have a ladder to climb," he told The Spokesman-Review in 2017. "We want to give them ladders to climb."
That's where the name of the coffee shop comes from. It is, he said, about climbing the rungs of life and reaching end goals. So, in 2019, he's planning to explore the possibility of adding a nonprofit piece to Ladder to help make more of a difference.
The idea is " to have a global impact," he said, noting he already has hopes of expanding. He has his sights set on Portland, Phoenix, New York City and Chicago as well as Japan and Australia.
Since launching Ladder in his yard in the summer of 2017, Ladder has become "a six-figure company," he said. And, "We plan on growing. We don't just want to be the next cool coffee shop. We want to be a hub of influence in the cities that we're planted in."
Ladder is at 1516 W. Riverside Ave. Hours are 6 a.m. to 5 p.m. Monday through Saturday and 8 a.m. to 4 p.m. Sunday. On the web: www.facebook.com/laddercoffee.
Local journalism is essential.
Give directly to The Spokesman-Review's Northwest Passages community forums series -- which helps to offset the costs of several reporter and editor positions at the newspaper -- by using the easy options below. Gifts processed in this system are not tax deductible, but are predominately used to help meet the local financial requirements needed to receive national matching-grant funds.
Subscribe to the Spokane7 email newsletter
Get the day's top entertainment headlines delivered to your inbox every morning.
---