New rail project on West Plains aims to help county recruit Boeing factory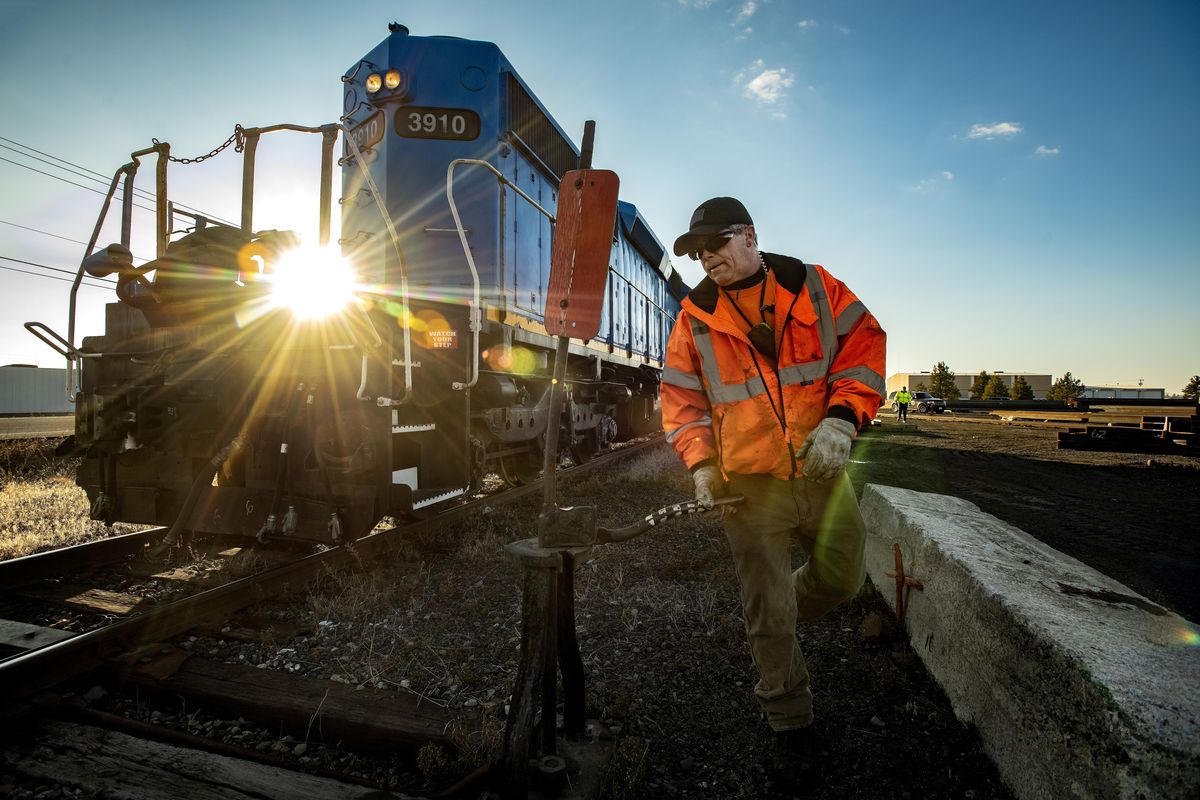 Spokane county, city and airport officials are building a $2 million short-line rail on the West Plains with hopes it can help attract more aerospace and manufacturing companies.
The 1-mile-long track will link with the Geiger Spur and run east across Craig Road onto Spokane International Airport property.
Spokane County Commissioner Al French said rail access and a planned transload facility – where shipments are transferred from trucks to rail or vice versa – are both key to growing aerospace and shipping industries in the West Plains.
Newman Lake-based contractor Wm. Winkler Co. is building the rail line, which is funded through a state Legislature grant awarded to the airport. Construction is expected to be completed next year.
"The transload facility will complete a trifecta of air, rail and road services that will be built in the West Plains," French said.
Several railroads have expressed interest in operating the proposed facility, which would cost more than $4 million. The county will seek state grants to help pay for it.
There's potential for the current Geiger Spur rail operator to also operate the transload facility, but that hasn't been agreed upon yet, said French.
Washington Eastern Railroad, LLC, a subsidiary of Utah-based Western Group entered a 10-year lease agreement with Spokane County last month to operate the more than 5-mile-long Geiger Spur. The spur connects to the Palouse River and Coulee City Railroad's CW Branch and connects Cheney to Coulee City.
A transload facility would benefit companies north of McFarlane Road, such as Seaport Steel and DAA Northwest – a dealer's only, wholesale auto auction, said Larry Krauter, CEO of Spokane Airports.
The facility, he said, could attract more businesses to the area andenhance the airport's role as a logistics hub.
"It would be creating an intermodal connection point," Krauter said. "I think everything is lining up around a transload facility constructed in the next few years. I think it's going to be discussed as a high priority infrastructure project."
Banking on Boeing
The West Plains Public Development Authority is banking on the idea that all the infrastructure improvements, along with available land, a taxiway system at the airport and an adjacent rail line could strengthen a future pitch to have Boeing once again operating a manufacturing plant on the West Plains.
Boeing is expected to announce plans sometime next year to build a new midmarket aircraft, known as the NMA. The company also expected to announce a facility location for designing, building and assembling the midmarket aircraft.
Gov. Jay Inslee created a "Choose Washington" NMA Council last year to convince Boeing to build the NMA in Washington, citing the supply chain, facilities and workforce already established in the state.
Boeing's manufacturing facilities in Renton and Everett are responsible for building the 737 MAX and the 777X.
The aircraft giant built a factory on the West Plains in 1990 to build parts for its planes. Boeing then sold the plant in 2002 to Triumph Composites Systems Inc.
Geiger Road improvements, Amazon's proposed $181 million fulfillment center, a transload facility as well as rail and freeway access in the West Plains gives the area a competitive advantage to draw large aerospace companies like Boeing, said Todd Mielke, CEO of Greater Spokane Inc.
"We think we have a good opportunity to present a proposal to Boeing," he said. "We're very hopeful."
There's also potential to fabricate fuselages for Boeing airplanes in Spokane, then transport them to the Everett facility for final assembly, said Krauter.
The PDA and airport board still need to discuss financing for the transload facility, as well as determine which entity will oversee the project and where it will be built, said French.
"We've been planning for this for almost 20 years," French said, referring to infrastructure improvements and growth in the West Plains. "Now, these elements we've been talking about for decades are happening. This will be the next Spokane Industrial Park."
---