A&E
Rocking awareness: Spokane couple leads music video project to raise diabetes awareness
Wed., Nov. 21, 2018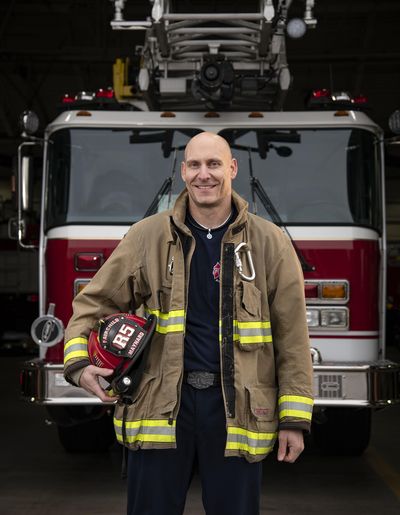 The Twisted Sister song "The Price" has morphed into a diabetes awareness anthem thanks to Kris Maynard, a Fairchild Air Force Base firefighter who lives in Mead.
Maynard, 42, has a cameo in the music video, as do other people who, like him, live with diabetes. Maynard, who has Type 1, and his wife, Paula, spent about $12,000 to make the video. It features Jesse Snider, son of Twisted Sister lead singer Dee Snider.
The couple started their awareness work in July when their 16- and 18-year-old sons underwent testing to see if they are genetically predisposed to Type 1, and findings revealed their youngest has a 90 percent chance of developing diabetes.
"Me living with diabetes, it was just something I could live with," Maynard said. "Now that it impacted my kid, we kind of took it on as a mission as a family to get more involved with diabetes awareness and try to find ways to make it easier and better to live with.
"So we're the ones that organized this video. We reached out to Dee Snider, singer of Twisted Sister, because they did a song a couple of years ago for cancer awareness that we saw and were touched by it. We thought wouldn't it be neat if he did one for diabetes awareness?"
Maynard said he and his wife sent an Instagram message to the musician, and Snider responded almost instantly with a message that he wasn't available because of a new album release but offered to ask his son to perform using one of his songs for the proposed video.
With that connection, a few words in "The Price" were rewritten to make it more fitting around the diabetes cause, Maynard said.
"Then we found some diabetics throughout the U.S who have followers on social media to join us in the video," he said. "We flew them from whatever state they were in to Hollywood to make this video."
Maynard is the only one from Spokane in the video, which also includes facts about diabetes as a growing health concern, its costs and prevention. He said the Juvenile Diabetes Research Foundation group in Los Angeles helped find extras for the video's crowd scenes.
"All the people in the video are diabetics," Maynard said. "We wanted to bring an awareness to the blue circle you'll see on a lot of the shirts on people in the video. It's the (global) diabetes awareness symbol; the International Diabetes Federation in 2006 adopted it."
The Maynards hired a video producer, and filming took place over two days in September. The editing process ended in time for the video's debut in November, national diabetes awareness month.
Born and raised in Spokane, Maynard was 22 and stationed at Mountain Home Air Force Base in Idaho when he experienced symptoms of extreme thirst and frequent urination. His diagnosis of Type 1 diabetes resulted in a discharge from the military, and in 2001 he got a job as a civilian firefighter at Fairchild.
For people with diabetes, the body doesn't make enough or properly use insulin, a hormone that turns food into energy. Type 1, diagnosed often in children but sometimes not until young adulthood, is an autoimmune disease that triggers the body to attack the beta cells in the pancreas so the body produces little or no insulin.
Meanwhile, Type 2 is the most common form of diabetes and occurs when blood glucose is too high and the body doesn't make enough insulin or doesn't use insulin well to counteract it.
About 30 million people in the U.S. are living with diabetes, reports the Centers for Disease Control and Prevention. The American Medical Association recently launched a "Do I Have Prediabetes" campaign with the message: 1 in 3 Americans has prediabetes and to know the risks.
Long-term lifestyle changes including diet and exercise can help prevent or delay the onset, and the medical group also is backing the CDC's National Diabetes Prevention Program and the website, DoIHavePrediabetes.org for a short online risk test that can be followed up on by a health provider.
This year, Maynard and his wife have launched a website www.glucoserevival.com, where they eventually hope to sell an affordable medical alert necklace with an emergency diabetic solution similar to what emergency workers carry, he said.
"The most common emergency that diabetics have who are on insulin is low blood sugar, so we made a product that we'll start selling when it's ready."
Maynard also hopes the video will spread the message that many people are prediabetic and don't realize it, including an estimated 8 million Americans, and that millions more live with diabetes daily.
"The singer, he was touched by all the people we brought in for the video, and after we filmed that weekend, he reached back out to me," Maynard said.
"He wants to put on concerts traveling to L.A., Arizona and maybe Seattle, so they can raise some money for the different (diabetes) organizations. It's been a fun partnership that we've been able to help build and bring awareness. We want to help."
Local journalism is essential.
Give directly to The Spokesman-Review's Northwest Passages community forums series -- which helps to offset the costs of several reporter and editor positions at the newspaper -- by using the easy options below. Gifts processed in this system are not tax deductible, but are predominately used to help meet the local financial requirements needed to receive national matching-grant funds.
Subscribe to the Spokane7 email newsletter
Get the day's top entertainment headlines delivered to your inbox every morning.
---