News > Spokane
Whitworth professor Randy Michaelis challenges Rep. Jacqueline Maycumber in House race in 7th District
Oct. 2, 2018 Updated Tue., Oct. 2, 2018 at 10:16 p.m.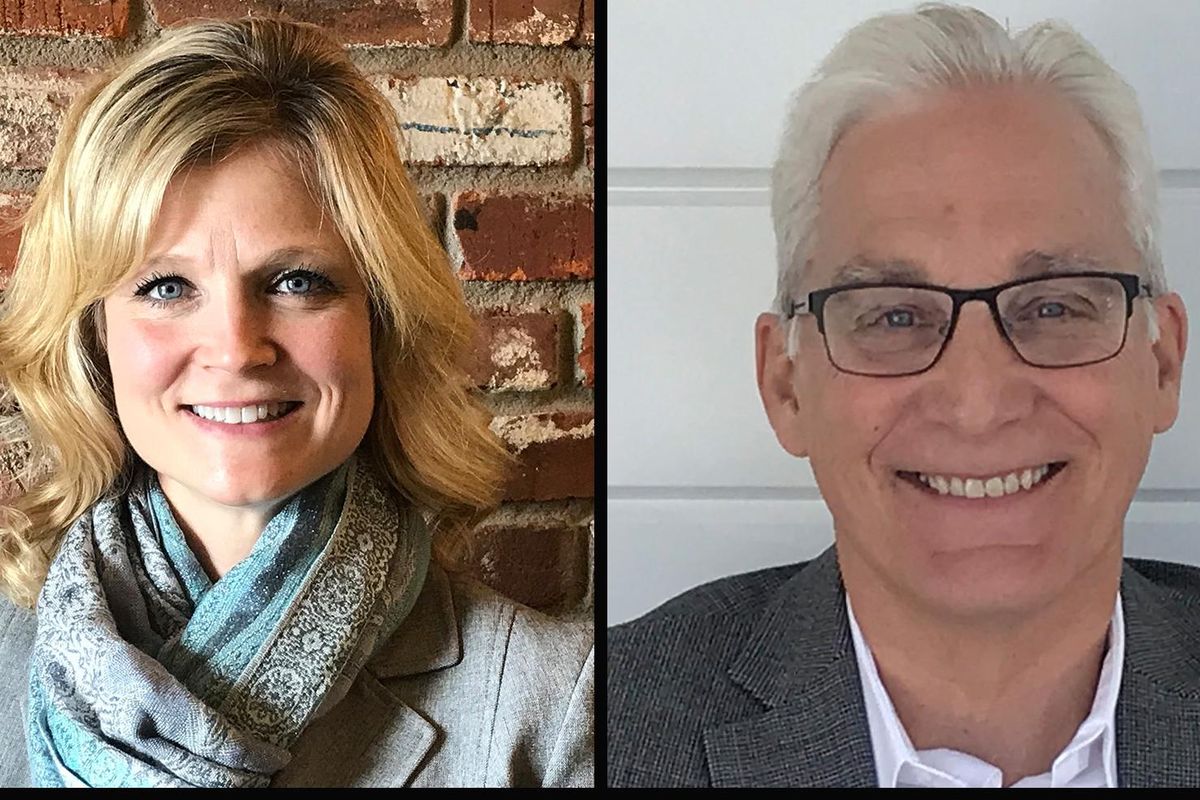 Democrat Randy Michaelis, dean of education at Whitworth University, is challenging Republican state Rep. Jacquelin Maycumber in the November 2018 election for state House position 1 in the 7th Legislative District. (Nina Culver / The Spokesman-Review)Buy a print of this photo
Longtime Whitworth University educator Randy Michaelis wants to represent northeast Washington in the state Legislature as a Democrat.
But to do that, he will have to defeat Republican incumbent state Rep. Jacqueline Maycumber in the November election. And she appears to have an advantage. She took 67 percent of the vote in the August primary.
Maycumber began working as Rep. Shelly Short's legislative aide in the 7th District in 2009 and stayed there until Short was appointed to a state Senate seat in early 2017, and Maycumber, in turn, was appointed to replace Short in the House.
She said she's proud of the work she's done for the 7th District in her two legislative sessions, including bringing $5 million to the district for low-income housing for people displaced by wildfires. The bill also authorized the Department of Natural Resources to work with local governments and fire districts on fuel mitigation and fire risk reduction.
"I'm really excited about that process," she said. "We're not just talking about logging. We're talking about preserving habitat for generations. We have to make sure we protect that land. We have to start being proactive."
She said she has been working to improve access to broadband internet, which is important for health care and education. People often need internet access to apply for jobs, she said.
"Broadband is really an equality issue for rural areas," she said. "Broadband technology is something I've been working very hard on. We've really moved to an online world."
She noted that Gov. Jay Inslee visited Chewelah to discuss broadband access.
"He's concerned about it, too," she said. "Our children need it; our people need it."
Michaelis, dean of education at Whitworth University, said he got into the race because he wants to work on education, heath care and mental health care. Michaelis said he considers himself an accidental candidate.
"This was never the design," he said of running for elected office. "This was never a lifetime goal."
Watching the news during the 2016 presidential election showed a lack of civility and mean-spiritedness that Michaelis found unsettling. He said he thinks it is important for political parties to work together.
"It felt like I just got punched in the stomach every night," he said. "That is not how you get things done."
Educators are in the public arena because the state Legislature is in charge of setting policy on teachers, Michaelis said.
"It's not unusual for us to be in Olympia," he said. "I feel very comfortable in the policy world, and I get very frustrated with the state."
In January, he and other university deans were in Olympia and he met with Maycumber and Short, who continues to represent the 7th District.
"I didn't think their knowledge of issues was that great," he said.
He disagrees with Maycumber's decision to vote against the Legislature's 2017 budget deal that significantly boosted education funding in response to a state Supreme Court ruling, though he acknowledged the plan is not perfect.
"It was flawed but they should have voted for it," he said. "Now what we need is someone to go over there and fix it."
There are 23 schools in the district without a school counselor, and Michaelis said that concerns him.
"These are the kinds of things the state should be paying attention to," he said.
Maycumber said she voted against the school funding plan because she thought it put too much of a burden on poorer school districts.
"I saw a disparity between wealthy schools and poor schools," she said. "I believe we should have quality in education."
The flaws in the mental health care system are part of the reason Michaelis decided to run. His daughter, Caitlin Packer, also a teacher, died by suicide last year after struggling with mental illness. Michaelis said the family tried every program they could find to help her, even an outpatient program in Seattle, but it wasn't enough.
"It's awful," he said of the mental health system.
One of the issues facing the 7th District is a proposed coal-fired silicon smelter to be located just outside Newport. Michaelis said he is opposed to the smelter in its proposed location and believes the process so far has not been transparent enough. Newport is trying to promote recreation and a smelter will hurt that, he said. The Department of Ecology is accepting public comments on the proposal.
"There is some question about whether this affects the Little Spokane watershed," he said. "It's going through the process, and we'll see."
The proposed smelter has not come before the Legislature, Maycumber said.
"They never asked me," she said.
Maycumber hasn't taken a position on the smelter.
"My family has lived here 100 years," she said. "I want to make sure we have a wonderful Washington state."
She said she worries about high property taxes, a proposed capital gains tax and the tax burdens small businesses face.
"I am concerned with people being priced out of their homes," she said.
Though she has been a state representative for only two years, Maycumber said her experience as a legislative aide is important.
"My name wasn't out there," she said. "It's not about me. It's about the people of the district. It always has been. I have experience helping the people of the district."
Michaelis acknowledges the 7th District has been a Republican stronghold for many years but said people around the district have been encouraging.
"I meet people all the time who are happy they have a choice," he said. "The Democrats put together a really nice slate of folks. We have one of the best chances we've had in a long time."
He said he wants to work for a good quality of life for families, which includes a clean environment, good jobs, quality education and good health care.
"I'm a middle-of-the-road guy," he said. "I'm put off by the far left, and I'm put off by the far right."
Maycumber holds a decisive lead in fundraising, helped by the nearly $13,000 she had on hand left over from her last election. She raised just shy of $70,000 in new contributions and has spent nearly $56,000 of that and has $10,000 in debt.
The majority of her donations come from political action committees and businesses, with individual donors accounting for just more than $4,000 in contributions. Her highest donors, contributing $2,000 each, include the Trucking Action Committee, Avista Corp., the Pharmaceutical Research and Manufacturers of America, MedNax Inc., the Washington Affordable Housing Council, the Washington Beverage Association Political Action Committee and the Washington Medical PAC.
Donors contributing $1,000 include Eli Lilly and Co., Pfizer Inc., Georgia Pacific Co., the Hampton Lumber Co., of Portland, and the Ash Grove Cement Co., of Overland Park, Kansas.
Michaelis has raised almost $28,000 and spent over $18,000. Almost all of his contributions came from individual donors. He has given $2,577 to himself in in-kind donations. His top donors, giving $2,000 each, are Michael Bell, of Nine Mile Falls, and Rebecca Baker, of Republic.
The Washington State Democrats have given $738 in in-kind donations and the Washington Education Association, the United Association of Plumbers and Steamfitters Local 44 and the Pacific Northwest Regional Council of Carpenters have contributed $500 each.
Local journalism is essential.
Give directly to The Spokesman-Review's Northwest Passages community forums series -- which helps to offset the costs of several reporter and editor positions at the newspaper -- by using the easy options below. Gifts processed in this system are not tax deductible, but are predominately used to help meet the local financial requirements needed to receive national matching-grant funds.
Subscribe now to get breaking news alerts in your email inbox
Get breaking news delivered to your inbox as it happens.
---