News > Business
Share.Farm app developers look to extend season for area farmers-market producers, customers
Sun., Oct. 21, 2018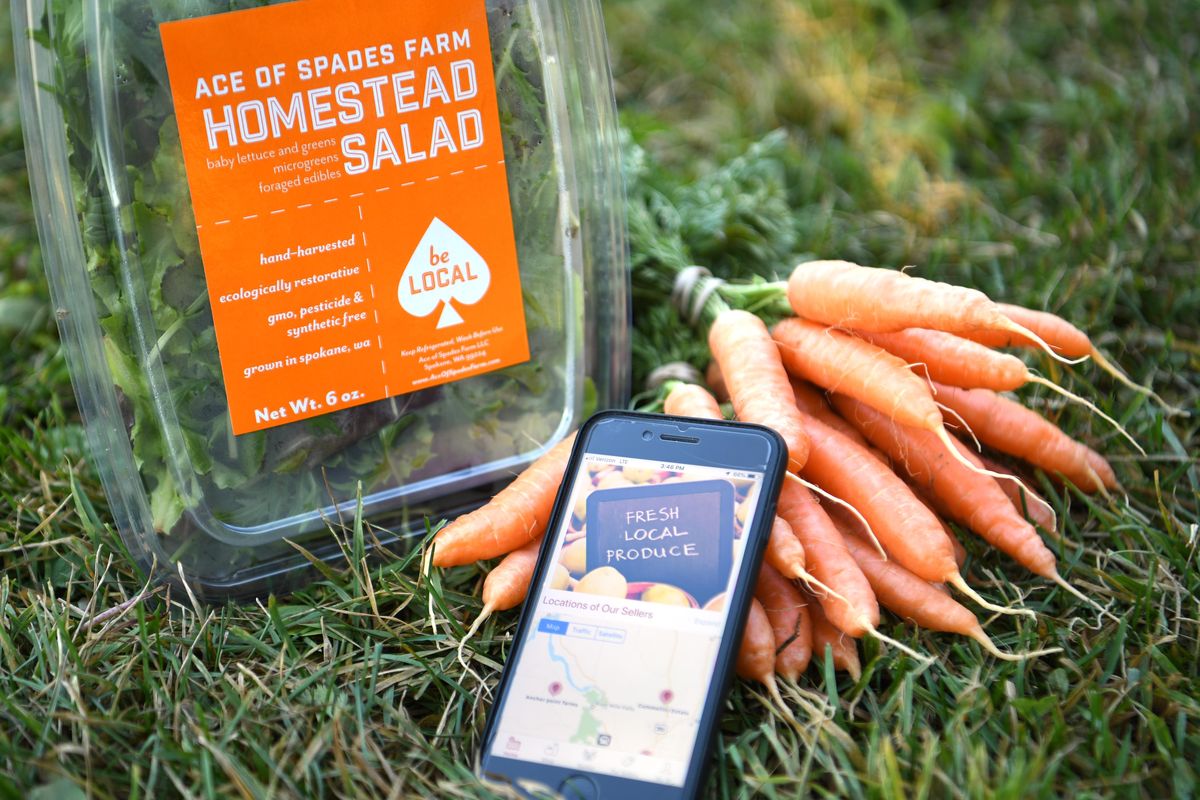 Two local entrepreneurs, Eric Kobe and Vince Peak, have created an app to help connect customers to local growers and producers of artisan foods. (Jesse Tinsley / The Spokesman-Review)
Alex Ekins and Amy Dolomont raise organic vegetables at Ace of Spades Farm west of Spokane.
The couple sell their freshly harvested baby greens, heirloom tomatoes and root vegetables to Spokane-area restaurants and grocers and at the South Perry Street Farmers' Market.
"We cater to the professional or home chef who wants a higher quality than what they might get at a grocery store," Ekins said.
Besides the restaurants and markets, Ace of Spades Farm is cultivating new customers through an app that links local farmers with consumers.
About 900 Spokane-area residents have signed up for the app at Share.Farm. When they are within a 20-minute drive of one of the local vendors, they get an alert that tells them what the farmer or artisan food producer has for sale. After they've purchased a product, they can post customer reviews.
Share.Farm was co-founded in 2015 by Vince Peak and Eric Kobe, who were introduced by a Whitworth University business professor.
Peak, 31, brought firsthand experience with farmers markets to the startup company. Kobe, 29, is working on his master's in business administration.
Peak, a former Marine who earned a biology degree at Whitworth, made salves and oils from native plants, selling his products at local markets from mid-May through late October. But he quickly realized the end of the season constrained sales for local growers and other specialty food producers.
"Consumer behavior and purchase decisions changed when the season ended," Peak said. "We knew the demand is still there and the supply is still there. We're bridging that gap."
Some of the farmers he met at the markets grew cold-weather crops or had fruits or vegetables in cold storage. Other products, such as local meats and cheeses, also were available beyond the typical 20- to 24-week run of local farmers markets.
Spokane County has about 6,000 specialty producers of fruits and vegetables, artisan foods or related products. Peak and Kobe saw an opportunity to use technology to connect them through the app.
"We'll find the customer for the vendor so they can sell their product direct," Kobe said.
Ace of Spades Farm has been listed as a vendor on the app since early summer. The app has brought new customers to the fourth-generation farm, where Ekins' great-grandfather once raised cattle and horses.
Ekins and Dolomont grow their vegetables on a quarter acre, using lean manufacturing techniques to produce high yields from the small acreage. They harvest about 250 pounds of baby greens and edible flowers each week during the growing season, along with 150 pounds of tomatoes and 50 pounds of root vegetables.
The couple are always looking for new ways to market their produce directly to customers who appreciate the freshness, flavor and appearance of the organic vegetables they grow.
The Share.Farm app "allows the farmer and consumer to meet through an invisible middle man," Ekins said.
Vendors and customers can access the app for free, which is another plus, Ekins said. As a small operation,"it's always important for us to watch our dollar," he said.
To pay for the app, Share.Farm earns a small fee on each card transaction. The fee adds 13 cents to a $10 sale.
"Our model doesn't make us a lot of money," Peak said. "We want to focus on farms and food, providing opportunities for people to support local producers."
Neither Peak nor Kobe draws a wage from Share.Farm. Peak works as an environmental specialist for the state of Washington. Kobe is finishing up his MBA and working, too.
The business partners devote their evenings to Share.Farm, sometimes toiling until midnight.
Spokane County is a test market for the app. Share.Farm recently added a couple of growers in Yakima and Wenatchee who make deliveries to Spokane, and the partners would eventually like to branch out to Seattle and Portland.
Fred Meyer and his wife, Gilda, own Mama Torrez Salsa Co. in Spokane. The 9-year-old company sells chips and salsa based on old family recipes. The Meyers sell their products wholesale to restaurants and grocery stores and directly to the consumer at farmers markets and other local events in Spokane and the Tri-Cities. They recently got their first sale through Share.Farm's app.
"You don't have to stop buying from us when the season is over," Meyer said.
He'd like to expand Mama Torrez Salsa's sales to the Seattle market, and he's enthusiastic about the role the app could play in connecting customers and specialty food producers in a large urban area.
"I hope they go over to Seattle," Meyer said. "It would allow us to market and advertise our products in a relatively inexpensive manner."
In the near term, Peak and Kobe are working on proving the app's potential in Spokane County. More than 100 vendors have signed up for the app, but only nine are active at this point. Peak and Kobe hope local foodies will recommend the app to their favorite producers to keep sales going after the farmers markets close down.
The business partners also are looking into ways to make deliveries simpler for producers and consumers.
Many customers want the goods delivered and they're willing to pay for that, but it's a matter of finding a third party to do the delivery, Peak said.
In the long run, he and Kobe want to grow Share.Farm into a full-time operation. Their goal is to raise $250,000 in seed money to expand the business to potential markets throughout the West Coast.
But for the time being, Peak said, the partners are proud to be supporting the slow food movement.
"We're providing incentives for people to buy locally," he said.
Local journalism is essential.
Give directly to The Spokesman-Review's Northwest Passages community forums series -- which helps to offset the costs of several reporter and editor positions at the newspaper -- by using the easy options below. Gifts processed in this system are not tax deductible, but are predominately used to help meet the local financial requirements needed to receive national matching-grant funds.
Subscribe now to get breaking news alerts in your email inbox
Get breaking news delivered to your inbox as it happens.
---