News > Spokane
KHQ's long-range weather forecast backs up predictions of a milder winter
Tue., Oct. 30, 2018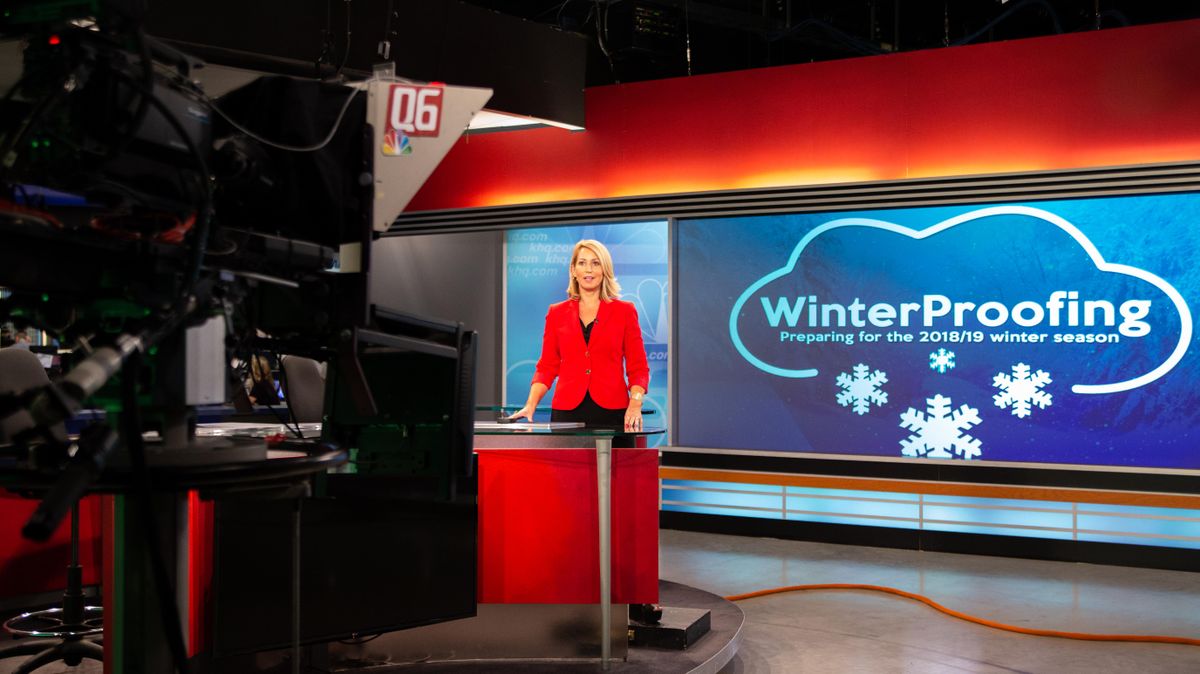 Leslie Lowe, KHQ's chief forecaster, records "in and outs," pre-recorded tidbits for the nightly news. (Libby Kamrowski / The Spokesman-Review)
For KHQ chief forecaster Leslie Lowe, preparing the annual winter weather forecast for the Inland Northwest takes months.
"It's a pretty long process," said Lowe. "Because of where we live, the winter weather forecast plays a huge, important role. People try to plan their life around that. We take it pretty serious because we plan our lives around it, too."
Lowe, along with the station's weather team, began preparations for the winter weather forecast in late August by examining historic weather data as well as long range weather forecasts from the National Oceanic and Atmospheric Administration, the National Weather Service, Washington State University, Mississippi State University as well as the Farmers' Almanac.
"I look at everything," Lowe said. "It's always good to look at different models to see how they match up and how they are different."
Lowe said although the station's winter weather predictions aren't always 100 percent accurate, they typically are spot-on because of available resources and technology – including fine-tuned Doppler radar satellites.
"With all the technology that we have available to us now, we get it pretty darn close every single time," she said. "I think we've done pretty good. Weather is weather and you are never going to be 100 percent (accurate) because Mother Nature does what it wants to do."
The station is broadcasting its winter weather forecast on Tuesday evening at 6 p.m., which will indicate the Inland Northwest could see a milder winter this year with the arrival of a weak to moderate El Nino.
El Nino will cause storms to migrate across the subtropical Pacific Ocean, landing near California. While some of those storms will stretch north to the Inland Northwest, a polar jet stream of high altitude air flow is predicted to occur across Canada, blocking cold air from moving into the area.
Based on historic weather records from the National Weather Service, annual snowfall during El Nino in Spokane is more than 25 inches – about 19 inches less than average.
Lowe said it's helpful for meteorologists to know topography and weather patterns specific to their area when crafting a weather forecast.
"As meteorologists in our area, we do a pretty good job," she said. "I think that knowing the topography and how weather systems roll in is probably one of the most important things as far as weather forecasting here or anywhere."
Local journalism is essential.
Give directly to The Spokesman-Review's Northwest Passages community forums series -- which helps to offset the costs of several reporter and editor positions at the newspaper -- by using the easy options below. Gifts processed in this system are not tax deductible, but are predominately used to help meet the local financial requirements needed to receive national matching-grant funds.
Subscribe now to get breaking news alerts in your email inbox
Get breaking news delivered to your inbox as it happens.
---