Sports > WSU football
John Blanchette: Surrounded by oddities, Washington State quarterback Gardner Minshew was the Cougars' key to staying calm
Sept. 1, 2018 Updated Sat., Sept. 1, 2018 at 8:56 p.m.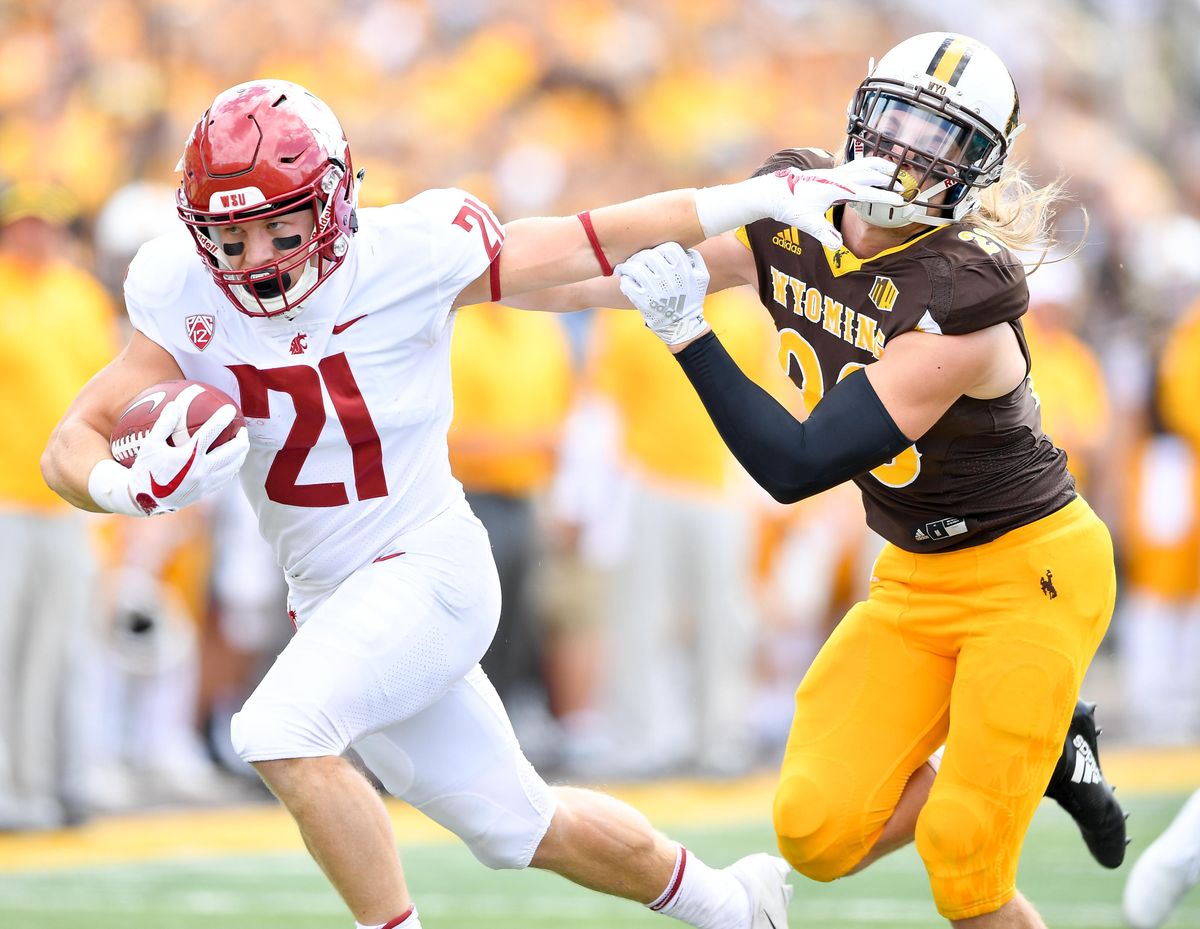 Washington State Cougars running back Max Borghi (21) facemarks Wyoming Cowboys safety Andrew Wingard (28) during the first half of a college football game on Saturday, September 1, 2018, at War Memorial Stadium in Laramie, Wyo. (Tyler Tjomsland / The Spokesman-Review)
LARAMIE, Wyo. – You can parse inorganic nitrates and energy at altitude and vasodilation all you want, but Washington State winning at 7,220 feet here Saturday wasn't about swilling beet juice.
It was more about exorcising Beetlejuice.
Because, man, things got eerie at War Memorial Stadium there for a while.
Wild snaps, goal-line laterals, phantom fumbles, momentum-flipping interceptions – all had the Cougars thoroughly spooked and seemingly slipping back into the dreaded trance that has haunted Wazzu openers under Mike Leach, at least up until last season.
What restored the psychic equilibrium, oddly enough, was something the Cougars had that maybe no one was quite ready to accept: an assured, tested, steady hand at quarterback, who looked as if he had years of flight hours in Leach's cockpit.
Gardner Minshew passed, folks.
More tests await, to be sure, but the 41-19 shiv Wazzu gave the Wyoming Cowboys here calmed a lot of Coug nerves, and not necessarily because he was flinging it all over the place and rolling up Luke Falk and Connor Halliday numbers. It was more about him not unraveling when the freaky stuff started happening.
And it wasn't just Minshew – his protectors on the offensive line who never allowed a sack, the receivers Leach has amassed in Costco bulk, even the thin and doubted defensive line all managed to hold it together in remarkable fashion.
But it starts with the quarterback.
Just ask Wyoming.
The big joke here, of course, is that Leach spent all of August practicing his flipcard tricks, not only refusing to publicly announce a starter at quarterback but listing four on his depth chart with the word "OR" beside their names, as if they were all created equal and any could trot out to take the first snap.
Nobody bought it. Leach should stick with jackalope gags.
Truth was, he gave Minshew the news "a couple of weeks ago," the quarterback said.
"He plays games with ya'll, but he's just having fun. He enjoyed it more than anybody."
Or maybe exclusively. Whatever.
But Leach more than anyone appreciates the graces of a seasoned hand, and Minshew's arrival as a graduate transfer from East Carolina provided something he wasn't going to get from his the rest of his OR squad, none of whom had played a Division I snap.
Simply, he's been there.
"Nothing teaches you as well as experience," Minshew said. "I feel like that really helped us today. It helped me personally."
Never more so than after the second quarter, when the Cougars' run of calamities turned a 10-0 lead into a deficit that would reach 19-13 and stir up the ghosts of openers past. All Minshew did after that was turn four of Wazzu's five second-half possessions into touchdowns – and without pulling off anything really extraordinary.
"I thought he was really good," Leach allowed. "Some of it is you just have to pitch your way through it. He was just more decisive."
That meant checking to his running backs, James Williams and freshman delight Max Borghi, when the situation demanded. Or standing in nervily on fourth down to deliver a ball to a sliding Jamire Calvin.
The two boldest strokes came early in the fourth quarter, the Cougs clinging to a 20-19 lead. Minshew rifled a pass to Dezmon Patmon on a post with the narrowest of windows, Patmon hanging on through a big hit.
"One of the toughest catches I've ever seen," Minshew marveled, "and that was at a pivotal point in the game. We needed that. I had just enough space to put it in."
Two plays later, Easop Winston Jr. managed to sneak behind Wyoming's C.J. Coldon to the right corner of the end zone – "such a tough play, running a fade against outside leverage," Minshew said.
But the ball was right there, too.
In the meantime, the Cougar defense was keeping Wyoming's running game in close enough check to make the quarterback a deciding element. That would have been fine in 2017 when Wyoming had Josh Allen, the NFL's seventh overall pick in last summer's draft. This year, the Cowboys have Tyler Vander Waal, a redshirt freshman who took his first snaps last week.
Note to any of Minshew's backups who might have itchy feet: There's playing time to be had here in the thin air.
By the NCAA's metric, it was the second-best first start for a quarterback in the Leach era, for what that's worth. You may never see Minshew throw it halfway to Goshen Hole this season, but here it was more important that he and his teammates summon some grit against a program with a boatload of starters back from a bowl team – "a big step for us," as Leach noted.
"Every football game is going to be hard," said nickel back Hunter Dale, one of Minshew's housemates. "You just don't know when it's going to be hard, so you have to fight through it."
And maybe bust some ghosts.
Local journalism is essential.
Give directly to The Spokesman-Review's Northwest Passages community forums series -- which helps to offset the costs of several reporter and editor positions at the newspaper -- by using the easy options below. Gifts processed in this system are not tax deductible, but are predominately used to help meet the local financial requirements needed to receive national matching-grant funds.
Subscribe to the Cougs newsletter
Get the latest Cougs headlines delivered to your inbox as they happen.
---