State Rep. Bob McCaslin faces former Spokane Valley planner Mary May in November election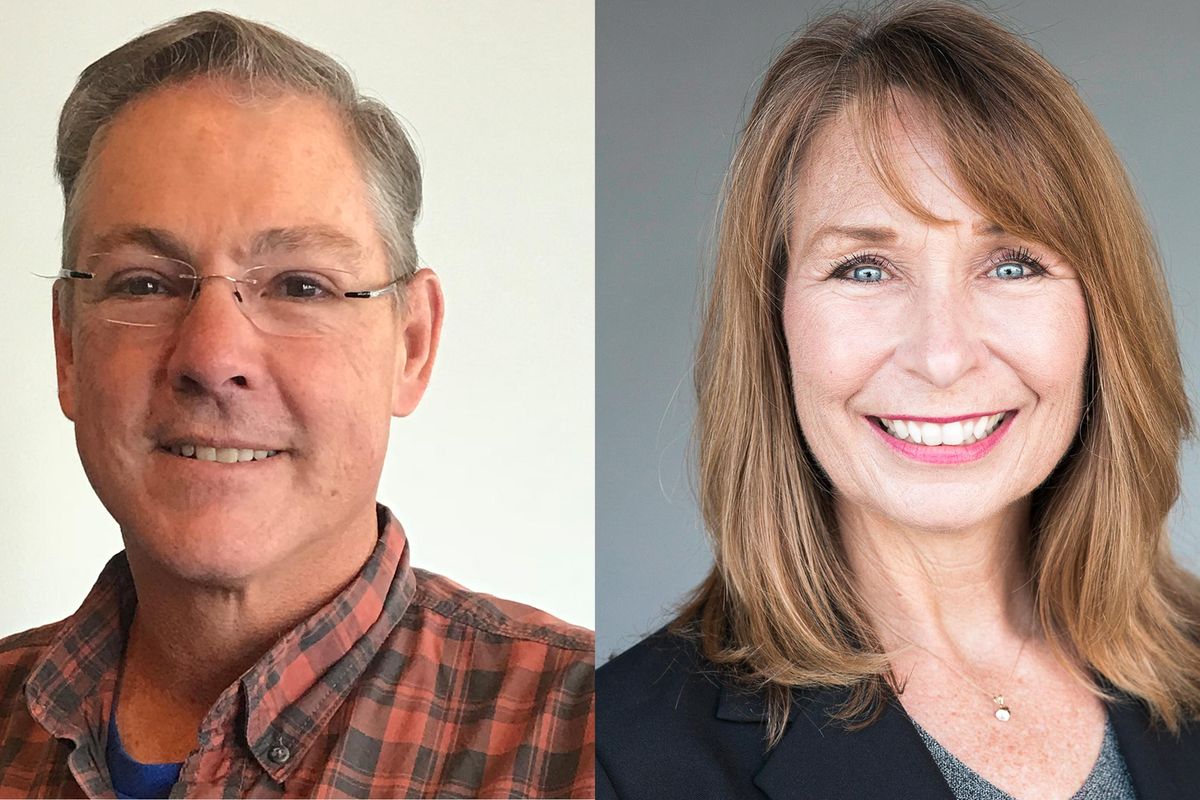 Political novice Mary May, a Democrat, acknowledges that unseating an incumbent Republican in a state House race in the GOP-dominated 4th Legislative District is no easy task.
The best proof of that is the outcome of the August primary. State Rep. Bob McCaslin easily finished in the lead with 61 percent of the vote. Since he and May were the only candidates, they'll face each other again in the Nov. 6 general election.
"I thought about who was on our ballot," May said. "This year we need to have a choice. I was tired of the same old patterns of representation for our area. I know I can do the job of a state legislator."
McCaslin was first elected to the state House of Representatives in 2014. He ran unopposed in 2016. He often allies himself with the other Spokane Valley state House member, Rep. Matt Shea. The two co-sponsored a bill last year to break Eastern Washington off into its own state called Liberty.
McCaslin said Shea and state Sen. Mike Padden work well together as a team.
"I think Matt has been a very effective legislator," he said. "He's been treated pretty badly in the press."
May said she doesn't believe McCaslin has been an effective representative, in part because of his alliance with Shea.
"We're not being represented as an entire district," she said. "Over in Olympia, they look at the 4th Legislative District and we're written off."
She said she believes McCaslin has been repeatedly elected because people are confusing him with his father, the late Bob McCaslin, who served in the state Senate for 30 years. Father and son have different middle names. "So many people still think they're voting for his father," she said.
She said McCaslin often votes no on important legislation, including bills on women's rights, paid family leave, the Voting Rights Act, automatic voter registration and funding for education.
"He flies under the radar," she said. "He seems harmless but his voting record is anything but."
McCaslin said he voted no on the most recent budget because it raided the state's rainy day fund.
"There are times when it's hard to vote no on something," he said. "Those are hard decisions to make. They affect people."
McCaslin said he considers himself a conservative Republican, though he doesn't like labels. He said he's willing to work with Democrats but will make clear what lines he won't cross.
"I don't believe compromise is supposed to be designed for someone to leave your convictions behind," he said. "I'm going to be polite."
May said she wants to examine the programs the state is funding and see if they are effective or not.
"I am fiscally responsible," she said. "I don't want to increase anyone's burden with taxes."
May worked as a city planner in California before she and her husband moved to the area in 2007. She worked as a planner for the city of Spokane Valley from 2007 to 2014 before accepting a position as a regulatory improvement consultant for the governor's Office of Regulatory Innovation and Assistance. She helped businesses that wanted to relocate to Washington state for three years until she was laid off last year.
McCaslin was a teacher for 31 years. He spent most of those years teaching first grade, second grade and kindergarten in the Central Valley School District.
McCaslin said one of his goals is to reform the teacher evaluation system, known as TPEP. Teachers are rated on a scale from 1 to 4, but McCaslin said there aren't enough incentives for teachers who rate a four and more rewards should be added.
"The problem is nothing changes when you get to a three or a four on the scale," he said. "The reward involves more time to innovate in your classroom or mentor a younger teacher."
He said he also wants to allow professionals to teach at middle schools as a way to encourage interest in skilled trades. "I don't think we're reaching those kids early enough," he said.
May said she wants to work for better technical training in schools, making college more affordable, supporting veterans and improving health care.
"We need to take the profit and greed out of health care," she said. "No one is happy that we pay for more and get less and providers are burdened with more paperwork. There are things we can do at the state level to make things better."
McCaslin said his legislative experience and knowledge of the issues facing schools are why people should elect him to a third term.
"The largest employers in our district are school districts," he said. "I understand how they work. I understand how I can help them instead of hurt them.
"Where I come from has not changed. I'm not someone who rides the latest craze. That's what I believe makes me a solid legislator."
Despite McCaslin's focus on education issues, both the Washington Education Association and the Spokane Education Association have endorsed May.
"I think they want to see better representation for them and I think Bob has let them down," May said. "I think they were happy to have a candidate they can get behind."
Public Disclosure Commission documents show that McCaslin has nearly triple the cash that May has, buoyed by more than $14,600 he had left after his last election, when he was running unopposed. His new contributions are just over $22,300, and he's only spent about $2,000.
His largest donors, giving $2,000 each, are Avista Corp., the Washington Affordable Housing Council and the Public State Employees Political Fund. Other top donors include the Washington Hospitality Association Political Action Committee, the Millennium Bulk Terminal in Longview, Washington, and the Ash Grove Cement Co. in Overland Park, Kansas. The Justice for All PAC, which is run by the Washington State Association for Justice, donated $1,000.
May has raised just over $12,800, including $2,300 in in-kind donations, and spent about half that. She also loaned her campaign $1,000. Her largest donor, Spokane-based A Lice Thing to Do, gave $900. Melissa Tudor gave $750 and the Washington Education Association and United Steelworkers District 12 each gave $500.
Her individual donors include Washington state Rep. Marcus Riccelli, Washington state Rep. Timm Ormsby and Spokane Valley Democratic activist Sally Jackson.
McCaslin has 31 donors. Nearly all are businesses or political action committees; only $350 in campaign contributions are from individuals. May has 112 donors and individuals account for more than $9,000 of her campaign cash. She also has donations from businesses and unions, as well as $785 in in-kind donations from the Washington State Democratic Party.
---