News > Idaho
Idaho elementary bids farewell to volunteer 'Grandpa Jack'
Sat., Sept. 22, 2018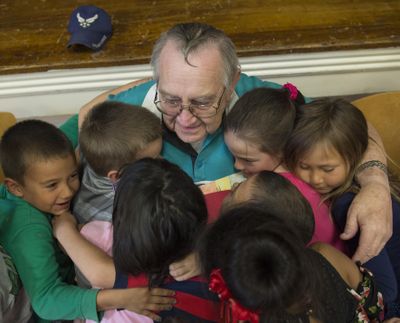 TWIN FALLS, Idaho – Hundreds of Lincoln Elementary School students clapped and cheered for Jackie Dayley, known to many as "Grandpa."
Lincoln Elementary held an assembly honoring "Grandpa Jack," who is wrapping up about 16 years of volunteering at the school through the College of Southern Idaho Office on Aging's foster grandparent program. He also volunteered at the Twin Falls School District's migrant summer school.
Dayley is soon moving away from Twin Falls to be closer to family. Another change: The Office on Aging ended the foster grandparent program this summer due to a lack of federal grant funding.
During the assembly, Dayley sat at the front of the school's cafeteria next to his son, Rodney.
"We're here to show appreciation for Grandpa Jack and all of the years of service to our students," Lincoln Elementary Principal Cheri McKenzie told the crowd.
School leaders estimate Dayley reached more than 2,000 students during his time at Lincoln.
Dianna Cullinan, who retired from full-time teaching at Lincoln Elementary in 2012 and still substitutes at the school, told students Dayley is a "very special person" who helped in her classroom.
"Did you know Grandpa Jack likes to make lists?" she said. One year, he wrote down every time he worked with a student. There were more than 5,000 entries by the end of the year.
"That's a really big number, isn't it?" Cullinan said.
She shared an acrostic poem she wrote about Dayley, displayed on yellow poster paper taped up at the front of the cafeteria. It had one word for each letter of "Grandpa Jack," including reliable, amazing, dependable and nice.
Cullinan asked students to stand up if they'd ever worked with Dayley and nearly everyone rose. Then, she asked the remaining students to stand if they'd seen him in the hallways or cafeteria, or if they wish they'd interacted with him.
CSI's foster grandparent program – along with the senior companion and retired senior volunteer programs – were funded by a federal grant through the Corporation for National and Community Service that ended June 30.
"When we looked at going forward and renewing the grants, the resources and the funding just didn't match with what the grant requirements were," Office on Aging Director Suzanne McCampbell told the Times-News earlier this month. "We felt it was something we couldn't continue doing."
CSI announced in March it was ending the foster grandparent program and the change became effective this summer.
The foster grandparent program had been in place for about 30 years, McCampbell said, and about 30 seniors participated last school year across south-central Idaho. "We just really enjoyed having that program. We were sorry it ended."
Dayley is "quite a special man," McCampbell said. "They all are. All of the volunteers are great folks. We thoroughly enjoyed them."
Federal grant money was used to provide a stipend to each foster grandparent: $2.65 per hour of work. "It was minimal," McCampbell said.
Some of the former foster grandparents are continuing to volunteer in schools. Some are at the point where their age and health has meant it's time to step aside.
"It's a variety of things," McCampbell said. "They're all finding different avenues."
Despite CSI's foster grandparent program coming to an end, Dayley continued to volunteer at Lincoln Elementary this school year.
"I still love what I do," he told the Times-News earlier this month.
Dayley, a U.S. Navy veteran, is originally from Oshkosh, Nebraska, and has lived in Idaho for about two decades. He worked as a plumber for more than 15 years.
After that, he taught evening plumbing classes at CSI up until last year while also volunteering during the daytime at Lincoln Elementary.
Dayley has a fan club at Lincoln Elementary – particularly among children in younger grade levels. As he talked about the children earlier this month, he had a gentle smile on his face.
"They all just came and wanted to hug me," he said. "They all just loved me to death." He chuckled. "No – not to death."
The children gave him valentines each year and goodies for Christmas. Dayley attended many school events, including carnivals, reading nights and field trips.
The staff at Lincoln Elementary – who refer to him as "Grandpa" – have taken Dayley under their wings, too, and invited him over for dinners and holidays outside of school hours.
"We've kind of adopted him," Cullinan said.
Dayley sees former Lincoln Elementary students around town, too. "They still locate me once in a while and talk to me," he said.
He has been invited to graduations and some of his former students now have children of their own.
Ann Coleman, a first-grade teacher at Lincoln Elementary, met Dayley 11 years ago when he was helping in her classroom.
"He's just always been more than helpful with the kids," Coleman told the Times-News in late August, and Dayley spent extra time with troubled children.
Children gave him a hug when they saw him. Lincoln has a high poverty rate and challenging socioeconomics, Coleman said, and there's a lot of turnover among students at the school.
With that kind of instability in children's lives, "he was a real rock," Coleman said. Plus, some of the children don't have grandparents in their lives or they live far away.
Dayley read with children, taught them numbers and timed them when testing for reading fluency – "whatever you needed him to do," Coleman said. He rotated throughout the school building helping different teachers.
Dayley also worked with children who had serious behavior problems, Coleman said, but high-achieving students also read to him on occasion.
For troubled students, Dayley talked with them about making good decisions and how their behavior wasn't going to help them in the future, Coleman said.
She described Dayley as a "man's man" who's independent and worked a trade his whole life where he was his own boss. "You didn't really have to give him a lot of direction."
Even as his long tenure at Lincoln Elementary was wrapping up, Dayley could still be found in classrooms earlier this school year.
Just the other day, he was ready to leave the house at 6:30 a.m. – one-and-a-half hours before school started. "I wanted to get here," he said.
Now, Dayley is preparing to move into a different phase of life. Wherever life's new adventures take him, he plans to bring along his two beloved cats, Jerry and Teacup.
Friday's assembly ended with students singing Lincoln Elementary's song and saying in unison: "Thank you, Grandpa Jack."
McKenzie presented him with a few items, including a plaque, envelope with cards from children and a gift.
After the assembly, dozens of children went up to give Dayley a group hug and tears flowed.
"Grandpa, you've become a very exceptional teacher and friend," Cullinan said to him as the assembly wrapped up, pausing as she became choked up. "You're always going to be a Lincoln lion."
Local journalism is essential.
Give directly to The Spokesman-Review's Northwest Passages community forums series -- which helps to offset the costs of several reporter and editor positions at the newspaper -- by using the easy options below. Gifts processed in this system are not tax deductible, but are predominately used to help meet the local financial requirements needed to receive national matching-grant funds.
Subscribe to the Coronavirus newsletter
Get the day's latest Coronavirus news delivered to your inbox by subscribing to our newsletter.
---