News > WA Government
Washington could elevate razor clam to special status
April 1, 2019 Updated Mon., April 1, 2019 at 7 a.m.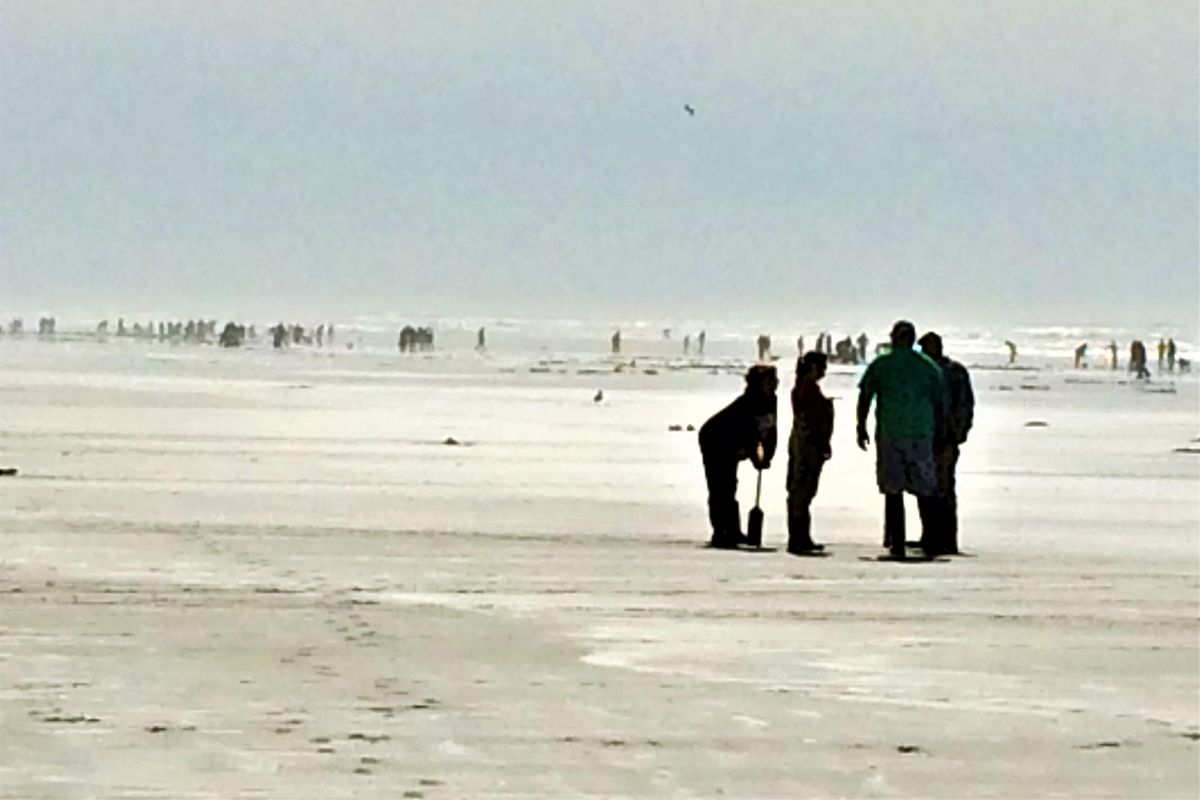 OCEAN SHORES, Washington – Clam diggers flock to the mist-shrouded beach of this Pacific Coast city at low tide during the March Razor Clam Festival. (Jim Camden / The Spokesman-Review)
OLYMPIA – When you think of Washington, do you think of Western hemlocks? In the Evergreen State, that's the state tree.
Do you think of square dancing, which is the state dance? How about petrified wood, the state gem? Not to be confused with the woolly mammoth, the state fossil?
Maybe you hum a few bars of "Washington, My Home," which is the state song, or "Roll On, Columbia," the state folk song. Don't be breaking into the chorus of "Louie, Louie," though, because it never mustered the support to become the state rock song despite a proposal that had strong support from then-Gov. Booth Gardner in the 1980s.
In case you're wondering who decides such things as the willow goldfinch being the state bird, the coast rhododendron the state flower, the steelhead trout the state fish or the orca the state marine mammal, it's the Legislature.
Along with divvying up some $50 billion for the state operating budget – which is a necessity, not a state symbol – and about $9 billion for highways, bridges and mass transit so traffic congestion stops being the state headache, the Legislature has the power to declare an item an official state symbol.
This year's offering is the razor clam, which seems well on its way to being designated the state clam. Not to be confused with the state oyster, which is the Olympia oyster, so designated in 2014. In a state with an extended coastline, it's apparently not outside the bounds of reason to have two official bivalves.
A bill to bestow state symbol status on the razor clam already passed the House on a 98-0 vote. Take that, you puny manila clams; tough darts, you frequently misspelled or mispronounced geoducks.
Some Spokane residents might think this is just another example of Pugetopolis residents lording it over East Side drylanders. But hearings on the state clam bill – yes, this requires a formal committee hearing in each chamber, as well as recorded floor votes – revealed there aren't any razor clams on the beaches around Seattle, Tacoma or Everett. They only grow wild on the Pacific Coast, causing one Puget Sound lawmaker to ask where might she find them. David Berger, a razor clam expert and author lobbying for the designation, offered to tell her about a few spots after the hearing.
Another lawmaker asked how she might open one without injuring herself. She was probably confusing them with oysters, which can be tricky to shuck, Berger said. Razor clam shells usually have a small space between them, and are relatively easy to open.
Some state symbols are suggested to the Legislature by grade school classes which, when learning a bit of civics about how a bill becomes law, decide to put that knowledge to use by leaning on their local legislators. Palouse Falls became the state waterfall at the urging of Washtucna Elementary School students.
Some are pushed by local boosters, but founder on the rocks of statewide rivalries. Washington has no state candy. Almond Roca, which is produced in Tacoma, was proposed for the honor in 2001; Cashmere-produced Aplets & Cotlets in 2009. Neither bill made it to a floor vote, protecting lawmakers from having to choose sides.
The razor clam legislation is backed by lawmakers who have cities and towns in their districts that benefit from the bivalves' economic impact.
Razor clams are no longer harvested commercially, except in some limited areas off the coast. But they are a huge draw for visitors to Pacific Coast towns during the spring clamming season. While there are other mollusks called razor clams in other parts of the world, Washington would bestow this designation solely on the Northwest species, Siliqua patula.
"Razor clams are very important to our district," said Sen. Dean Takko, D-Longview. They're part of the draw that brings between 30,000 and 40,000 people each year to the Long Beach peninsula alone.
Jim Franzel, a retired U.S. Fish and Wildlife biologist who said he has dug clams since 1958, all up and down the Northwest coast, said they draw 400,000 "digger trips" to Washington beaches a year.
There's one other element that could weigh heavily in favor of naming this state clam if the bill makes it to the Senate floor in the coming days. Lawmakers will be struggling with some contentious budget issues, and may need a chance to insert a bit of levity.
Along with the economic factors, "it's sure to be a great source of puns," Berger said.
Which isn't quite the same as a source of great puns, but in the Legislature, sometimes you take what you can get.
One might think that if the Legislature passes – and Gov. Jay Inslee signs – the state clam bill into law, Washington's state icons will be all used up. But probably not.
For instance, Washington has a state amphibian, the Pacific chorus frog, but unlike 24 other states, no designated reptile. It has a state fruit, the apple, and state vegetable, the Walla Walla sweet onion. But efforts in recent years by students at The Evergreen State College to award iconic status to the pine mushroom have fallen flat, so the honor of state fungus is also open.
Also up for grabs is the state cryptid, or animal that may or may not exist. A bill to award that status to Sasquatch was introduced last year, but Bigfoot didn't show up to testify either for or against it.
Local journalism is essential.
Give directly to The Spokesman-Review's Northwest Passages community forums series -- which helps to offset the costs of several reporter and editor positions at the newspaper -- by using the easy options below. Gifts processed in this system are not tax deductible, but are predominately used to help meet the local financial requirements needed to receive national matching-grant funds.
Subscribe now to get breaking news alerts in your email inbox
Get breaking news delivered to your inbox as it happens.
---