A&E > Music
For Hozier, the joy in 'Wasteland! Baby' comes from the journey
April 11, 2019 Updated Thu., April 11, 2019 at 8:49 p.m.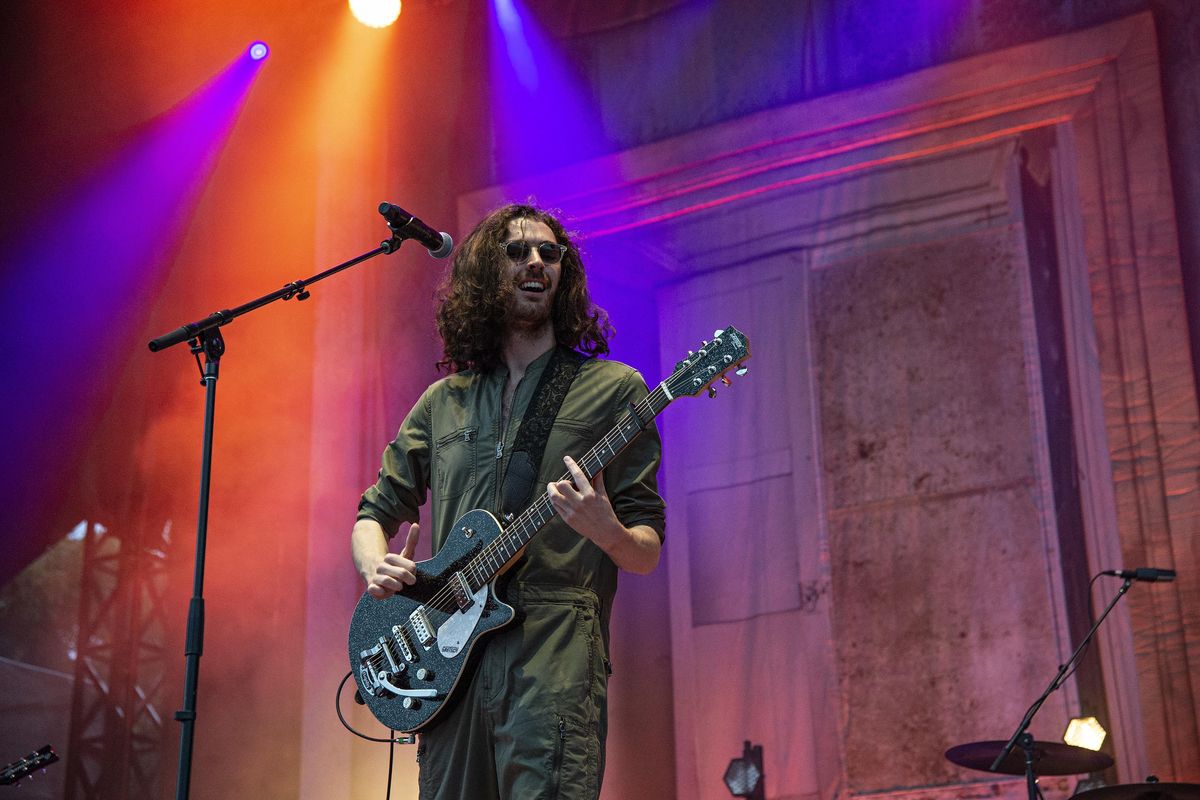 Hozier, photographed at the Austin City Limits Music Festival in October, will bring his music to Spokane's First Interstate Center for the Arts on Sunday. (Amy Harris / Invision)
Even if Hozier's newly released second album, "Wasteland! Baby," fails to come close to having the success of his debut effort, the Irish singer/songwriter will always have at least one memory that will make the new album stand out over time.
That experience came in recording the lead track and first single "Nina Cried Power," when Hozier got to work in the studio with gospel/soul great Mavis Staples and legendary keyboardist Booker T. Jones. The song pays homage to artists – Staples being a prime example – who stood up for civil rights, both in their music and their work for the cause.
"It was an absolute honor having Mavis, the fact that she was up for being part of that song and she knew where it was coming from," Hozier said in a recent phone interview. "She's a super important artist and just a total hero. That song was written about artists like her. She totally embodies what that song is about. And then Booker T, the first band I was ever in at 14 or 15, I joined a group of kind of older kids. We were covering Stax (Records songs played by) Booker T & the MGs. Being able to tell him that (was special), that his music is one of the reasons I became a musician and have continued with it."
Hozier, who turned 29 on St. Patrick's Day, began his solo career about seven years ago when he landed a development deal with Universal Ireland Records followed by a record deal in early 2013 with Rubyworks Records.
At the time, some early attempts to demo his songs with a few different producers had fallen short. So he decided to try his hand a producing in hopes he would realize his vision for his music.
One of his early songs was called "Take Me To Church," and it was when he tackled that song – at first on his own and then later with producer Robert Kirwan (known for his work with U2 and PJ Harvey), who replaced Hozier's fake instrumental tracks with live instruments – that a grittier sound, rooted in blues, jazz, soul and gospel, started to come together.
That song, of course, would entirely change Hozier's career trajectory.
The video for "Take Me To Church" was posted on YouTube on Sept. 25, 2013, and almost immediately went viral.
The YouTube activity got the attention of bigger worldwide labels, and Hozier was signed by Columbia Records in America, which released Hozier's self-titled debut album in September 2014.
"Take Me To Church," naturally enough, became the album's lead single, reaching No. 2 on Billboard magazine's all-genre Hot 100 singles chart and earning a Grammy nomination for Song of the Year along the way.
By the time touring behind the debut album wrapped up in late 2016, the album had gone double platinum and Hozier was a bona fide star. He was also exhausted from the lengthy touring cycle.
Coming off of the road, Hozier returned to Ireland and unplugged. But as 2017 moved on, Hozier began writing and a direction for the "Wasteland! Baby" album emerged.
"It was kind of an intention of writing from an honest place and also trying to reconcile some of the worries and concerns and anxieties I had over what was just a real interesting time to be alive and a weird time to be alive, just for geo-politics, both at home and abroad, etc. and (with) the two minutes to midnight on the doomsday clock, all that type of stuff," Hozier said.
Nowhere is the topical element of "Wasteland, Baby!" more apparent than on the title track, which touches on, among other things, fears of global warming and nuclear disasters. There are other tunes with a social thread ("Be" and "No Plan"), but Hozier covers other ground as well, paying tribute to jazz greats in the context of sweet love on "Almost (Sweet Music)," getting sensual on "Movement," and on "Shrike" he sings of love that overcomes the reality that some emotional bruises will be inflicted along the way.
Musically, Hozier retains much of the stylistic blueprint from his debut album, but many of the songs ("Nina Cried Power," "Movement" and "No Plan") groove and rock a bit harder, which is what Hozier intended for "Wasteland! Baby," which debuted at No. 1 on the Billboard magazine album chart.
"I was eager to write music that hit a little bit harder, that leaned into rhythm a little bit more," Hozier said. "I'd enjoyed a lot of music on the road that was just very rhythmic. So I definitely wanted to write songs that kind of hit a little bit harder here and there."
Hozier should have no problems bringing the more assertive sound of much of "Wasteland! Baby" to life on stage. He's touring with an eight-person band that can generate plenty of sound. The new songs, Hozier said, also lend themselves to live performance.
"It's going to be fun," he said of the show. "I think when writing a lot of these songs … I spent so long on the road (that) I think a lot of the arrangements, the playing of them, was taken into consideration."
Local journalism is essential.
Give directly to The Spokesman-Review's Northwest Passages community forums series -- which helps to offset the costs of several reporter and editor positions at the newspaper -- by using the easy options below. Gifts processed in this system are not tax deductible, but are predominately used to help meet the local financial requirements needed to receive national matching-grant funds.
Subscribe to the Spokane7 email newsletter
Get the day's top entertainment headlines delivered to your inbox every morning.
---