Sports
Grip on Sports: Leaving is just something college coaches do
Wed., April 17, 2019, 8:39 a.m. A GRIP ON SPORTS • As we transition into the second half of April, a time for spring football to wind down and baseball to wind up, the most fascinating stories to pass along today include basketball coaches. That's interesting. Read on.
••••••••••
• We start over at Gonzaga, with the expected departure of Donny Daniels, one of the key cogs in the past decade's success.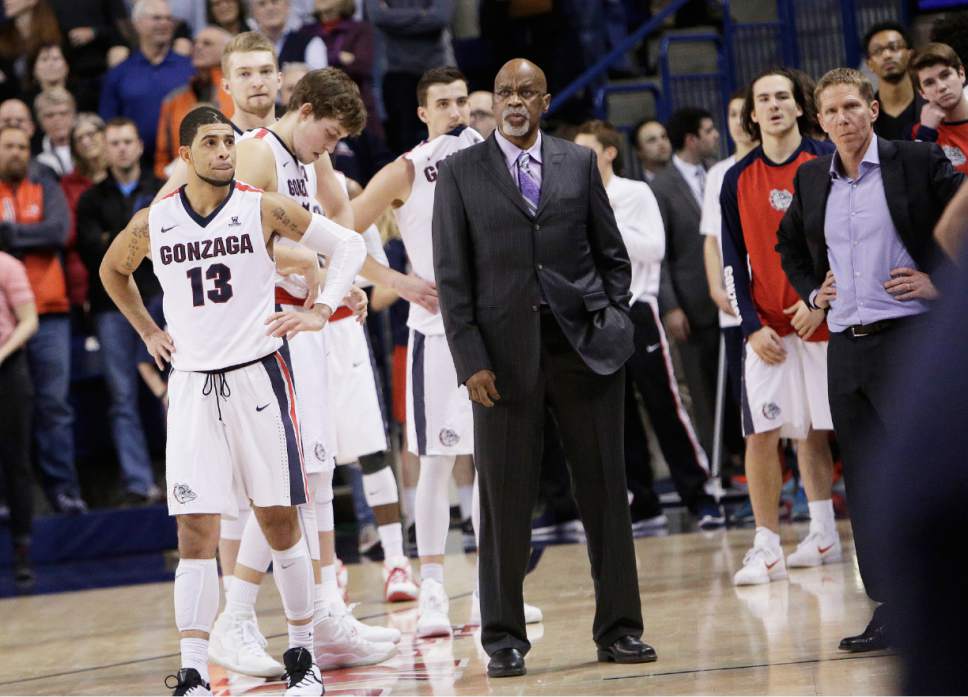 We say expected because Daniels has been telling Mark Few for a while he intended to retire after the 2019 season, a season that also included the news he's headed to a newly created assistant coach hall of fame.
That honor alone tells you how well thought of Daniels is among his peers, but there is more to the former Cal State Fullerton player than just the coaching. He's been a mentor to many Gonzaga players over the past decade, helping more than a handful make the adjustment to life in Spokane.
What is most interesting about Daniels departure is circumstances have changed for the 64-year-old. Instead of retiring, which was the plan according to Jim Meehan's story, he's moving back to Salt Lake City. He's going to move into an off-court role with the Utes. A back-to-the-past moment in a sense.
He will be missed.
As a personal aside, I remember Daniels when he played for Bobby Dye and the Titans as, say, Gonzaga fans remember guys at Saint Mary's they didn't like much.
Cal State Fullerton was UC Irvine's Orange County rival and guys like Daniels, Greg Bunch and Kevin Heenan were on my list – if you get my drift.
Daniels' playing career preceded Cal State Fullerton's exceptional run during my college years, but I knew who he was.
Over the past 10 years, Gonzaga fans came to know who Donny Daniels is. And they will miss him.
• I've never really seen my alma mater have basketball success, certainly not like Gonzaga. But also not even to the level Washington State experienced while I was in Pullman.
So when Tony Bennett pulled up stakes and left for the University of Virginia, I really didn't understand many Cougar fans deep-seated anger. Coaching, for the most part, is an itinerant profession. Not many coaches stay in one place for long.
And after visiting Charlottesville one spring, it was obvious to me why Bennett decided to leave. There was a deep-rooted support for basketball at Virginia – especially financially – there was never going to be in Pullman. And a chance for pretty high-end success.
Which made me wonder over the years, as WSU wallowed in basketball mediocrity, why the anger festered. Didn't these fans understand it was not a lateral move? It was like moving from the S-R to the Washington Post – if the Washington Post were in a small town. Anyone would have done it.
I've always wondered if there is a deeper meaning to all this, more than just the usual he-abandoned-us mentality. If Ken Bone had come in and won, playing a freer-form of basketball, the anger may have dissipated quickly.
But that didn't happen after Bennett's recruits graduated. Then Ernie Kent's tenure was a disaster. There had to be a scapegoat, outside the coaches and Bill Moos, that is.
The easy target is the guy everyone felt would have continued to win if he had stayed. Look what he is doing at Virginia, the narrative went. He could be doing that in Pullman.
Sorry, but it wouldn't have happened. For every Klay Thompson or Brock Motum Bennett was able to entice to WSU, there were at least two or three players who just couldn't cut it in the Pac-10 or 12. If Bennett had stayed in Pullman, the Cougars would have won more than they did, sure, but at some point probably not enough to satisfy the fan base. It's a story as old as George Raveling or Marv Harshman.
Last year, when UVA became the first No. 1 seed to lose to a 16, the depth of the anti-Bennett vitriol surprised me. It had been almost a decade and some people were still celebrating his failures.
And were pretty much most of this March as well. If not celebrating them, then rooting for them.
Until the Cavaliers began winning impossible-to-win games. That's when the tenor of WSU social media began to change. The further UVA went in the NCAA Tournament, the more his success became their success.
Dan Thompson touches on that dynamic in this piece today. It's a good look from the Cougar faithful's point of view. A point of view that seems to have changed recently.
It's about time.
•••
WSU: The Cougars were out and about the practice field again yesterday. One of the players who is always moving is free safety Skyler Thomas. Oops, that's nickelback Skyler Thomas. Theo Lawson has this story on Thomas' new position. … Theo also has video from post-practice interviews with Mike Leach, Willie Taylor III and Renard Bell. … As we said, Dan has this piece on Bennett and the Cougars. … Elsewhere in the Pac-12, there is a whole bunch of football news, including from Washington. … Oregon seems to be getting a lot done this spring. … Oregon State needs to pick a quarterback. … There is also a story from Colorado. … In basketball news, until the players who are investigating the professional ranks make a final decision, it's hard to look toward next year. … What is UCLA getting in Mick Cronin? … USC has attracted a couple transfers. … Washington has attracted its highest-rated recruit.
Gonzaga: Daniels has spent the past 10 years of his life at GU. Now he's headed back to a place he spent 10 years back in the day. Jim has more in this story. … Around the WCC, the new-hire stories from BYU just keep on coming. Will they end before May?
EWU: No matter where he's been, and he's been a lot of places, Eti Ena knew he would end up back in the Northwest. Now he's Eastern's defensive coordinator. Ryan Collingwood has more on the veteran Eagle and his new role.
Preps: It was one of the busiest days of the spring sports season, with more games, matches and meets than usual. We have roundups in softball, baseball, soccer and tennis to pass along.
Mariners: The feel-good story is starting to lose its luster. The M's lost for the fifth-consecutive time, this one 4-2 to Cleveland. But, hey, they hit another home run. … Gene Warnick has the Out of Right Field summary for the loss.
Seahawks: Because Russell Wilson's new deal was announced long after newspapers are printed for the next day, the Seattle columnists and reporters played catch up yesterday. They covered just about every angle.
•••
• Funny, UC Irvine made a run to the College World Series a few years back under Dave Serrano, a coach I didn't know until making a trip to Omaha to watch my alma mater play there for the first time. (It was the fulfillment of a long-time pledge.) As soon as UCI was eliminated, Serrano left – and went to Cal State Fullerton. I didn't wish him ill – much. Maybe it's because UCI continued to win at a high level. Or maybe it's because I'm a mature human being. … Nah. It has to be the former. Until later …
Subscribe to the sports newsletter
Get the day's top sports headlines and breaking news delivered to your inbox by subscribing here.
You have been successfully subscribed!
There was a problem subscribing you to the newsletter. Double check your email and try again, or email
webteam@spokesman.com
---